Last edited:
31 January 2018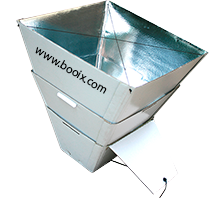 The Booix Solar Cooker is a solar panel cooker, designed in Spain by Cocina Solar Booix. Early prototype work for the cooker began in 2008. The design takes a fairly unique approach of using reflectors that stack up together. Much like a telescope, the stacked reflectors extend upwards toward the sun. The top reflector segment has quite a large solar exposure. When done cooking, the reflector panels slip out from each other and fold flat. Disassembled, it makes a relatively small package for transport.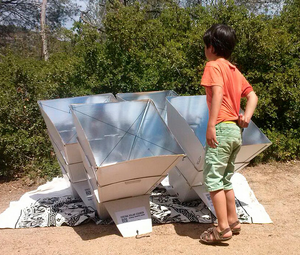 Some concerns may include the ability to easily check the cooking food, and such a tall profile may be tipsy in windy conditions. The cooker uses a tray for the cooking pot to be placed under the reflector stack, enclosed in a plastic cooking bag.
According to the company website; "This model is automatically made in the sector of cardboard (packing), similar to 5V30 but without base, tray with food and in the thermal bag the bottom of the kitchen is placed, assembly is simplified, reaching record assembly time of 30 seconds, the union made with the interlaced carton itself is 100% built with cardboard, biodegradable and recyclable."
October 2016: In 2017, Cocina Solar Booix is planning to collaborate with Grupo El Salvador de Ingeniería Sin Fronteras and distribute 100 of their box cookers to families in El Salvador.
August 2016: The previously produced, Squexad 5V30, version of this solar cooker has been discontinued. The current version appears very similar.
September 2011: A second workshop is taught about the solar cooker in Vilassar de Dalt, Barcelona, to construct the cooker from recycled cardboard. Two sizes were made, the smaller size reached 120 °C (248 °F), at a height of 30 cm. It was able to get to 80 °C (176 °F) in 30 seconds.
Booix
Email: info@booix.com
Web: http://booix.com - (English version)
Facebook: https://www.facebook.com/Cocina-Solar-Cooker-Booix-738643336232875/
Community content is available under
CC-BY-SA
unless otherwise noted.