Last edited:
26 March 2016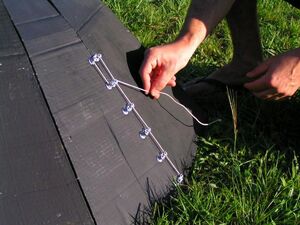 Ariel Lerda and Abel Diaz have developed construction plans for a modified version of Teong Tan's Double-Angled-Twelve-Sided (DATS) solar cooker, which was originally featured in the March 2002 Solar Cooker Review. Their modifications include an alternative pot support structure and a method of assembly that allows for more compact storage of the cooker. Lerda and Diaz also offer tips for making this and other cardboard solar cookers more durable and weather resistant. They have named this cooker the Collapsible Parabolic Cooker.
Like the original DATS, this version is comprised of 12 foil-lined cardboard panels, each with a slight bend about three-fifths of the way down, connected in a circular manner to fsorm a shape similar to a parabola. Instead of permanently connecting the 12 panels, Lerda and Diaz opted to hinge them in an inside-outside alternating fashion using pieces of glued fabric, leaving the last panel unhinged but with a series of connectors that can be cinched together with string. This allows the cooker to be folded up accordion style when not in use. The mechanism for cinching together the base of the panels has also been modified. Whereas in the original DATS design the lower, narrow ends of the panels had two "ears" with holes punched in them through which a cinching string was pulled, Lerda and Diaz instead incorporate a series of wires attached to a base plate that protrude through the panels in such a way that a string can be cinched around them, eliminating the need for the ears. To increase strength and durability of cardboard, Lerda and Diaz recommend gluing durable fabric around exposed ends, placing wire between the fabric and cardboard on ends that will be particularly susceptible to damage. They also suggest that gluing two pieces of corrugated cardboard together with the corrugations perpendicular to each other is a simple way to add strength.
Community content is available under
CC-BY-SA
unless otherwise noted.