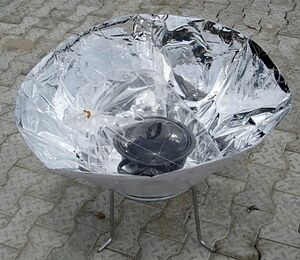 Margaret Koshoni developed the Cone Cooker to suit the needs of Nigerian women. Most people live in flats with balconies; the structure of the balconies will shade the CooKit and make a shadow. The Cone Cooker being placed on a stand has the advantage of elevation and the stand can be moved about without disturbing the cooking.
Materials used is a firm cardboard, sealed at the back with a fablon-like plastic with gum. This is to make the cardboard waterproof, and to prolong the life of the cooker. Inside is pasted Mylar. The result is left to air dry for a few days in the shade as sun drying gives the cooker a crinkled appearance.
Community content is available under
CC-BY-SA
unless otherwise noted.