Last edited:
28 December 2020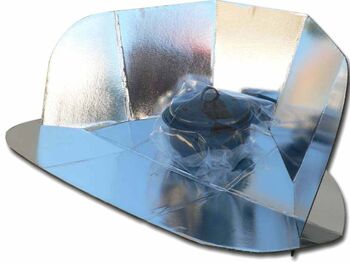 The CooKit was PEP tested with a double Pyrex bowl glazing enclosure.

Panel-style solar cookers are the first solar cookers that are truly affordable to the world's neediest. In 1994, a volunteer group of engineers and solar cooks associated with Solar Cookers International developed and produced the CooKit, based on a design by French scientist Roger Bernard. Elegant and deceptively simple looking, it is an affordable, effective, and convenient solar cooker. With a few hours of sunshine, the CooKit makes tasty meals for five to six people at gentle temperatures, cooking food and preserving nutrients without burning or drying out. Larger families use two or more cookers (See: Cooking for large groups).
The CooKit is made of cardboard and foil shaped to reflect maximum sunlight onto a black cooking pot that converts sunlight into thermal (heat) energy. A heat-resistant bag (or similar transparent cover) surrounds the pot, acting like a greenhouse by allowing sunlight to hit the pot and preventing heat from escaping. It weighs half a 0.5 kg (1.1 lbs) and folds to the size of a large book for easy transport.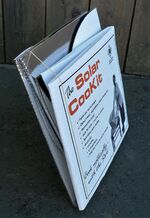 CooKits are now produced independently in dozens of countries from a wide variety of materials at a cost of USD 3.00 - 7.00.
CooKits complement other cooking methods needed at night and on cloudy days. Coming about twenty years after the first efforts to replace open fires with improved cooking stoves, the CooKit uses no fuel at all. The CooKit is both user-friendly and environmentally friendly. Families can save scarce, expensive fuel for when they cannot solar cook and when economically capable, add other, higher cost cooking improvements such as modern biomass, smoke hoods, biogas, or liquefied petroleum gas.
CooKit benefits
Addressing fuelwood scarcities:
The CooKit saves more than four times its value in fuelwood each year. With careful use and storage, a CooKit can be used for two years, reducing fuelwood consumption by two tonnes.
Improving health:
The CooKit can pasteurize household drinking water, making it safe to drink.
The solar cooking process is smokeless, reducing respiratory diseases and eye irritation.
Solar cooked foods retain vitamins, nutrients, and their natural flavors. There is no smoky taste; the foods cook slowly in their own juices. Nutritious, slow-cooking traditional foods (beans, root crops, and some grains) are restored to the family diet.
Cleanup is easy as the food never burns or sticks to the cooking pot.
Solar cooks frequently report that the money they save on cooking fuel purchases is used for many essentials, such as extra food, school supplies, and medical care.
Without having to gather wood or dung, breathe smoke, and tend a fire – all associated with traditional cooking – solar cooking is easy and safe for people with AIDS and other illnesses, the elderly, disabled, and young orphans.
Enhancing household and women's economic status:
The CooKit represents a new opportunity for women to capitalize on an underserved market and better meet their own cooking energy needs.
Solar cooking saves time as there is less need to tend a fire or collect firewood. A person can cook while at work, at the market, or tending crops. Young girls can attend school instead of searching for fuelwood.
Solar energy is free and abundant in many areas of Kenya, providing a safe, clean, and healthy supplement to traditional fuels.
Co-developers are Roger Bernard of France and Barbara Kerr of the USA, with work also by Ed Pejack, Jay Campbell, and Bev Blum of Solar Cookers International. Extensive field tests in the USA and in many developing countries confirm its performance, convenience, low cost, acceptance, and adaptability to diverse needs.

Construction plans
Detailed plans
Simple plans in other languages
German, Indonesian, Italian, Luo, Persian, Portuguese, Russian, Spanish
If you can't find a large flat piece of cardboard or have difficulty laying out the fairly complicated measurements and angles, consider building one of the variations below.

PDF file for printing out a full-size template
You can download this PDF file to print out a full-size template at a copy center. You can then trace this template onto cardboard to make a CooKit. This eliminates having to lay out the pattern manually or print out the template in sections, and will simplify the construction process. Full-size CooKit template for printout
You can also download this PDF file to print out the full-size template on 25 pages of 8.5 x 11 in (standard US Letter size) paper. No resizing necessary - just open and print, then tape the pages together. Each page overlaps the next page by 10 mm (3/4 in) and has guide marks in each corner to help with alignment. Full-size CooKit template for printout - Tiled.
Using an existing CooKit as a template
Tips and tricks
To make clean straight folds in cardboard, first make a crease along the line with a blunt edge such as a spoon handle, then fold against a firm straight edge.
Make the slots a little too small and narrow so that they fit snugly to hold up the front panel.
To set up, lay panel flat with shiny side up. Fold up front and back parts and fit back corners into the slots in front.
Cooking directions
The pot
Put your food into a dark-colored pot with a dark-colored or clear lid.
Plastic bags and other glazings
Place the pot inside a plastic bag or other clear enclosure. Close the open end of the bag and place pot and bag into the center of the cooker. When using two plastic bags, one inside the other, temperatures can increase up to 20 °C (68 °F) over what is reached using a single bag (source: SCN).
See tips below for using normal (non-heat-resistant) plastic bags. Note that when solar cooking conditions are very good, you may be able to cook without the use of a plastic bag around the pot.
Please note that if plastic bags have been outlawed in your country, there are many other ways to surround the cooking pot described in Glazing.
Cooking various foods
Choosing a cooking location
Set the CooKit on a dry, level surface in direct sunshine away from potential shadows. For best results, solar cooking requires continuous, direct sunshine throughout the cooking period.
Orienting the CooKit
Face the cooker ahead of the sun pointing to the location where the sun will be an hour later. This allows the cooker to cook most foods without needing to turn it to follow the sun.
When cooking beans or when cooking on a marginal day, you will need to turn the cooker at least once to keep oriented optimally.
FOR ALL-DAY COOKING, orient cooker so that it faces where the sun will be at noon or early afternoon. Food will be ready and waiting for the evening meal.
For recommendations of cooking times for specific foods, see Foods.
Adjusting the front flap
Cooking on windy days
See also: Providing more support for the CooKit solar panel cooker - Ashok Kundapur
Care and storage
Store the CooKit in a safe place away from moisture and animals, preferably indoors. Allow plastic bags to air-dry or gently wipe dry with a towel. The CooKit is compact and portable. When not in use, it can be simply folded lengthwise into thirds or folded flat into a 33 cm (13 in) square.
Tips and tricks
| | |
| --- | --- |
| | Dr. Steven Jones found that raising the pot on a wire frame improved cooking in a panel cooker. It is also possible to set the pot on a clear glass bowl. |
| | Glass bowls and pie pans can be used to raise the pot off of the bottom of the cooker (note that the pot would normally be enclosed in an oven cooking bag when using a panel cooker). In some cases, they may provide more stability used upside-down. |
| | Wietske Jongbloed created a simple frame to allow the use of normal plastic bags (instead of heat-resistant oven cooking bags). |
| | Jose Albano created this frame to protect normal plastic bags (photo shows frame with bag removed). |
| | Dr. Ashok Kundapur has suggested a way to make a housing out of flat plastic sheeting. A bottom cylinder is supported by wire frame while a transparent cover, made of the same plastic material, makes access to the food very easy. This arrangement can also be used for retained-heat cooking. |
| | Stephen Harrigan found that discarded plastic phone cards, which are readily available in Africa, worked well to strengthen CooKits in their most vulnerable areas. See also Making the CooKit more durable. |
| | To remedy the moisture problem inherent in a product made of cardboard, the Solar Cookers International East Africa Office and colleagues have added notebook binding tape, also readily available in large cities or capitals to seal steno notebooks for students. |
| | Nikwax has been used to waterproof and increase the durability of CooKits, reportedly extending the life of a CooKit by 50%. Its early use was in refugee camps in Chad as a result of a collaboration between Nikwax and TchadSolaire. |
Stephen Pearson reports: "We build CooKits in pieces using eleven small panels of cardboard. Shops even in rural areas have thin card stock available as scrap. These can be laminated together using local cassava glue (cassava is grown all over Africa) to form stiff panels, thus avoiding the need to import thicker cardboard. Join the eleven panels together with [5 cm] 2 in strips of worn-out dress or shirt (using the cassava glue). Protect the perimeter of the 11 panels with more [5 cm] 2 in strips ([2.5 cm] one in front and one in back to stop delamination of the cardboard). Let each panel dry properly. Then turn it over and glue on the aluminum foil to the side with no cloth hinge strips."
See also
Buying CooKits
Variations
European Solar Panel Cooker variation
---
The European Solar Panel Cooker (ESPaC) is a modification of the CooKit that is engineered to be most efficient in temperate latitudes (as opposed to the standard CooKit, which works best when the sun is high in the sky). Since the power of the sun rays is weaker at low-sun locations since the sun's rays have to traverse a thicker layer of air, the reflector material must be of high quality and high reflectivity. More information...

Manos Unidas variation
---
Solar Cookers International's standard CooKit calls for a lot of curves, which can be hard to make with a hand held blade. Juan Urrutia Sanz of the Manos Unidas organization in Spain writes that his group promotes a variation on the CooKit shape that is easier for many people to make at home. The Manos Unidas version, called Cocinsol II. Señor Urrutia y Sanz reports that it cooks as well as the CooKit and actually has more reflective surface area. SCI's Jay Campbell agrees. Jay is an engineer who has chaired the SCI Research Committee and who worked on engineering the CooKit for manufacture in Kenya. (One key advantage of the CooKit's curved shape is that it is easier to figure out a way to fold it into an album-sized package for easy storage and transport.) To make your own Cocinsol II, use the shape and dimensions shown in the graphic. Cardboard is an inexpensive material to use which holds its shape and is also easy to fold. However, woven mats or baskets, molded plastics or wood can be used. The solid lines in the design show where to cut; the dotted lines show where to fold. Cover the surfaces of one side with shiny material such as aluminum foil or shiny gift wrap (which will reflect light to the pot at the center of the cooker).
High-Back variation
---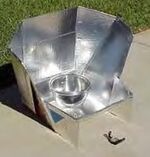 As part of their testing, Florida Solar Energy Center engineers redesigned the CooKit into a new geometry. The new design simply takes the same amount and type of material that makes up today's CooKit and reconfigures it into a different shape. They dubbed it the "High Back reflector" because it has a back reflector that is much higher (i.e., taller) than the one in the standard CooKit.
Diassana variation
---
Mr. Gnibouwa Diassana, of Bla, Mali, has been able to find sources for all the materials in or near Bla. "Cardboard is available in big towns," he writes. "Plywood, glass, aluminum foil, sheet metal and plastic bags are available in Bla and neighboring towns."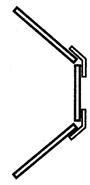 Mr. Diassana also applies creative thinking to obtain low-cost materials. He notes that tea, a very popular beverage in Mali, is shipped from China in boxes lined with aluminum foil which can be recovered and reused for making reflectors for solar cookers. "It works well," he says.
What is lacking in Bla, however, are large pieces of cardboard. To adapt to this problem, Mr. Diassana makes solar CooKits from five pieces of cardboard which he patches together using small thin pieces of cardboard (see Figure 1), or from pieces of satin fabric (glued or sewn into place to hold the large CooKit parts together (see Figure 2).

King variation
---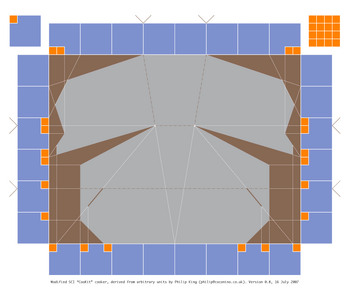 Philip King writes of his variation:
I've made one CooKit and wanted to make more, but each time I've looked at the published plans I've found that they don't suit my way of thinking. I also find them difficult to scale to suit an arbitrary size of material. So, and in case there are others like me who get dizzy looking at all those angles and inches and centimetres, I've drawn my own design with the following intentions:
to use as few measurements as possible
to use an arbitrary unit that could be easily enlarged or reduced
to find all angles automatically
to use straight-line cuts throughout
to use as few cuts as possible (I could still lose a few)
to derive details easily without a template
to eliminate guesswork or fudging
to reduce the need for written instructions
I also wanted it to be as close as possible to SCI's classic and well-proven CooKit design but have some distinctive features of its own.
Of course, the production-line cookers are quite quickly made using templates, so this new plan has no advantage there. It is really intended to help those who are making a one-off cooker out of whatever randomly sized material they happen to get hold of.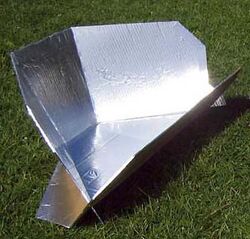 The design which follows is really meant for heavy corrugated board and not intended to fold to a small size (that's not to say it wouldn't if thin enough, I just haven't worked out yet how to derive the folds) and although the back angles are pretty close to the classic design they are different to a couple of degrees. The front panel is deeper and the back lower than in the classic, but not by much.
The chevron cuts in the ends of the side wings are to retain some surface area while also making the tabs narrower to fit the slots. I had an earlier design with a wider base and front panel to accommodate longer slots, but I like this one better, even though it adds a couple of cuts. The chevrons also satisfy my desire for a distinctive feature. The snips off the corners of the wings are to help with very stiff material when fitting the points into the slots; they don't really have to be measured, just a bit snipped off.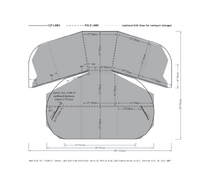 The basic unit is the orange block, and a unit size of 1.5 in gives a sheet size of 48 in x 36 in. Clearly, a unit size of one inch makes a sheet size of 32 in x 24 in. Working in metric, a unit size of four centimetres yields a sheet size of 128 cm x 96 cm, which is about five percent larger than the 48 in x 36 in sheet.
I have also made this plan available as a PDF file.
Having just made a full-sized example from this plan I can confirm that it is fast and accurate. However, I know how it's supposed to work, so I would welcome comments from anyone who tries to follow this plan to build a cooker.
External links

---
In February 2008, Stephen and Sheila Harrigan shipped 275 of these durable plastic CooKits to the Sakali Refugee Camp in Sudan. The Poly-Furnace is a cut down model of the CooKit made by Solar Cookers International. Because of the adverse living conditions of the refugees in Darfur, Sudan, the cardboard CooKit will not last much more than six months to a year. The need to have a durable CooKit has prompted us to develop one made of plastic polypropylene flute board. Reflective aluminum polyester is attached to the surface before it is cut and formed. A local group of volunteers have begun to make these for introduction into Sudan in 2008.
See also Making the CooKit More Durable.

Wooden variation
---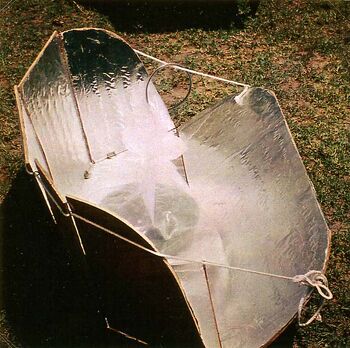 Eagle variation
---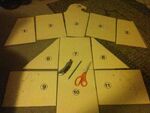 The Eagle Solar Cooker was designed in 2007 by Manda specifically for Americans. It is made of eleven pieces which begin as 21.5 cm x 28 cm (8 1/2 in x 11 in, USA standard letter size) paper. Intended for students and beginners, it is easy to construct; no protractor or compass is used. An optional twelfth piece (of a whimsical eagle head) can be added at the top.
Aluminum panel variation
---
Hans and Petty Heerebout, founders of Solar Cooking Project Zambia, have experimented with an aluminum panel version of the CooKit. They feel the cooker is able to reflect more light than the standard CooKit and is more weather resistant.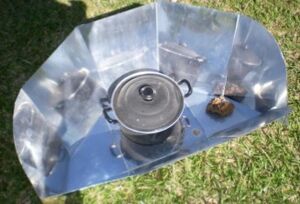 ---
Here are several ideas for modifying the CooKit. First, the size of the cooker can be reduced so that more cookers can be made from the same amount of construction material. Second, the panel locking feature can be relocated so that the two sides of the front reflector can be tilted to reflect more sunlight towards the desired direction. The modified CooKit is structurally more robust, and can be positioned upside down to cook when the sun angle is low. The cooking pot receives more reflected sunlight under the normal operating range of the cooker. The modified CooKit can be folded down into a small package for easy transportation and storage just like the original design. Review more of Teong's description at: Teong Tan variation layout diagrams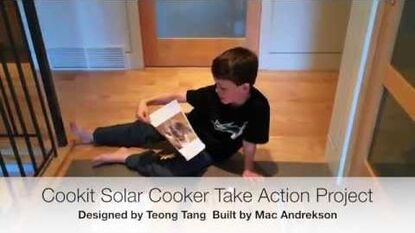 An enthusiast has submitted photos of the Teong Tan variation positioned to capture low sun angles and also in the standard overhead orientation. He was able to do some winter cooking in Ottawa, Ontario, Canada, (latitude 45° N) and had the cooker reach 180 °C (285 °F) in the vertical position, using a pot inside a clear pyrex container.
Round-back variation
---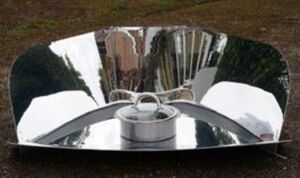 The Rollins Standard Deluxe Cooker is a waterproof panel cooker that is very similar to the CooKit. It is being mass-produced in the UK by Applied Green Technology, and is available in very large quantities.

Haines Solar Cooker variation
---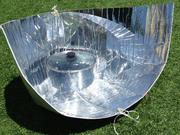 The Haines Solar Cooker is made of IXPE (cross-linked polyester) foam insulation bonded with reflective metalized polyester film (MPET film / 3mm IXPE foam / white PET film). The reflective polyester will not oxidize, cannot be scratched off, and has a high melting point. Importantly, the new material is easy to recycle and is environmentally safe through the whole production and recycling process without pollution. In the USA, this material is used to make high-end auto windshield sunshades.

Two-pot CooKit variation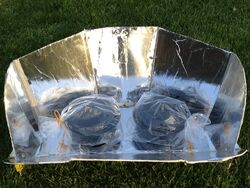 This simple idea was suggested by a soldier serving in Afghanistan (Colin Hoskins).

Gasy Nahandro variation
---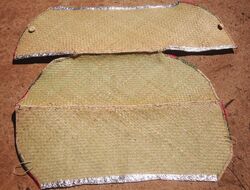 This CooKit variation makes use of local materials to create a very affordable cooker. It was designed by Dominique Dutoit for use in Madagascar. The panels are constructed from woven grass mats, and then covered in reflective material. The target is to make the cookers for less than USD 2.00 and be able to offer them through local retail stores.

Quickie Demonstration CooKit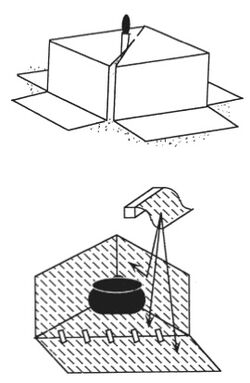 You can make this "quickie" version of the CooKit on the spot for teaching purposes. It only cooks small quantities of food, but it can be used to demonstrate water pasteurization, etc. It is not intended as a substitute for a standard solar cooker.
It involves cutting a typical cardboard box (about 0.6 x 0.6 x 0.3 m, or 2 x 2 x 1 ft) in half diagonally. Then add a cardboard flap in front and cover the inside with tinfoil.
One Sheet variation
---
Kundapur variation
---
Xuni variation
---
This is another multi-pot variation of the CooKit, designed and tested by the Proyecto Olla Solar in cooperation with the Mexican Fund for the Conservation of Nature.  Initially tested using a mylar reflective material, the Xuni reached a temperature of 85 °C (185 °F) in three hours.

Cook-n-Go
---
The Cook-n-Go variation was designed and manufactured by the now defunct Aftarkeia Network located in Greece. The panels are made of wood and are hinged together. When folded the package is quite compact.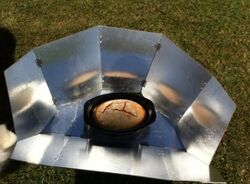 A Simple CooKit
---
Royal Botanic Garden or Jordan variation
---
Instructions in English and Arabic for building a CooKit out of smaller pieces of cardboard designed by the Royal Botanic Garden of Jordan:
Audio and video
The link below shows the animated result of a simulation of a cross-section of a CooKit. It does not include the power from the side reflectors.
This video shows the power contributed by the side reflectors. The display picture shows a view of each reflector. Each reflector is divided into pixels. Each pixel corresponds to an elemental area of the reflector. Black pixels define the extent of the reflector, with a white line representing the boundary between the rear and front portion of the reflector. Pixels corresponding to elemental areas from which reflected sun rays hit the pot are shaded. Rays from the white pixels hit the top of the pot, rays from dark gray pixels hit the side of the pot, and rays from light gray pixels hit the bottom of the pot.
Articles in the media
See also
NGOs using CooKits
External links
Photo Gallery