Jurassic World: Dominion Dominates Fandom Wikis - The Loop
Play Sound
Last edited:
25 April 2021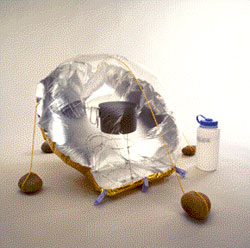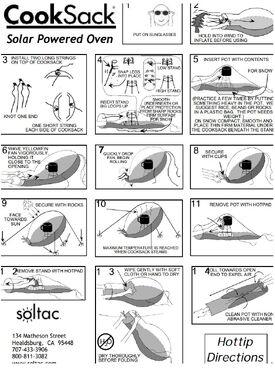 The CookSack® is a patented portable solar device that is used for cooking or water heating or purification. The reflector is inflatable and very light, and also permits the accumulation of heat inside the plastic bag. The thermally conductive pot , the stand and fixing arrays are included. Requires little attention and it involves no fire risk as there is no flame. The designers promote the CookSack for disaster or wilderness areas and campsites. Usual temperatures are 80 °C to 100° C (176 °F to 212 °F).
On a good sunny day, it will take approximately 1-1/2 hours to boil water. The device is capable of pasteurizing water (pasteurization is reached at 65 °C (149 °F) and it would usually take about 90 minutes. The CookSack will work with high thin clouds or in partly cloudy weather, but it will take longer to reach the desired temperature. It is highly recommended the use of the suitable Kettleblack, a pot with a special heat absorbing coating to maximize the heat absorption. It can also be used in a small campfire, if needed, when there is no sun. To ensure useful product life it is recommended that the CookSack balloon must be dry before storage. Also, care should also be taken to minimize scratches to the mirrored surface by smoothing the ground beneath the CookSack and folding it carefully after it is dry, rather that crunching it up. It is sold at an approximate retail price of USD 59.95.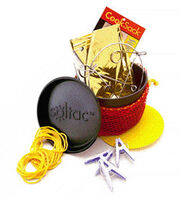 Materials
[
]
The contents of the kit are:
CookSack - ultralight, inflatable parabolic oven
Kettleblack™ - 1.5 qt / 1.4 l non-stick aluminium pot
Pinup™ - fastening clips Stringalong™ - tie-downs
Stuffnet™ - mesh tote Terralander™ - folding stand
Yellowfin™ - fan & cutting surface
HotTips™ - instructions for use
Dimensions/Weight
[
]
Dimensions: When packed, it is a small cilindre 6.75" / 173mm in diameter x 4.2" / 107mm high.
Weight: 340 grams
Documents
[
]
Contact
[
]
Soltac
75 Arbor Road
Allied Arts Guild, Suite G
Menlo Park, CA 94025
USA
Tel: +1 (650) 327-7090
Fax: +1 (650) 327-7095