Jurassic World: Dominion Dominates Fandom Wikis - The Loop
Play Sound
Last edited:
21 February 2020
Events
[
]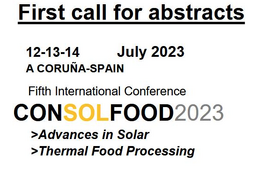 NEW: 

12-14 July 2023 (A Coruña, Spain): CONSOLFOOD2023 - Organizers have released a first call for abstracts to participate in the Fifth International Conference, taking place in Spain in 2023 as an in-person conference. The deadline for submission is 15 December 2022. More submittal information...
See also: Global Calendar of Events and past events in Costa Rica
News
[
]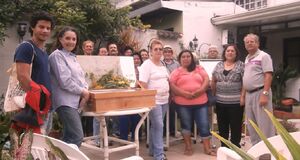 September 2014: Dr. Shyam Nandwani spoke at the Promesa at Santa Ana organization, lecturing on solar energy and productive uses with solar devices and assembled Box Solar Ovens for heated/cooked meals. The objective was to learn how solar cookers and other solar devices could be used for other purposes and the sale of the end product. (For instance, heating sandwiches, making candles, drying herbs, etc., by using clean, free, and abundant fuel - the Sun.) The group now has the basic concepts and some possible uses. They plan to submit a proposal/project to get seed money (around $2,000 USD) to buy some materials and tools to start a small business, and to use part of the income to make the project sustainable.
August 2014: Professor Shyam Nandwani was recognized by the Energy Globe Foundation for his work as Energy Globe Ambassador for Costa Rica since 2012 and awarded the Energy Globe Silver Medal of Honor.
November 2012: Solar Ovens used to warm lunches at educational centers - Due to electric rationing imposed by the local Costarican Electricity utility company in January 1979, Shyam Nandwani made the first solar oven for his family in Feb. 1979 to warm the lunch cooked the previous night. Shyam has observed the rising demand for our solar ovens at educational institutes to warm lunches for the students at schools and colleges, etc. According to school directors, the reason for using solar ovens is to reduce the queue for using microwave ovens, as well as to reduce the electric bill for the institute and promote environmental culture for the students (and also for the parents). Read the article
March 2012: After a roughly 16-year hiatus, the Costa Rican Solar Energy Association (Acesolar) rides again, and they want nothing less than to capture the sun. They recently held a demonstration of solar cookers at National University's solar energy laboratory in Heredia. Much of the lab's research is geared not toward photovoltaic production of electricity, but toward thermal solar energy – harnessing the sun's heat that enters our atmosphere and channeling it to some productive end. Read more...
History
[
]
Dr. Shyam Nandwani
Costa Rica has a rich resource in the presence of Indian-born Shyam Nandwani, a Professor of Physics at the University Nacional in Heredia, a city near San Jose. Dr. Nandwani's personal interest and longtime demonstrations of the power of the sun for domestic purposes have been an inspiration to many, not only in Costa Rica but also around the world. He has been a speaker at numerous international conferences, including all of the world conferences on solar cooking, and has been a guest lecturer at universities in Germany and the United States, among others. He is a sparkplug in the coordination of networks of solar cookers, both in Central America and for the entire continent; almost single-handedly, he was responsible for the organization and implementation of the Second World Conference, held at his university. Surely, most Latin American solar cooks and promoters are familiar with his professional contributions.
Another outstanding contribution to the world of solar cooking is a demonstration site at the Universidad Nacional, where an outstanding collection of solar cookers and dryers of many types and varied size and scope, from household to field army, can be seen. Here one can see, touch, and thus understand the use of devices usually only seen in diagrams and pictures. Students in the university continue the research of Dr. Nandwani by working on and testing new designs, making old ones more efficient, and teaching others about the technology.
Dr. Nandwani not only demonstrates solar devices in his laboratory; his home is also a model for all who want to live lightly on the earth. He uses solar cookers (one of which has electrical backup in case of rain), solar water heaters, and even a microwave powered by a photovoltaic cell. The house is a delight to see and visit, a "must" in Costa Rica for solar cooker enthusiasts.
Sol de Vida
Another major actor on the solar cooking scene in Costa Rica was the organization called Fundacion Costaricense Sol de Vida (Sun of Life). This organization was one of those initiated in Central America by the work of an American, Bill Lankford. The network was known in the area by its Spanish name of PROCESO. More details of this work are given in the section on Guatemala, where the initial and largest project has been underway for some years.
An early activity of Sol de Vida was establishing a celebration La Fiesta del Sol (in keeping with Latin traditions of celebrations), honoring the sun and held annually. It proved to be a marvelous event for publicizing solar cooking, calling attention of many to this technology. It was not an isolated activity but rather an integral part of the larger project, Sol de Vida. In 1999, the organization was awarded the National Prize in Energy ~ Innovative Project for its work. The Ministry of Environment and Energy, the National Power and Light Company, the Chamber of Industries and the Association sponsor that award for the Investigation and Development of Energy and the Environment.
Sol de Vida also created an educational facility, EduSol, to house its promotional and teaching activity. The organization was recognized as an innovator beyond the borders of Costa Rica as well. Sol de Vida was one of the Costa Rican awardees of the Small Grant Program in 2001.
Associación ANAI
Another Costa Rica project was honored at Johannesburg by the award of the Equator Prize, offered by the same Small Grants Project program of UNDP. Associación ANAI, a local NGO in Costa Rica, promoted solar cookers that enable women to engage in income-generating activities, thus improving their living conditions and reducing the burning of fossil fuels. They reported a strong focus on encouraging women to pass on their knowledge to their children, thus promoting the use of solar cookers into the future.
Archived articles
Climate and culture
[
]
See also
Resources
[
]
Possible funders
[
]
Reports
[
]
Articles in the media
[
]
Audio and video
[
]
External links
[
]
Contacts
[
]
The entities listed below are either based in Costa Rica, or have established solar cooking projects there:
SCI Associates
[
]
NGOs
[
]
Manufacturers and vendors
[
]
Individuals
[
]
Government agencies
[
]
Educational institutions
[
]
See also
[
]
References
[
]