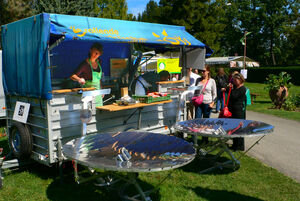 The Crêperie Solaire is a mobile pancake shop, set up in a car trailer, that Dr. Michael Götz takes to many music festivals or ecology fairs in order to introduce visitors to their first culinary experience with solar cooking.
The Crêperie is powered by two Schleffer parabolic dish cookers focused on cooking platforms accessable from inside the trailer.  Adjustment of the cookers is handled via a photovoltaic tracking system.
Dr. Michael Götz
ULOG Suisse Romande
Rue Matile 71
CH-2000 Neuchâtel
Switzerland
email: creperiesolaire@www.creperiesolaire.org
web: http://www.creperiesolaire.org/
Community content is available under
CC-BY-SA
unless otherwise noted.