Jurassic World: Dominion Dominates Fandom Wikis - The Loop
Play Sound
Last edited:
30 April 2017
Crosby Menzies is the director of SunFire Solutions and Solar Cookers for Africa in South Africa.
News
[
]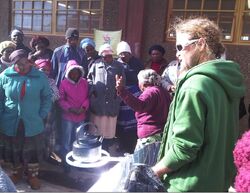 November 2013: SunFire Solutions partners with Beyond Carbon to promote local solar cooking businesses. - SunFire Solutions and Beyond Carbon recognize that long-term solutions need to include local business communities with shared sustainability objectives. Their current SunFire Stoves Project joint venture is based in South Africa. The project's goal is to protect the area around Kruger National Park from deforestation through the implementation of solar cookers. 300 parabolic solar cookers were initially purchased for the project, and 213 have already gone into households as of this fall. With access to the solar cookers, over ten new locally owned enterprises have been created.
July 2010: Solar Cookers for Africa: Solar Caravan 2010 - SunFire is a NGO in South Africa that has partnered with Solar Cookers for Africa to create the Caravan as a way to reach the portions of the population that live in areas typically difficult to reach. Led by Crosby Menzies, it will be a convoy of knowledge, experience, and partnerships in the area of sustainable household and community technologies and practices. The Caravan will start in Mozambique, to eventually cover most of Southern Africa. Far from relying in the knowledge and resources of a few, the Caravan will link experts, product suppliers, communities and funders. Starting in August 2010, a core team of 4 people from 3 countries will start traveling from Johannesburg, South Africa, towards Beira, Mozambique. In each community the Caravan visits, its members will be presented with a flexible curriculum of applied introductory workshops and demonstrations about the core topics and technologies. One fixed workshop module concerns clean energy; another food security, waste management and nutrition. To learn more, see how your experience may be of value, and offer to financial support see: Solar Cookers for Africa: Solar Caravan 2010
May 2009: The Solar Health and Education Project (SHEP) funded a very successful workshop run by Manda Chisanga and Crosby Menzies in Mfuwe, Zambia in June 2009. Read project report.
June 2007: Crosby Menzies of SunFire Solutions sends a report on the Masihambisane Solar Cooker Project.
Audio and video
[
]
April 2016: Crosby Menzies interview on the SunPod podcast. The discussion includes how Crosby got started with solar cooking and his new project, Solar Caravans. Recorded at CONSOLFOOD 2016. Podcast page...
July 2014:
Articles in the media
[
]
See also
[
]
Contact
[
]
SunFire Solutions
18 Vardon Rd., Greenside
Johannesburg 2193
South Africa
Tel: +27 82 954 0144 or +27 (0) 11 624 2432
Email: sunfire@sunfire.co.za
Web: http://www.sunfire.co.za