Last edited:
12 August 2019
Online events
Edit
NEW: 

Webinar:

11 July, 2020 (2:00-4:00 PDT, 9:00pm-11:00pm GMT): Cooking using a Haybox and a Battery Powered Slow Cooker - This webinar, presented by SF Innovations Ltd, will look at two different techniques of cooking using a well insulated cooking container. It will show how to cook rice, stews and even bake bread using little or no fossil fuel. Registration information...

NEW: 

1-4 September 2020: EuroSun2020 is going virtual - The conference will be now be held on a virtual platform, as a response to safety concerns surrounding Covid-19. According to the organization, "We are currently working on new registration fees that reflect the resources and support for creating the virtual conference infrastructure and presenting the conference online. We will provide more details on the registration rates in the coming weeks." The 13th Conference on Solar Energy for Buildings and Industry will offer a platform to discuss the latest developments with leading solar energy experts, policy makers, and industry representatives. More information...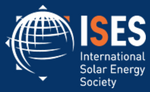 December 2020: SWC50 – The Century of Solar - In 1970 solar research pioneers met at the first International Solar Energy Society (ISES) Conference in Melbourne Australia. ISES is commemorating this Conference with a special 50th Anniversary Conference and Display, called the Solar World Congress at 50 (SWC50). The face-to-face conference, originally scheduled for 2-4 December 2020, will be replaced by a series of eight virtual conferences over the course of the month in December 2020. It will include the same panel sessions that were planned for the in-person planned event. More information...
See also: Global Calendar of Events and past events in Cuba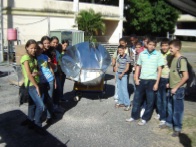 January 2013: Utilization of solar cookers in the Basic Secondary School in Santiago de Cuba, Cuba - The Applied Renewable Energies Group (GERA) have successfully been using their versatile solar cookers to introduce solar cooking to seventh grade students at the Basic Secondary School in Cuba. The group feels it is an excellent time to introduce alternative energy strategies to these younger students. At the end of the school year, parents are invited to attend a solar festival at the school to see how the students have put their training into practice. Read more about the project at: GERA student project in Santiago de Cuba, Cuba
February 2011: The eco-friendly vegetarian restaurant, El Romero, in Pinar del Rio, has begun to offer dishes prepared with solar cookers.
Solar Energy Research Center
When planning was underway for the Second World Conference on Solar Cooking, to be held in Costa Rica, in July of 1994, an abstract for a presentation to be made was received from a Cuban staff member of the Solar Energy Research Center in that nation. The letter told of their work, particularly with solar drying of food and even construction materials, as well as the use of solar energy for purifying and distilling water. What happened is unclear, as the paper does not appear in the program. However, it is evident that some action regarding the use of solar energy for household was taking place at that time.
Eco-restaurant at the National Botanical Garden
Two years later, in 1996, an SCI volunteer and trainer of many, the late Don Coan of Sacramento, California, attended a conference on sustainable energy use in Cuba. He recounted some of the uses of solar energy he was shown during his visit. Sun Oven box cookers, gifts from a visitor, were in use at an Eco-restaurant at the National Botanical Garden. One secondary school had a large parabolic solar reflector that directed sunrays to pots inside the building - it was however not in use at the time of Coan's visit.
Renewable Energy Group
The Renewable Energy Group at Eastern University, Santiago de Cuba, indicated in 1998 that they had been working on solar cookers for over ten years and had at that time disseminated 200 cookers to families and 50 to schools of the area. It is evident that substantial interest and experimentation has been present in Cuba. Cuba has excellent sunshine and few other fuel resources; hence it could almost certainly utilize solar cooking. Cuba may well be doing more than is known without communicating that information to the international community.
[Information for this section was taken originally from State of the Art of Solar Cooking by Dr. Barbara Knudson]
Archived articles
Climate and culture
Edit
See also
Resources
Edit
Possible funders
Edit
Documents
Edit
Articles in the media
Edit
Audio and video
Edit
External links
Edit
The entities listed below are either based in Cuba, or have established solar cooking projects there:
SCI Associates
Edit
Manufacturers and vendors
Edit
Individuals
Edit
Government agencies
Edit
Educational institutions
Edit
References
Edit
Community content is available under
CC-BY-SA
unless otherwise noted.