Jurassic World: Dominion Dominates Fandom Wikis - The Loop
Play Sound
Last edited:
21 January 2020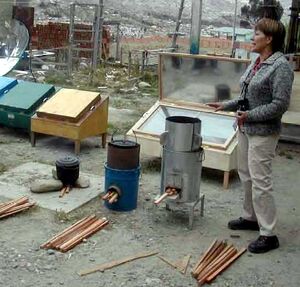 David Whitfield is the director of the CEDESOL Foundation, which focuses on alternative education, renewable energy, and social equality, working primarily in Bolivia.
David is U. S. citizen who has lived in Bolivia for a number of years. He is a small entrepreneur who speaks fluent Spanish in the Bolivian idiom.
David has undertaken a private crusade on a shoestring to introduce solar ovens and other alternative energy appliances to people across Bolivia. Because of widespread poverty and the increasing scarcity and expense of traditional fuels, his efforts have been well received wherever he goes.
Since 1998, David has honed the method of presenting alternative technologies in the cities as well as in the countryside.
News
[
]
November 2012: Solar Cook Book from CEDESOL - Sol Food (Food for the Soul) by CEDESOL's David and Ruth Whitfield is a mouthwatering, illustrated solar cookbook. It does a wonderful job of explaining the technology and concept of ecological (integrated) cooking while providing readers with pages of indigenous recipes including vegetarian dishes for those who are trying to cut down on meat. Sol Food is sprinkled with great photos and hilarious moving accounts written by CEDESOL's interns of their adventures in Bolivia. The book opens with an entertaining history of the early days of Sobre la Roca and CEDESOL, which grew out of David and Ruth's association with the French NGO Bolivia Inti Sud Soleil. Sol Food is in the final stages of editing and will soon be available for purchase as an ebook on the CEDESOL Foundation website.
November 2012: CEDESOL Promotes Integrated Cooking Method - The Integrated Cooking Method (the combined use of solar, fuel efficient biomass and retained heat cooking devices) is the cornerstone of David and Ruth Whitfield's CEDEDSOL Ecological Stoves for Better Living project in Bolivia and Paraguay. This CEDESOL project includes local production, promotion, ducation, distribution, installation and maintenance of improved cooking devices. The project will replace traditional inefficient wood stoves in rural and urban areas, with efficient designs, which have been shown to reduce fuel-wood consumption above 60%. This program is designed to generate Voluntary (verified) Emissions eductions (VERS) by installing and monitoring more than 50'000 Ecological Stoves in Bolivia and Paraguay. VERS to reduce the cost of the stoves to users will be provided by the foundation, myclimate. Without carbon finance obtained with VERS in association with Foundation My Climate, CEDESOL's beneficiaries would not be able to access the program and receive the cookers and education. CEDESOL also acknowledges the generous assistance of Kyoto Twist Society and

Green Microfinance

.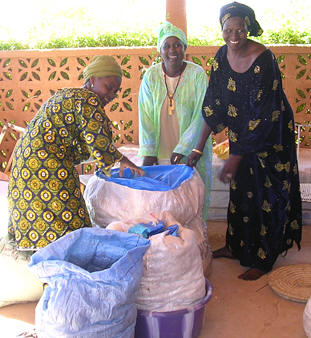 November 2007: At the 2006 International Solar Cookers Conference in Spain, Wietske Jongbloed of the KoZon Foundation learned a useful trick from David and Ruth Whitfield: a heat-retention cooker can be made from empty rice bags. The Whitfields advised that two large rice bags, with insulation such as wool or cotton in between, make a sack that will keep a pot of food at cooking temperatures long after it is removed from a heat source. KoZon introduced the idea in Tahoua, Niger, where cooking pots are typically very large — 12 to 16 liters. For these pots, four rice bags are needed to surround the pot, and a fifth bag stuffed with insulation covers the top. Of this five-bag system, Jongbloed says, "It is named 'Idadafoua' and works marvelously." Jongbloed writes that women in the Sahel cook meals for families of 10 to 12 or more people. The KoZon project in Tahoua teaches the use of three cooking devices — fuel-efficient wood stoves, heat-retention cookers, and solar CooKits. CooKits are used on sunny days for meat or fish sauces, eggs, sweet potatoes, and groundnuts, and for cakes that are sold by the slice to earn money.
April 2006: Under the auspices of the French NGO Bolivia Inti, alternative energy experts David Whitfield and Ruth Whitfield introduced solar cooking to many villages in Bolivia between 2001 and 2003. After demonstrating solar cookers in public forums, they then trained those people expressing interest in how to make and use solar cookers. Research was conducted in the central highlands of Bolivia in 2005 to assess the continuing impacts of solar cooking on participants of these solar cooking courses conducted by the Whitfields. The researcher, Chris Pell of the University College London, interviewed 170 people with and without solar cookers to determine whether their use affected household fuel consumption. The data showed that 92.7% of the solar cooking course participants continue to use their solar cooker three to five years after the course ended. In fact, 62.4% of all participants use their solar cooker at least once a day during the dry season, demonstrating a lifestyle change that incorporates solar cooking into their daily lives. The solar cooker now supplements their other energy sources: gas, wood, or a combination of gas and wood.[1]
Audio and video
[
]
See also
[
]
External Links
[
]
Contact
[
]
David Whitfield
Executive Director
CEDESOL Foundation (Center for Development with Solar energy)
P.O. 738
Cochabamba
Bolivia
Phone/Fax: +591 4 4412787
Mobile: +591 77900868

Email: david@cedesol.org

skype ID: cedesol2