Last edited:
31 March 2018
De Wet van Rooyen was born in Cape Town, South Africa where he finished his schooling in the year 2000. After completing a Bachelors degree in Mathematics at the University of Stellenbosch (in the beautiful Boland wineregion of the Western Cape) he moved to Germany where he came into contact with renewable energies in the city of Freiburg. At ULOG Freiburg, he was inspired by Mr. Rolf Behringer and decided to concentrate on the further development of solar cookers.
He started Sunsational Cookers Limited in April 2008, which is no longer involved with solar cooking.
At the beginning of 2011 he received his Master of Science degree in Renewable Energy Management from the Albert-Ludwigs-University in Freiburg, Germany. The topic of his Master Thesis was "An Optical Model of the Scheffler Reflector for Raytracing Studies of its Efficiency and Power Output," which he wrote at the Fruanhofer Institute for Solar Energy Systems (ISE). He has continued working at ISE as a researcher focusing on ray tracing simulations of concentrating solar devices and their applications.
News
[
]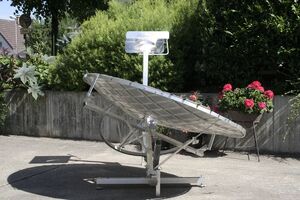 Scheffler2qm
[
]
The 2 m² Scheffler-Reflector is suited for a small family and is currently being produced in Europe. This versatile cooker allows for solar cooking to take place indoors.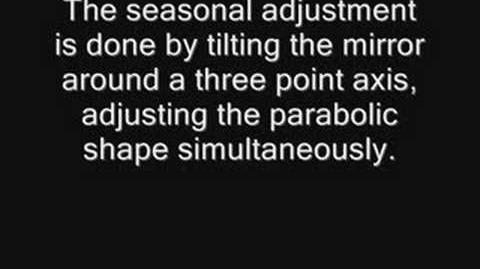 External Links
[
]
Contact
[
]
Sunsational Cookers Limited
Haierweg 27
79114 Freiburg
Germany
Mobile: +49 (0) 171 835 4997
Email: info@sunsationalcookers.com