Last edited:
11 October 2014
The Delicias del Sol (Restaurant Solar) is operated by the Association of Solar Artisans of Villaseca in Villaseca, Chile.
Lucila Rojas remembers the days when she and her neighbors risked their lives to cook a hot meal over a wood-burning stove. "We had to steal firewood, because there was no longer any left in the places where you could freely look," she said. "Sometimes we were chased (by landowners), even by gunshots. I was fed up. I didn't want any more war."
So in 1989, Rojas, who lives in the arid and deforested Elqui Valley, agreed to become one of four women in this northern village of 300 residents to allow researchers from the University of Chile to place a solar oven in her home. "We were guinea pigs," she said.
When the project coordinators returned after four months to take the ovens back, Rojas protested and organized local women to raise funds for a workshop to make solar ovens. With $700 they earned selling everything from empanadas (meat pastry) to used clothing, they built thirty-three solar ovens and have been using them ever since.
Today, Villaseca's ovens are a novelty in a nation with just 10,000 solar energy panel systems. In fact, the village is the only place in Chile where virtually all residents cook with solar power. Blessed with an average of 310 days of sunshine a year, the area is ideally situated to harness the sun's potential and solve a dramatic problem.
Firewood, the source of one-fifth of Chile's energy, takes an enormous toll on the nation's environment. Native forests, devastated by a constant assault, provide 60 percent of the wood. The Forestry Institute of Chile calculates that approximately 132,900 acres of forest are destroyed annually for firewood.
A 1995 Central Bank report noted that Chile's remaining old growth forests could disappear within 30 years if the current deforestation rate continues.
According to the Latin American Energy Organization, headquartered in Ecuador, 32 percent of the region's energy is derived from firewood, virtually the only source of energy for many rural poor. As a result, many environmentalists believe solar ovens are an obvious solution to help reduce deforestation. Yet, introduction of the ovens throughout the region has been limited.
Money needed
"It is all about funding," said Shyam Nandwani, who heads the solar energy laboratory at the National University of Costa Rica and gives seminars on solar ovens. "If campesinos (peasants) don't have the financial means to buy materials, they can't implement the technology."
Pedro Serrano, an environmental activist from Santiago and one of the Villaseca project's original planners, estimates there are 300,000 potential users of solar ovens in northern Chile, and a total switch to solar ovens would save more than 2 million tons of brush and kindling annually, as well as about $60 million a year in lost labor time.
"Before, one person in every family dedicated all day, every day, to search for firewood," said Serrano. "That's ridiculous."
Not all Villaseca residents shared the initial enthusiasm for solar ovens. Some insisted that food cooked with solar energy caused cancer, claims that sparked a wave of concern.
The skeptics, however, were discredited after university researchers found that food cooked in solar ovens lacked traces of carbon monoxide typically found in meals cooked with gas or on wood-burning stoves. The change to solar ovens also led to an improved diet.
"Before we ate a lot of oils and fats, but since you can't fry in these ovens, our diet is much healthier," said Veronica Duran, Rojas' 24-year-old daughter.
Duran says villagers placed the first ovens in the sunniest part of their patios, since they assumed that was the best spot. The reality, however, was more complicated. The oven had to be constantly turned to follow the sun, and the light had to be focused to maximize its power. Moreover, the original ovens were large, making them awkward to shift.
Evolving design
So necessity converted Rojas and her husband, Aurelio Campos, into designers. Over the years, the husband-wife team painstakingly altered the design of the ovens to make them easier to use. "We have improved the ovens a great deal, but the design is still in diapers," said Rojas.
It took two years of experiments to give birth to an oven that could cook for 30 people, which led to the idea of opening a village restaurant last year.
With a $10,000 grant from the United Nations Development Programme, 26 Villaseca families formed an organization called the Association of Solar Artisans of Villaseca, which now runs the aptly named the "Restaurant Solar".
The restaurant's kitchen looks like a school science experiment — 10 orange boxes sit in a line atop a staggered row of tables. Wide flaps inlaid with metallic sheets open to the sky, reflecting light into the boxes' dark interiors.
Diners must travel over a bumpy dirt road to its hillside location, it is already a landmark. On weekends, about sixty customers a day come to savor its specialties: fresh bread; cazuela, a meat stew; and leche asada, or flan, for dessert. It takes two hours to bake bread and about three hours to cook stew.
In the early days, groups of as many as 40 people are turned away since the restaurant seated only 24 diners at a time. Since 2012, the restaurants now seats 120. Its organic garden can't keep up with the demand. The majority of patrons are foreign tourists on package tours.
High praise
"It's the best meal we've had (in Chile)," said Mark Matthews, a 25-year-old New Zealander.
The solar business venture is so unusual that Chilean fire regulations have yet to adapt to alternative energy. To comply with fire safety rules, a local official charged with enforcing safety permits demanded that the restaurant construct a chimney-like chute to extract smoke. Solar ovens, which are built outside, don't produce smoke.
In the meantime, villagers say their main goal is to spread the alternative-technology gospel. Several have already extolled the virtues of solar ovens on prime time television programs and have fielded calls from other small villages asking for advice on how to build the ovens.
"The idea is to show the world the wonders of solar energy, not just to Chile and its people but to all those (international) organizations that could finance solar energy projects for people with scarce resources," said Rojas.
In Costa Rica, Nandwani says, funding for solar ovens generally comes from international humanitarian organizations such as the United Nations. He says governments rarely pick up the tab.
Environmentalist Serrano, however, doesn't find that surprising.
"The major investors are only interested in alternative energies that have a controllable energy flow, because they profit by selling that electricity," he said. "An unplugged user is a menace to the market."
Most significant projects
[
]
News
[
]
Audio and video
[
]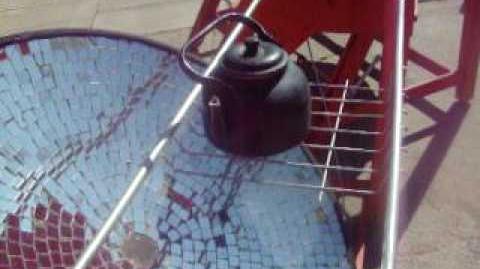 Articles in the media
[
]
See also
[
]
Contact
[
]