Last edited:
22 August 2013
Rhubarb/Strawberry Pie
Filling cooked in solar oven while making crust...
3/4 cup org. strawberries sliced/minced
3/4 cup rhubarb sliced/minced
juice from a wedge of lemon
2 Tb cornstarch
1/3-1/2 cup (or a bit more) agave nectar (taste for acceptable sweetness - don't over/under sweeten)
1 1/2 Tb Smart Balance original

Crust (blended fine in 'coffee' grinder)...
1/3 cup raw almonds w/skin blended fine in 'coffee' grinder
1/3 cup raw cashew pieces
1/3 cup oatmeal
Cut in 1 1/2 Tb Smart Balance original into nut flour press into bottom (not sides) of 10 in diameter pan sprayed with non stick oil.
Pour hot pie filling onto the nut crust and continue baking until it looks done. Cool, then chill before adding topping.

Topping...
3/4 of smallest size regular Cool Whip tub
equal amount of nonfat Greek yogurt
Blend together with 3 Tb of Agave nectar
A Little Chocolate Cake
Note: This recipe was designed for 3-4 cup backpacker pot in an EZ-3 Solar Cooker, but it should work in any cooker that can take such a pot. Perfect for singles, couples, or a kids' tea party.
Sift or mix together:
½ cup flour
3 tablespoons unsweetened baking cocoa
1/3 cup sugar
¼ rounded teaspoon baking soda
pinch salt
Mix together:
1/3 cup cold water
2 tablespoons oil
1 teaspoon vinegar
½ teaspoon vanilla
Add wet ingredients to dry ingredients and mix well. Pour into greased and floured small dark pot (3-4 cup), cover with dark lid, and set out early. Wait at least an hour and a half before checking. It is done when it feels firm and the top springs back when pressed lightly and a toothpick inserted in the middle comes out without wet batter sticking to it.
For an extra yummy treat, add chocolate mint frosting. When cake is done, immediately cover top with thin mints or pieces of peppermint patty type candy. Return to cooker for ten minutes. Remove and spread the melted candy over the top of the cake. Delicious!
Note: This cake recipe can be tripled (use 1 teaspoon of baking soda and a generous half-cup cocoa) and baked in a well-greased and floured dark 8 or 9-inch square pan. Use a matching dark pan upside down for a lid; secure with binder clips.
Hot Fruit Dish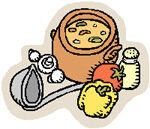 3 bananas
4 apples
Honey, to taste (or sugar)
Lemon
Water
3 teaspoons cinnamon
6 whole cloves
Slice bananas. Cut apples into eights (peel if desired) and place apples into lemon water to keep from discoloring. Drain. Mix fruit, cinnamon and cloves. Cover. Bake for 1 to 1 1/2 hours. Serves 4.
Quick Raisin Pie
1/4 cup butter or margarine
3/4 cup sugar
3 eggs
1 teaspoon vanilla
1 1/2 cups raisins
1/2 cup chopped walnuts
1 stick pie crust mix
whipping cream
Cream butter and sugar together until well blended. Beat in eggs and vanilla (mixture will be slightly curdled.) Add raisins and walnuts. Crumble the pie crust mix into filling mixtures, stirring until well distributed. Pour into a greased 9-inch amber casserole or black granite roaster. Cover and bake in solar cooker approximately 1 1/2 hours. (It has a cake-like appearance when done. Cool and serve cold or warm with whipped cream or ice cream. the best thing in the world
Peach Pudding Cake
1/4 cup melted butter
1 package yellow cake mix
1 3 1/4-oz. instant vanilla pudding mix
1 egg
1 cup milk
1 16-oz. can peaches, undrained (or 2 cups)
1 teaspoon grated lemon peel
Melt butter in 13 x 9 inch pan. In large bowl, stir cake mix and pudding mix together. Add egg and milk. Beat until smooth. Add peaches with juice and lemon peel. Pour into baking pan. Cover. Bake two hours or until done.
Oatmeal Squares
1 egg, beaten
1/2 cup honey
1/2 cup melted butter
1 teaspoon vanilla
1/2 cup whole wheat flour
1/2 teaspoon baking soda
1/2 teaspoon nutmeg
1 cup quick-cooking rolled oats
1/2 cup chopped walnuts
In a small bowl, beat together egg, honey, melted butter, and vanilla. In another bowl, sift together flour, soda and nutmeg. Add oats and walnuts to the flour mixture. Stir. Add the egg mixture to dry ingredients. Mix well. Bake in a covered, buttered 9 x 9 inch pan. Raisins and/or carob chips may be added.
Blueberry Muffin Cake
1 package blueberry muffin mix
1 egg
1/3 cup brown sugar
milk
margarine
1 teaspoon cinnamon
Prepare 1 package of blueberry muffin mix following the instructions. Line the bottom of a 9-inch round roaster with a piece of wax paper. Pour in the blueberry muffin mix and cover with lid. Place in a preheated solar oven and bake for 1 hour. After removing cake from oven, a mixture of brown sugar and cinnamon may be added to the top. Cover cake with lid for five minutes to let heat of cake adhere the topping. Remove lid, let cool. Run knife around edge, hold hand over cake with hot pad, invert and remove cake, peel off wax paper, invert plate over cake bottom and turn right side up. This dessert is delicious!
Lemon Jell-O Cake
1 package yellow cake mix
1 3-oz. package lemon Jell-O
3/4 cup water
1/2 cup salad oil
4 eggs, unbeaten
1/2 cup lemon juice
2 cups powdered sugar
Place cake mix into large bowl. Add Jell-O, water, oil and eggs. Beat three minutes or until smooth and creamy. Pour batter into ungreased dark 9 x 13-inch pan. Bake uncovered for 2 or 2 1/2 hours. Be sure it is done. Take out of oven immediately. Puncture cake with a fork about every inch or so. Mix lemon juice and powdered sugar together. Pour over the hot cake.
Grandmother's Crustless Pie
6 apples (chopped or sliced)
1/3 cup sugar
Cinnamon
1/2 cup butter
1 cup flour
1 cup brown sugar
Place apples and sugar in buttered round or oval black roaster. Work together the flour, brown sugar and butter and sprinkle over apples. Sprinkle cinnamon on top. Cover and bake in solar oven about two hours. Cool, serve with vanilla ice cream.
Apple Cupcakes
2 cups sugar
1/2 cup oil
2 eggs
6 cups apples
2 cups flour
2 teaspoons cinnamon
2 teaspoons baking soda
1 teaspoon salt
1 teaspoon nutmeg
Combine sugar, oil, eggs, and apples. Sift together the flour, cinnamon, baking soda, salt and nutmeg. Add dry ingredients to the sugar mixture. Use paper cupcake liners in dark cupcake pan. Fill cupcake pans half full of batter. Bake in solar oven approximately 2 to 2 1/2 hours. If it is a sunny day, watch the baking time.
Brownie Pudding
1 cup flour
2 teaspoons baking powder
1/4 teaspoon salt
3/4 cup sugar
1/4 cup + 2 tablespoons cocoa
1/2 cup milk
2 tablespoons melted butter
1/2 cup chopped nuts (optional)
1 cup brown sugar
1 1/2 cups boiling water
In a large bowl, sift together the flour, baking powder, salt, sugar and 2 tablespoons cocoa. Add the milk, butter and nuts. Mix thoroughly. Spread in a greased 9-inch dark pan. Mix together the brown sugar and 1/4 cup cocoa and sprinkle over the batter. Pour the boiling water over the batter. Cover. Bake about 2 hours in a preheated solar oven. Fudge sauce forms under brownie like topping.
Rice Pudding
1 cup rice, cooked
3 eggs
1 1/3 cups milk
2 tablespoons brown sugar
5 tablespoons sugar
1 tablespoon butter
1 teaspoon vanilla
1/2 teaspoon lemon juice
fresh lemon rind
cinnamon
Combine eggs, milk, sugars, butter and vanilla. Mix into the cooked rice. Add lemon juice and rind. Place in dark pan. Cover and bake 1 1/2 hours. Sprinkle with cinnamon and brown sugar when done.
Apple Custard
1 13-oz. can evaporated milk
1/3 cup honey
4 eggs
1 teaspoon vanilla
1/2 teaspoon cinnamon or cardamom powder
3 to 4 cups apples
Blend ingredients (except apples) for a few seconds in a blender. Place apples in a dark baking dish. Pour liquid mixture over the sliced apples. Cover, place in solar oven and cook about 1 1/2 hours to 2 hours.
Hot Fudge Sundae Cake
1/2 cup flour
3/4 cup sugar
1/4 cup + 2 tablespoons cocoa
2 teaspoons baking powder
1/2 teaspoon salt
1/2 cup milk
2 tablespoons oil
1 teaspoon vanilla
1 cup nuts, chopped
1 cup brown sugar
1 3/4 cups hot water
In a dark round roaster stir together the flour, sugar, 2 tablespoons cocoa, baking powder and salt. Mix milk, oil and vanilla until well-blended. Add the milk mixture to the dry ingredients. Add nuts. Sprinkle brown sugar and cocoa over batter. Pour water over batter. Cover. Bake approximately 1 1/2 to 2 hours. Remove from oven and let stand 15 minutes. Spoon into dessert dishes. Top with ice cream. Spoon sauce over each serving.
Wheat-Free Cookies
2 cups rye flour
1 egg
1/2 cup vegetable oil
1/2 cup honey
1 teaspoon baking powder
Salt to taste
Water to make proper consistency for drop cookies
1/2 cup walnuts, chopped
1/2 cup sugar-free carob chips
Mix all ingredients together, drop on cookie sheets and bake in solar oven 30 minutes to 1 1/2 hours depending upon temperature. Makes 4 dozen.
Baked Apples
Apples
Sugar, brown and white
Cinnamon
Do not peel apples. Core. Fill cavity with sugars. Sprinkle with cinnamon. Place in a dark pan. Cover and bake 1 1/2 to 2 1/2 hours.
Peach Meringues
5 medium peaches
2 1/2 teaspoons brown sugar
Cinnamon
3 egg whites
1 teaspoon vanilla
3/4 cup sugar
Wash and half the peaches. Place peaches cut-side up in pie pan or dark casserole dish. Place 1/2 teaspoon brown sugar in cavity of each peach half and sprinkle with cinnamon. Cover and bake 1½ hours.
Beat egg whites at medium speed until soft peaks form. While beating at high speed add vanilla and gradually add sugar.
Remove peaches from oven, top with meringue, cover each peach completely. Bake uncovered for 1 hour. Serve hot or cold.
Mark's "No Fail" Solar Cookies
1 cup oats
1 cup flour
1 pinch salt
1/3 cup oil
1 teaspoon vanilla extract
1/2 cup sugar (white or brown)
1/2 teaspoon baking soda
1/2 cup chocolate chips and/or raisins
1/2 cup water
Note that the recipe calls for BAKING SODA, not baking powder. However, sometimes I put in 1/2 teaspoon of baking powder for additional fluffiness. Mix ingredients together and then form cookies. Comfortably makes 12 cookies spread over (2) 11 x 7 inch baking pans. If you are using a Heaven's Flame type of cooker where the food will not be flat, consider using a couple of 11 x 7 inch mini-muffin pans. With two of these, you can make 18 to 24 mini-cookies (enough for everyone in the class!). I find that using a 50/50 mix of raisins and chocolate chips makes for a cleaner eating experience. However, if you use raisins, be sure not to bake too long (more than 2.5 hours) because raisins start becoming crunchy after awhile. Cooks in as little as 25 minutes in a hot oven or 1.5 hours in a cooler oven.
Kellie and Kristine's Solar Fruit
1 firm, ripe banana
1 red apple
Ground cinnamon
Sugar
Honey
Walnuts
Orange rind (if desired)
Slice apple & banana. Sprinkle as much cinnamon & sugar over as desired. Sprinkle walnuts on top. Pour honey on top. Bake for 30 minutes or until soft. If you want to, add orange rind before baking for extra flavoring.
Sweet Anastasia's Cinnamon Rolls
2 packages dry yeast
1/2 cup warm water
1/2 cup warm milk
3/4 cup sugar
1 tsp salt
2 eggs
3/4 cup butter - softened
4.5 - 5 cups flour
2 teaspoons cinnamon
1 cup powder sugar
1 tsp milk and 1/2 tsp vanilla
Dissolve yeast in warm water. Stir in salt, sugar, eggs, butter and 2.5 cups of flour. Beat until smooth. MIX IN ENOUGH OF THE REMAINING FLOUR TO MAKE DOUGH EASY TO HANDLE. Kneed dough lightly on floured board. Let dough rise in warm place about 1.5 hours. Take 1/2 (or cut the recipe in half) the dough and roll it flat. Shape it into a 15" x 9 " rectangle. Spread the softened butter over rectangle. Mix 1/4 cup sugar with cinnamon. Sprinkle sugar cinnamon mixture over rectangle. Roll up beginning at the wide side. Pinch ends to seal well. Stretch roll to make even.
Cut roll into 15 slices. Place on greased baking pan. You can let them rise or just place them into the oven. Cooking time is a little over an hour depending on your taste preference.
Icing, mix powder sugar, milk and vanilla until creamy smooth and pour over while rolls are still warm.
Looking for a time saver? Try the pre-made cinnamon rolls in your grocer's freezer and just follow the above cooking directions. They come with packets of icing.
SharonID's Sunshine Shortbread (for solar box ovens)
2 ½ cups flour
1 cup confectioner's (aka "powdered" or "icing") sugar
1 cup butter (two sticks or ½ pound)
¼ teaspoon salt

Amalgamate the ingredients. The easiest way is in a food processor (cut butter into pieces… the dough won't quite form a ball, but will get evenly clumpy). If you don't have a food processor, you can either cut the cold butter into the mixed dry ingredients and then wade in with your hands and knead until well combined or cream softened butter with the sugar and salt work in the flour by hand.
With your hands or the back of a large spoon, press the crumbly dough as evenly as possible in a greased small, dark cookie sheet (13"x9") or other equivalent pan(s). With a knife or pizza cutter, score the dough into small squares or diamonds.
This has been tried once covered (with a matching dark cookie sheet) and once uncovered and worked well both ways. Place in solar box oven and let it bake. With oven temperatures running 210F-225F it takes about four hours. If your oven tends to be a little uneven, turn the pan front-to-back after about two hours. A hotter oven would be somewhat quicker. Shoot for a light golden brown (the top may be paler… it browns from the bottom up, so use a spatula or knife to lift the sheet of shortbread a little to check the bottom if you're not sure if it's done). When you bring the shortbread in, re-cut on the lines you scored before baking while the shortbread is still hot (it's very crumbly to cut when cold).
This long, slow baking makes the best shortbread SharonID has ever tasted. In fact her family considered naming it Outlaw Shortbread because it is so deliciously decadent that it is surprising that it's legal!
Note: You can increase the fiber while still having a very enjoyable shortbread by putting 2 tablespoons of oat bran in your measuring cup and adding the flour on top of that. You could make the dough and press it into the pan the night before you want to cook it and refrigerate overnight. Remove from refrigerator at least a few minutes before putting into the solar oven.
Solar Pavlova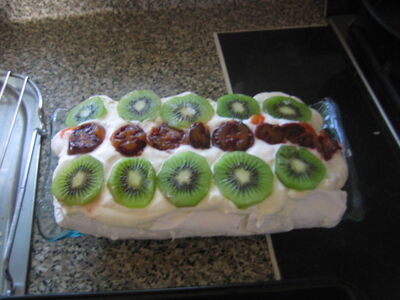 4 egg whites
4 T cold tap water
1 1/3 cups caster sugar (very fine granulated sugar - could use regular white sugar)
1 1/2 t vinegar (preferably white)
1 1/2 t vanilla essence
4 t cornflour (called 'cornstarch' in the US)

Topping:
1 cup cream, whipped
sliced fresh fruit (e.g kiwifruit, strawberries, peaches, tamarillos) or berries, passionfruit pulp, pomegranate seeds etc. - whatever is available
Place egg whites, water and sugar in a bowl. Beat gently to mix and then beat until very stiff (10 minutes on high with an electric beater). Mix vinegar, vanilla essence and cornflour to a thin paste. Add to egg white mixture and beat until it is so stiff that you can fully invert the bowl and nothing moves (further five minutes with an electric beater).
Line a black tray with baking paper and spread mix on. It should be about 1 1/2 - 2 inches high and come no closer than 1 inch from the edge of the paper. Smooth over the top. If the container is taller than the batter then fix a black lid tightly onto the container; otherwise put props around the edge to hold the lid off the batter and then cover it with tin foil painted black on the outside.
Bake in a preheated solar oven 3-4 hours. It will have a marshmallowy texture with some crispness on the outside. Transfer to a serving plate and decorate with whipped cream and fruit.
Serves 6-8

Note 1: to cook in a conventional oven, bake for 45 min at 150 deg. C and then leave to cool in cooling oven.
Note 2: if you have no immediate use for the four egg yolks then mix them well with either 1/8 tsp salt or 1 1/2 tsp sugar and freeze for later use in custards, pastry, lemon curd, ice cream etc.
SharonID's Sunny Rice Pudding
6 cups milk
¾ cups long-grain rice
1 cup light cream (half and half)
1 cup sugar
2 eggs, beaten
2 teaspoons vanilla
¼ teaspoon salt
1 teaspoon cinnamon and/or nutmeg
¼-½ cup raisins (optional)
Butter a solar pot that holds at least three quarts. Pour in milk and set out to heat until steaming hot. (NOTE: If you are using a HotPot type arrangement, this will heat much faster if you can find a black lid that fits under your clear lid. Milk is very white, and so is rice in milk.)
When milk is steaming, stir in rice, cover, and continue to cook until rice is thick and tender, stirring once or twice during the hour and a half or so to break up any clumping. When rice is close to done, combine cream, sugar, eggs, vanilla, raisins, salt, and nutmeg and/or cinnamon. Stir thoroughly into rice, cover (you can just use your clear lid now, if you are using a HotPot), and heat to a simmer (usually half an hour or less if the rice was at a simmer when you added the cream mixture).
This is good warm or cold, but once it cools off it should be stored in a refrigerator. Good plain or with whipped cream or pour cream. This is a good sampling food for solar cooking demonstrations.
Sharon's Solar Fudge
3 cups (18 oz) semi-sweet chocolate chips (aka morsels)
1 can (about 14 oz.) sweetened condensed milk (NOT evaporated milk)
2 tablespoons butter
1 teaspoon vanilla
1-3 cups chopped nuts and/or dried cherries or berries (optional)
Makes about two pounds. Line an 8 or 9-inch square pan with waxed paper and set aside (if you can't get waxed paper, butter pan well). Butter black HotPot pot (or other solar pot). Open the condensed milk and scrape it into the pot. Mix in the chocolate chips, add butter (ok if it's a lump on top), and set to cook. Stir occasionally (this is one exception to the 'no need to stir' guideline), until the chocolate is melted and mixture is smooth. Quickly stir in vanilla and nuts/fruits, pour and scrape into prepared pan, and cool until set.
This makes a dense, dark fudge. For a creamier fudge, you can melt 2 cups of miniature marshmallows with the condensed milk and chocolate.
For an extra-dark, high-antioxidant fudge, substitute extra-dark morsels for all or part of the semi-sweet (all dark will make a very grown-up fudge), and include snipped dried cherries, blueberries, and cranberries, as well as walnuts, and go for the full three cups of additions. Use 2 teaspoons of vanilla. I like 2 cups semi-sweet, 1 cup extra-dark, and 2 teaspoons of vanilla the best.
This is an excellent solar sample food. Most people love fudge, and it can be served on toothpicks.
Sunshine Berry Cobbler
3 cups mixed fresh berries (blueberries, raspberries, huckleberries, blackberries, strawberries—cut up if large—they are all good and all good for you).
1/4 cup organic, turbinado, or white sugar (a little more if berries are very tart)
1 Tablespoon Minute Tapioca
3 Tablespoons orange juice 0R two tablespoons lemon juice
1/2 cup butter, softened
1/2 cup organic, turbinado, or white sugar
1/4 teaspoon baking powder
Pinch salt
1 egg
1 teaspoon vanilla extract
2/3 cup flour

Set up solar cooker, preheat if using box oven. Toss together first four ingredients. Pour into well-buttered dark 8-9-inch square pan (with matching pan to use upside-down for lid) or round roaster with lid and spread evenly. Cream together next four ingredients. Beat in egg and vanilla; gradually stir in flour. Drop by rounded spoonfuls on top of fruit, covering as much of top as possible. Cover securely (use binder clips with upside-down pan lids), bag if needed, and put in solar cooker, aimed correctly. Takes 2-3 hours—check after an hour of mild steam or half-hour of strong steam. Done when berries have stewed and cobbler top is set. To serve warm, cover pot with foil and tuck a couple of towels or blankets over and around it and leave in cooker until time to serve.
Gooey Sunshine S'Mores Bars
A smoke-free variation of the old campfire stand-by.
1/2 C. butter
1 C. finely crushed graham crackers
1 1/2 C. milk-chocolate chips (aka morsels)
1 1/2 C. mini marshmallows
1/2 C. finely crushed graham crackers
1 can sweetened condensed milk (not evaporated milk!)
Optional: You can add a cup or more of roasted peanuts (adds protein) after the chocolate chips and call them Rocky Road S'mores Bars.
You will need a solar cooker that can take a 13"x9" pan for this one (CooKit works very well), and you will need a pan of a matching length and width to use upside down for a lid. You can use two 13x9" cookie sheets if they are not too shallow, or use a 13x9" cake pan for the bottom and a cookie sheet for the lid.
Cut the half-cup (one stick) of butter into slices, put them into the pan, cover with lid pan, and place out in solar cooker to melt butter while you crush the graham crackers (takes about one packet). Bring the melted butter pan back to the kitchen and tilt of shake pan gently if needed to evenly distribute butter. Sprinkle the 1 cup of crumbs as evenly as you can over the butter. Then do the same thing with the chocolate chips, the marshmallows, and the 1/2 cup of crumbs. Drizzle the sweetened condensed milk as evenly as you can over the top. Cover and set out to cook, using oven bag for extra cover if needed (not needed in a box oven or if you have some other alternative cover).
Set the cooker about an hour ahead of the sun. If you like the soft insides of marshmallows, check after the first hour, and remove from cooker if it seems melted enough to stick together when it cools. If it seems underdone or if you like the chewy, toasted outside part of a toasted marshmallow the best, turn the pan front to back and leave it for another hour or so to get more chewy and golden (shorter if the sun is really fierce). Cool before cutting.
Note from Sharon Cousins: You could use semi-sweet or dark chocolate or any other flavor morsels you like. You can also layer other nuts, granola, etc. Just put the marshmallows and condensed milk on top of the rest to make it gooey and stick it all together. I think 6 tablespoons of butter would work as well or better in solar, where the danger of scorching is not as high as in a conventional oven. I will try it that way next time.
Solar Almond Shortbread Bars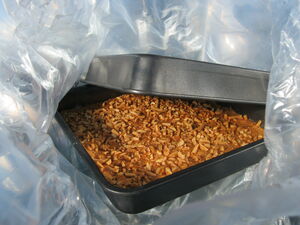 Solar Almond Shortbread Bars
2 cups All-purpose flour
1 cup Sugar (raw/organic is especially good)
1 cup Butter; softened
1 Egg; separated
1/2 teaspoon Almond extract
1 teaspoon Vanilla extract
1 tablespoon Water
1/2 c Almonds chopped (if you don't like the skins, use blanched, slivered almonds—purchased in bulk if possible—and chop them a bit more)
Adapted from a recipe from Land O Lakes Cookie Collection.
Set up panel cooker or preheat box oven. If your box oven or panel cooker is large enough to take a 15"x11" cookie sheet, you can make one big piece. If not, plan on two 8" or 9" square pans. In any case, have matching dark pans to use upside down as lids (secure with binder clips). Grease and flour bottom pans thoroughly.
Combine flour, sugar, butter, egg yolk, and almond and vanilla extracts in a medium-large mixing bowl. Beat at low speed until ingredients are well combined (may be more or less crumbly or globby, depending on room temperature). Press on bottom of pan(s) (dividing evenly if using two pans). In small bowl or mug, beat egg white and water until frothy; brush on dough, using all egg white and dividing evenly as possible if using two pans. Sprinkle nuts over top and press down lightly. Cover securely and set out to cook, bagging pan(s) if using a panel cooker.
Set the cooker so the sun will sweep across it in about an hour. After that hour, turn your pan front-to-back (180 degrees) and reset cooker for another hour. If, at the end of the second hour, you have been having strong signs of steam for awhile, go ahead and check them. If steam is mild or nonexistent yet, give another turn and set for another hour. They are done when the top is somewhere between golden and golden-brown they feel partway to firmed up (they will firm up more when cooling, usually with a rather chewy texture when fully cooled). Sharon Cousins has had good results with cooking times ranging from two to four hours (four hours would be very iffy sun or late-day or late-year).
Cool before cutting. The easiest way to cut them is to loosen the edges and then try to loosen the bottom enough to put the whole pan's worth on a cutting board (sometimes cutting out one row helps this process). Then it is easy to cut tidy bars with a long, sharp knife. These make an excellent solar sample food. They look elegant, especially made with the blanched almonds, and even a small piece is a treat. Store in a food storage container. Freeze for long-term storage. These will also ship well, if well-packed.