Jurassic World: Dominion Dominates Fandom Wikis - The Loop
Play Sound
Last edited:
5 February 2021
Events
[
]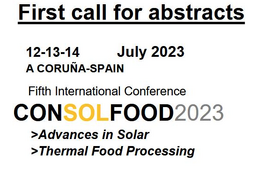 NEW: 

12-14 July 2023 (A Coruña, Spain): CONSOLFOOD2023 - Organizers have released a first call for abstracts to participate in the Fifth International Conference, taking place in Spain in 2023 as an in-person conference. The deadline for submission is 15 December 2022. More submittal information...
See also: Global Calendar of Events and past events in Dominican Republic
News
[
]
April 2018: United Methodist Volunteers introduce solar cooking in Monte Cristi - Solar Oven Partners UMC is based in Brookings, South Dakota (USA), and their history includes nearly two decades of solar cooking introduction in Haiti. They began a similar program in rural heavily deforested areas of the Dominican Republic in 2016. The team helps residents modify their approach to cooking to be able to cook traditional foods. Workshops participants who sign up to receive a solar cooker must pay $1,000 pesos, or about USD 20. Slowly, people are warming to the benefits of solar oven cooking. On a recent trip in March, 70-80 interested participants registered for the workshop, while that number had typically been 10-20 people. 162 solar ovens were sold at the workshop, a new record. Read more...
September 2016: How Solar Ovens Are Changing Lives in the Dominican Republic - Idalia Batista bought her solar oven about six months ago and starts preparing lunch by 8 a.m. She's adjusted her schedule to cook for her family of eight, preparing rice, beans, corn, and occasionally meat in the oven. While the food cooks, she does other chores around the house. She said she's used the solar oven almost every day since she bought it. "There never was a day when it was too cloudy," she said in Spanish through a translator. Before she bought the solar oven, she said, she would buy a 15-gallon tank of gas, costing her up to 1,600 pesos, or about $35, each month. Now that she uses a solar oven, she only buys a nine-gallon tank of gas to prepare other food on her gas stove, saving up to 380 pesos, or about $8, each month. Read more...
February 2016: Solar Oven Partners has published its February 2016 newsletter which details their recent solar cooking work in the Dominican Republic. Read more...
March 2014: Recent use of solar cookers in the Dominican Republic - The USAID –TNC's Environmental Protection Program are working together with the US Peace Corps volunteers and PRONATURA (a local NGO) to buffer the energy demands of rural communities. The goal is to reduce poverty, improve the quality of life for rural residents, and restoring the vegetation cover within the country. See more...
November 2011: Kevin Adair of El Fuego del Sol, reports they are working on a major proposal for USAID for Haiti featuring solar cooking. The request for proposals from USAID appears to be terribly skewed in the direction of low pressure gas (LPG), at the expense of considering other alternatives. There are currently active programs in Haiti and the Dominican Republic promoting solar cookers used in conjunction with alternative fuel-efficient stoves. This approach is explained in the Integrated Cooking Method. Read the USAID for HAITI Request for Proposals.
May 2011: Solar Household Energy (SHE) has begun a cooperative relationship with Grupo Jaragua, a highly respected non-governmental organization in the Dominican Republic, to support a solar cooking initiative. Grupo is aided by a Dominican eco-tourism and solar cooking advocate El Fuego del Sol, which conducts the local assembly and subsidized sale of Sun Oven box cookers in rural communities near the Haitian border. They are also supporting The Nature Conservancy's office in the Dominican Republic to add the integrated cooking method as a component of their reforestation project in Haiti. Read more in the SHE spring update 2011.
April 2010: Kevin Adair hopes to distribute an additional 300 Global Sun Ovens in the Dominican Republic and Haiti by mid-2010 (photo: Kevin Adair) While shuttling between jobs at a number of resorts in the Dominican Republic, entertainer Kevin Adair witnessed the daily struggles many women go through to collect cooking fuel and the health problems incurred by them and their children due to continuously breathing in smoke from cooking fires. Adair also sensed that the resort vacationers he was entertaining were not being offered opportunities to really experience the people, culture, history, and food of the Dominican Republic. Adair began to address these issues in 2005 when he purchased 40 acres of lush land near Higuey, Altagracia, and formed El Fuego del Sol — a "GeoTourism EcoVillage" that offers alternative travel experiences for individuals and groups looking to delve a bit deeper into the geographical character of the area and its people in an ecologically sustainable way. Partnering with Sun Ovens International, Adair opened Force of the Sun, a Global Sun Oven® manufacturing facility that serves the Dominican Republic and Haiti while providing local jobs that meet fair-trade standards. Visitors to El Fuego del Sol are served traditional meals cooked using a non-traditional fuel source — the sun. They not only taste how wonderful solar-cooked food can be, but also learn about the many health, economic, and environmental benefits of solar cooker use in the region. A requirement of staying at the center is the purchase of a Sun Oven that will be made available to a development organization or a local family in need. In 2007, to expand the reach of this solar cooker distribution program, Force of the Sun began working with Grupo Jaragua, a Dominican nonprofit organization that operates a number of community centers. They developed and continue to use a solar cooker training and purchasing system that involves subsidies and/or volunteer credits. Before a family can purchase or earn a solar cooker, they must learn to use it and cook several meals at the community center. According to Adair, potential solar cooker recipient families must "first cook with the Sun Ovens, preparing food for other volunteers, and do additional community service. … This keeps the Sun Oven from being taken for granted, and familiarizes the recipient with solar cooking techniques well in advance of their receiving a Sun Oven." Next, a reasonable price is set for the subsidized solar cookers. Families are given the opportunity to lower that initial price by keeping a month-long log of wood and propane cooking fuel purchases. A payment plan is then established, wherein the families receive their solar cookers, and pay a weekly amount that is less than the amount of money saved in cooking fuel costs. If the family continues to log fuel purchases, along with solar cooker use, they can submit the journals for additional credits towards the purchase price based on the number of months tracked. The purchase price is further reduced or even waived by volunteering at the community center through activities like reading to children or planting trees. All family members can volunteer, but the men are especially encouraged to participate because they have been shown in this project to be the most hesitant. By requiring that community center meals be cooked with Sun Ovens whenever possible, families that volunteer become accustomed to the food and the solar cooking process. Volunteering to cook at the community center is a great way for families to become familiar with the technology and earn a Sun Oven. Using this distribution model, Adair hopes to provide an additional 300 Sun Ovens by mid-2010. Visit http://www.elFuegodelSol.com to learn how to buy a Sun Oven for a Dominican or Haitian family & Buy a Sun Oven of your own.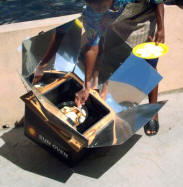 All American Sun Oven® — the durable box-type solar cookers developed by Sun Ovens International — are now being assembled in the Dominican Republic for use there and in Haiti, the Caribbean, and Central America. Kevin Adair, owner of Force of the Sun, says his company offers the ovens for sale at a significant discount to nonprofit organizations. He predicts the company will distribute 50,000 solar cookers regionally in the next three years. Force of the Sun began full production of Global Sun Ovens® in May 2006, and shipped its first cookers to Haiti in June. The factory was designed by solar cooking expert Jack Anderson. Additional space is available for rent to other nonprofits and manufacturers of ecologically sensitive products. Adair believes that by networking with other groups in the Dominican Republic, he will be able to spread the solar cooking idea faster. The company offers training to nonprofits that will distribute solar cookers. Force of the Sun is seeking volunteers to teach solar cooking skills in the Dominican Republic and Haiti. Contact: Kevin Adair, Force of the Sun, Higuey, Dominican Republic. E-mail: KevAdair@aol.com
History
[
]
For some years, Sophie Jakowska, an associate of the World Conservation Union, has demonstrated the use of solar cookers, in connection with children's exhibits at a new national park. The cookers generated much enthusiasm. Another individual has created a small organization, Estufas Solares Dominicanas, in several towns, with the purpose of demonstrating and promoting cookers. No large-scale project in the nation has been reported.
Archived articles
Climate and culture
[
]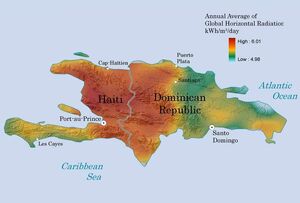 Solar Cookers International has rated Dominican Republic as the #24 country in the world in terms of solar cooking potential (See: The 25 countries with the most solar cooking potential). The estimated number of people in Dominican Republic with fuel scarcity but ample sun in 2020 is 1,700,000.
See also:
Resources
[
]
Possible funders
[
]
Facebook groups
[
]
Reports
[
]
Articles in the media
[
]
Audio and video
[
]
External links
[
]
Contacts
[
]
The entities listed below are either based in Dominican Republic, or have established solar cooking projects there:
SCI Associates
[
]
NGOs
[
]
Manufacturers and vendors
[
]
Individuals
[
]
Government agencies
[
]
Educational institutions
[
]
See also
[
]
References
[
]