Last edited:
29 June 2020
| | |
| --- | --- |
| | Solar cooked food is tasted an an IECAIM solar cooking workshop. |
Events
[
]
NEW: 

15-17 September 2021: Climate Chance Summit Africa 2021 - Registration is open to attend the virtual 3rd edition of the Climate Chance Africa Summit. Three days of sessions on key themes and sectors of climate action hosted by non-state actors engaged in climate change in Africa. There is no charge for attendance, but registration is required
NEW: 

Friday, 17 September 2021 (10:30am CDT, 15:30 GMT): Homeschool program on solar cooking - The Syracuse-Turkey Creek Township Public Library, in Syracuse, Indiana, USA, offers online programs for homeschool students on Fridays at 10:30am. This program is described as learning to build and use a solar cooker. Read more...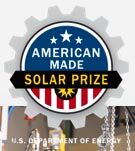 NEW: 

5 October 2021: American made solar competition - The U.S. Dept. of Energy is sponsoring a a multi-part competition to spur solar manufacturing, develop innovative solar solutions and products, and create domestic jobs and opportunities through public-private partnerships. The contest is open to U.S. residents, and the final phase is still open for submittals until 5 October 2021. Much of the attention has been with photovoltaic solutions, and this last phase is structured with two tracks that focus separately on hardware and software components. Solar cooking equipment should qualify as hardware solutions. Read more about the competition...
NEW: 

22-26 November 2021: 2nd National Congress for Solar Drying and Cooking Food - An affiliated group of universities in Mexico will host an online conference relating to solar food drying and cooking, as well as, food safety and energy savings realized with minimal environmental impact. Participants can register to view the presentations, or apply for presentation consideration. The conference will be in Spanish. Registration information... - (English version)
17-23 December 2021: Solar Cooking Awareness Week (Southern Hemisphere) - A loosely organized bid to acknowledge the fun and benefits of solar cooking. Show someone how to solar cook and share a meal.
24-26 January 2022: Fourth International Conference: Advances in Solar Thermal Food Processing - CONSOLFOOD Chairman, Celestino Ruivo, has announced an extended call for abstracts for the upcoming conference in January 2022, which is now planned to be an online event. Advances in solar cooking as well as solar food processing will be considered for inclusion. The event schedule and submission requirements are in CONSOLFOOD 2022 conference information.
See also: Global Calendar of Events and past events in Ecuador
News
[
]
June 2016: Prof. Rodrigo Carpio reports that Fundación Inti Uma Ecuador continues to organize solar cooking workshops for community groups, schools, and universities. They began in earnest in 1990 and are going strong. He feels because the government of Ecuador subsidizes traditional fuels, it makes it more difficult to make the case for solar cooking, but he is seeing a shift in this thinking of "living behind reality". The April 2016 earthquake in Pederanales, Ecuador brought tragedy, but it also showed how off-grid technologies can play a role in meeting the future energy needs of the country.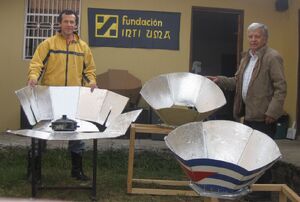 November 2012: At the invitation of Solar Cookers International, Rodrigo Carpio of Fundación Inti Uma Ecuador built a "Minimum Solar Box Cooker" and exhibited it for the first time on Earth Day in 1990. Thus began the "Green Decade" (1990-2000) in Ecuador. We took the path of the sun and created the foundation INTI UMA, Quechua words that evoke, for our actions, the illumination of the mind in the warmth of the heart. We attended the International Congress of solar cookers SCI sponsored and organized in Cuenca, Ecuador and the Second Conference for Latin America and the Caribbean in 1997. We have conducted 230 rural and community workshops to teach the making and using of solar cookers. We have taught students at the College Benigno Malo (approx. 5,000) and the University of Cuenca. We investigated appropriate designs equatorial sun oven Inti Churi (Son of the Sun), fruits and food dehydrator; Three in one hub - paraboloid - furnace, "

Sunflower

" hub; Oven José Sol, multi reflector, and recreation of the Solar CooKit. However, we have not developed self-sustaining projects due to lack of funding. In Ecuador LPG is subsidized, masking the real cost of cooking gas. The current petroleum bonanza in our country results in the inability of our government to understand the urgent need to replace fossil fuels with renewable energy.
History
[
]
Instituto Ecuatoriano de Investigaciones y Capacitación de la Mujer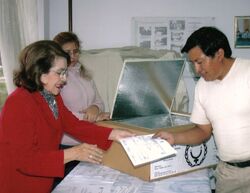 In Ecuador, solar cooking has had support from the government, largely through the involvement of representatives of a semi-official unit known as IECAIM, or the Ecuadorian Research Institute for Women's Training. The group was organized to serve as a focal point for the country in connection with the work of the United Nations agency called the International Research and Training Institute for the Promotion of Women (INSTRAW), a specialized agency focused on the issues of women. One of its areas of interest was the use of new and renewable forms of energy, which encompassed solar cooking and solar drying of foods. IECAIM took up that challenge and has been the most active promoter of solar cooking in Ecuador, under the leadership of its Director, Fabiola Cuvi Ortiz. IECAIM has been active since 1986 in providing training courses for women on building and using solar cookers. Workrooms were established for meetings and training courses. Initially, 300 solar cookers were built, mostly women themselves, who were also trained in the new mode of cooking. Both newspapers and television media were used to publicize the efforts and results of this work.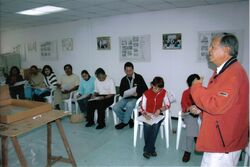 After the pilot efforts proved to be very successful, promotional activity was carried out in many places where women and girls congregate, schools, factories, and women's groups. In a situation of unrest (a border dispute with Peru), cookers were provided for the displaced families. In the course of this work, four small production industries have been started, building cookers to sell to others, with work done by women. In total, nearly 1,000 cookers have been disseminated in Ecuador. The Institute has also published two books, one on solar oven construction, and the other on cooking.
Archived articles
Climate and culture
[
]
Resources
[
]
Possible funders
[
]
Facebook groups
[
]
Reports
[
]
Articles in the media
[
]
External links
[
]
Contacts
[
]
The entities listed below are either based in Ecuador, or have established solar cooking projects there:
SCI Associates
[
]
NGOs
[
]
Manufacturers and vendors
[
]
Individuals
[
]
Government agencies
[
]
Educational institutions
[
]
See also
[
]
References
[
]