Puffed Eggs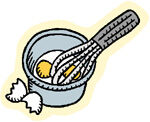 1 egg
2 tablespoons milk
1/4 cup shredded cheddar cheese
seasonings
Beat egg with milk. Add seasonings and cheese and put in large, buttered, dark-colored ramekin. Cover lightly (cover may raise) and bake 1 hour. Serves 1.
Crust less Quiche
1/2 cup buttered bread crumbs (include the crusts)
2 eggs
1/4 cup milk
Dash of seasonings as desired
1/2 cup grated cheese
1/4 cup diced cooked ham (or canned ham chunks)
Line bottom of small dark pan (5-inch) with buttered bread cubes. Mix remaining ingredients and pour over bread cubes. Cover and bake until puffy; about 1 to 1 1/2 hours. Serves 2.
Poached Eggs in Spanish Sauce
1/4 cup onion, chopped
1/4 cup celery, chopped
1/4 cup green pepper, chopped
1 can 8-oz. tomato sauce
Spanish seasonings
5 eggs
In a covered casserole, soften onion, celery and butter at 250°F about 30 minutes. Add one small can of tomato sauce and Spanish seasonings. Heat thoroughly. Break eggs into a bowl, uncover the casserole and gently pour eggs into the sauce. Cover and cook until eggs are firm.
Spinach Quiche
1/2 cup chopped onion
1/2 cup mushrooms, sliced
1 cup Swiss cheese, shredded
1 10-oz. package frozen spinach, thawed and drained
3 eggs
1 can evaporated milk
3/4 cup Bisquick
1/4 teaspoon nutmeg
Salt and pepper, to taste
Butter a 9-inch round dark roaster pan. Combine onions, mushrooms, cheese and spinach in a round roaster pan. Beat together the remaining ingredients. Pour over the vegetables. Cover and bake for 2 1/2 hours.
Special Fried Eggs
Add some oil to a pan or saucepan, but not too much. Carefully place the egg & season with salt. Place the pan or saucepan (without lead) on the solar cooker. Cover the pan with a plastic bag, in such a way that the egg can be seen (it is possible to cook 2 eggs at a time). Leave it under the sun until the white of the egg becomes really white. (If left longer the yoke will harden). Cooking time: 30 minutes.
Hard Boiled Eggs
Wash the eggs and place them in a pan. Cover with water and add a bit of salt. Cooking time: 3 to 4 hours.
Cotton Undie Eggs
3 eggs
Lettuce
Bread
Clean Black Cotton Undies
A Group of School Kids
A Responsible Adult
A sense of fun!
Take the eggs and carefully wrap them in an old pair of clean, black cotton underpants. Place in the cooker until done. (Ours in a home made panel cooker, the eggs covered with a large pyrex dome, for about 1.5 hours and were a tad overdone.) When ready, use them to make curried egg and lettuce sandwiches to share for lunch.
This is one for a group of kids to get them interested in solar cooking. There was no way they thought they could cook eggs in old black cotton sox or underpants and chose to cook the eggs in an ancient pair of worn out black cotton underpants (complete with holes) and called the eggs "underpant eggs"!!! We used the cooked eggs to make curried egg and lettuce sandwiches for lunch which they all enjoyed. The eggs went into a panel cooker, were covered with a pyrex dome and cooked for a bit more than one hour. They were great in the sandwiches and it was a lot of fun. It made a solar cooking lesson a fun learning experience for the kids which they have never forgotten.
Katie's Asparagus Quiche
9 eggs
1 cup shredded cheddar cheese
Approximately (25) 3-4" asparagus tips, raw
1 teaspoon paprika
1/2 teaspoon salt (optional)
freshly ground black pepper to taste
Spray the pie pan with oil. Place eggs into a bowl and wire whisk them until well beaten. Stir in all the rest except the asparagus tips. Pour mixture into pie pan. Gently place the asparagus tips in a wheel-spoke design around top of quiche. Crush more black pepper over top if desired.
Bacon and Eggs
Sun-light Garden Pie
This is a great recipe because you can use just about any vegetables that are cheap or seasonal and almost any form of plain fresh or cultured milk. Cheese and eggs go well with just about all vegetables, so if you like the ones you have and think they go well together when mixed, they will work fine in this. Because there is no crust, this is healthier than a traditional quiche with a rich crust.
2 1/2 cups fresh vegetables, chopped
1-2 cloves garlic, minced (optional)
3 green onions, sliced, or 1/4 cup minced onion or shallot
1-3 tablespoons minced fresh herbs if you have some
1 cup grated cheese (light or 2% is fine) (this is 1/4 lb., or just a bit more than 100 grams)
3/4 cup milk 0R buttermilk OR light or regular sour cream OR plain yogurt
1/3 cup baking or pancake mix (or 1/3 cup flour, 1/2 tsp. baking powder, 1 extra tsp. oil)
2 eggs
1/2 teaspoon salt
1/4 teaspoon pepper or seasoned pepper and/or dash hot pepper sauce
1-3 teaspoons herbs and spices, choosing from ones like basil, marjoram, rosemary, oregano, thyme, parsley, tarragon, paprika, dried chili, cumin, coriander, turmeric — whatever you have that you think goes well with your vegetables
1 tablespoon olive or other vegetable/nut/seed oil
Preheat solar box oven, or prepare panel cooker with suitable rack and clear cover for your pan. Mix first four ingredients; spread half in well-greased, dark 9" pie pan. If you don't have a pie pan, use whatever dark lidded pan you have that seems the closest. If the pan is deeper than needed, the mixture will still cook. Layer half of cheese, rest of vegetables, rest of cheese. Blend remaining ingredients well, using a blender if you have one OR whipping well with a fork or whisk or egg beater or mixing stick if you don't have a blender. Pour evenly over vegetables, poking a little with a fork or stick if the liquid has trouble penetrating the layers, because you want it to penetrate the mixture, not just sit on top. Sprinkle on a little paprika if you have some. It is pretty and is good for you, as peppers have a high vitamin and mineral count.
Cover with inverted matching dark pan (or lid if using alternative pot); secure with binder clips if possible. Place in solar cooker and close cooker or cover pot with its clear heat-retention cover. Bake until pie is set and knife inserted in center comes out clean. It often sets up in less than two hours in good sun, because the pan and mixture is rather shallow.
Do measure the vegetables and do not go over this amount for a regular pie pan or your pan will overflow. You must use a deeper pan if you want to put in more chopped or grated ingredients. This will serve 3-6 people, depending on how many side dishes you serve with it. If you want to make more, use a round roaster or other deeper pan with a dark or clear lid. Then you can double the amounts if desired, though a deeper mixture will take a bit longer to cook. If you love cheese, you can melt some additional grated cheese on top when your pie is almost done.
Meat variation: Diced or crumbled cooked meat, poultry, or bacon can be substituted for up to one cup of vegetables.