Last edited:
4 August 2019
Events
International conferences
NEW: 

2-13 December, 2019 (Madrid, Spain): COP25 - The United Nations Framework Convention on Climate Change (UNFCCC) is hosting the twenty-fifth session of the Conference of the Parties (COP25) has been scheduled to take place in Feria de Madrid in Madrid, Spain from 2-13 December, 2019. More information...

22-24 January 2020 (Faro, Portugal): CON

SOL

FOOD

2020

- To be held at the Institute of Engineering, Universidade do Algarve, Campus da Penha. The conference will focus on solar thermal food processing. The deadline for receipt of abstracts was 15 June 2019. More information... 
See also: Global Calendar of Events and past events in Egypt
News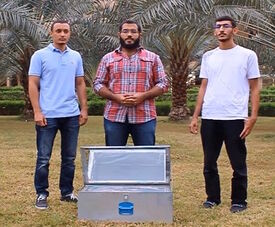 January 2016: Mahmoud Mousa, Abdullah Osama, and Ahmed Essam of E-Innovation won second place overall in the Kuwait Global Technopreneurship Challenge for their solar box cooker design. The event was organized by Wamda, a group dedicated to supporting entrepreneurs in MENA (Middle East and North Africa region). E-Innonation sees their design as a good solar cooker option for low-income families and intends to explore Egypt as the initial market.
December 2013: Egyptian solar inventor Ahmed Megahed received the 2012 Energy Globe award as well as the Arab Organization for Industrialization Award, and he was short-listed for several other awards for his prototype design of a multiple-use solar thermal cooking device. More information...
History
Archived articles
Climate and culture
Resources
Possible funders
Construction plans in Arabic
Reports
Articles in the media
Web pages
Contacts
SCI Associates
NGOs
Manufacturers and vendors
Individuals
Government agencies
Educational institutions
See also
Community content is available under
CC-BY-SA
unless otherwise noted.