Jurassic World: Dominion Dominates Fandom Wikis - The Loop
Play Sound
Last edited:
29 April 2021
Events
[
]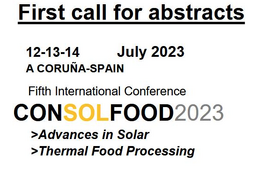 NEW: 

12-14 July 2023 (A Coruña, Spain): CONSOLFOOD2023 - Organizers have released a first call for abstracts to participate in the Fifth International Conference, taking place in Spain in 2023 as an in-person conference. The deadline for submission is 15 December 2022. More submittal information...
See also: Global Calendar of Events and past events in El Salvador
News
[
]
March 2021: After Tropical Storm Stan hit Central America in 2005, a small emergency fund reached El Salamar two years later, which eventually became the start of a much more ambitious sustainable development project that ended up including more than 600 families. Solar ovens and improved combustion cookstoves emerged as important components of the program. The project was financed through the Global Environment Facility's GEF Small Grants Programme. Read the article.
April 21-23 2010: International Workshop about Safe Water and Hygiene Habits for the Home to be held in San Salvador, El Salvador. The event is sponsored by La Fundación SODIS. See here for workshop announcement and course description (both in Spanish). See SODIS for more information describing the solar disinfection technique.
April 2007: Solar Household Energy, Inc.'s partners in El Salvador are currently implementing solar cooking pilot projects that their communities have embraced. More than 100 HotPots have been distributed in the past five months! The majority of women use them for cooking on a daily basis, helping to offset the time and money costs of foraging or paying for wood. Solar Household Energy continues to raise funds for this project with the goal of offering more families the opportunity to own a HotPot.
January 2007: Participants in the El Salvador HotPot program launch in November were amazed at how easy it was to use the HotPot to prepare chicken, vegetables, rice, and plantains. A solar cooking calendar log will be used to document their activities with the HotPot. Details about the launch are available here.
November 2006: A group led by Herbert Aguilar and Dr. Antonio Gonzalez is developing a workshop for building and teaching about solar cookers. They plan to begin with solar box cookers targeted for lower income families, but hope to add parabolic-type solar cookers to be sold to families of higher incomes. The new workshop is located at kilometer 6 on the Carretera Planes de Renderos, with activities initially set for Saturday mornings. Contact: Herbert Aguilar
November 2006: SHE's Latin America Programs Director, Camille McCarthy, traveled to El Salvador to conduct pilot project solar cooking training sessions with Feed the Children and Asociación Comunitaria Unida por el Agua y la Agricultura. During a two week period, SHE, FTC, and ACUA conducted seven trainings where 100 women learned how to use the HotPot. Presently, the women's groups are participating in the follow-up program. The NGO program coordinators conduct group meetings every two weeks where the women can share their HotPot solar cooking experiences.
History
[
]
PROCESSO
This nation is another of those in which solar cooking activity is based on the model known as PROCESSO, developed in Central American countries with the assistance of American Bill Lankford. The project was started in the southern part of El Salvador, in an area where refugees who had been living in Nicaragua during a period of civil strife, were housed after repatriation. Women, who are, of course, the cooks, were taught how to build wooden box cookers and to use them. Cookers were built by teams of women, continuing until one had been built for each member of the group. Later, each of the new solar oven owners assisted in teaching others how to make and build ovens for themselves. The method of technology transfer has proven to be effective though time consuming and therefore costly. (COSENI Case Study, 1996).
San Salvador high school
In the early 2000s, a number of students from a San Salvador high school built a variety of solar cookers, a parabolic, a box booker and a solar panel device, as a science project. The cookers generated considerable enthusiasm and the students next conducted demonstrations in poor neighborhoods.
Archived articles
Climate and culture
[
]
In El Salvador, approximately 65% of the population uses wood to cook, and the practice contributes significantly to deforestation and negative health impacts for women and children including respiratory infections and burns. Furthermore, firewood collection imposes significant time burdens and cooking gas purchase causes extreme financial hardships.
El Salvador is the most densely populated country in Central America with approximately 6.6 million inhabitants. Although it is not as densely populated, Guatemala has a larger population of 12.4 million. Both countries are growing fast: each has a fertility rate of 3.58 to 4.5 children per woman and a corresponding average growth rate of 2% to 2.6% per year. Approximately 75% of the population relies on burning wood to cook which causes enormous strain on the environment, the economy and on individual health. And it is against the law to cut down a tree.
El Salvador has suffered 92% loss of its forest cover and currently experiences a deforestation rate of 4.1% per year. In Guatemala, forest cover loss is around 66% with a 2% annual deforestation rate. The heavy use of fuel wood for cooking contributes significantly to ongoing deforestation. As the forests disappear, the lives of the people who depend on wood for cooking fuel become more difficult.
For instance, women and girls are responsible for procuring fuel wood and they must travel farther from home as wood becomes more scarce. This task demands 9 to 20 hours per week and minimizes opportunities to attend school and participate in income-generating activities. In other areas, it is no longer feasible to gather wood. Families in these areas can spend up to 25% of their income to purchase fuel wood.
In addition to the negative environmental and economic impact of fuel wood dependence, women and children suffer from health problems caused by cooking inside small, enclosed kitchens that often lack windows or other ventilation. Women and children inhale toxic smoke for hours a day, the equivalent of two packs of cigarettes a day, according to the WHO.
In order to save the trees, reforestation efforts are necessary. But El Salvador can supplement its income by producing Stevia if this agriculture is concurrent with reforestation.
See also:
Resources
[
]
Possible funders
[
]
Facebook groups
[
]
Reports
[
]
Articles in the media
[
]
Audio and video
[
]
External links
[
]
Contacts
[
]
The entities listed below are either based in El Salvador, or have established solar cooking projects there:
SCI Associates
[
]
NGOs
[
]
Manufacturers and vendors
[
]
Individuals
[
]
Government agencies
[
]
Educational institutions
[
]
See also
[
]
References
[
]