Last edited:
5 November 2014
This article is about a group or individual that may no longer be active in solar cooking promotion. It is retained here for archival purposes.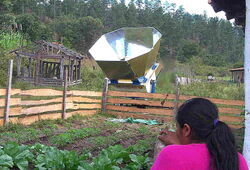 EnCorps International is a non-profit charitable organization cooperating with your organization to enable the deserving poor in developing countries to break the chains of poverty for themselves and their families through microenterprise, business training and continued encouragement provided to those your organization selects for these unique, environmental friendly self-sustaining and self-propagating businesses.
EnCorps and your NGO or FBO cooperate in applying for grants to fund the micro-sun-bakeries or solar-oven assembly plants in less industrialized countries. Your organization selects the deserving poor to be trained. EnCorps can also provide training to your personnel or to the owners/operators. Some proceeds from the profits of the businesses go back into a self-propagation fund, while other proceeds go back into the local community.
This effective strategy eliminates poverty by breaking the cycle of relief and dependence. Micro-business owners and their employees gain hope and dignity by providing for their own families, supporting their communities and contributing to the propagation of more micro-enterprise opportunities for others.
EnCorps International
65 Jericho LN
Batavia, IL 60510-7601
USA Tel: +1 (630) 879-8854
Fax: +1 (561) 679-2746
Email: encorps@att.net
Community content is available under
CC-BY-SA
unless otherwise noted.