Jurassic World: Dominion Dominates Fandom Wikis - The Loop
Play Sound
Last edited:
4 August 2019
Events
[
]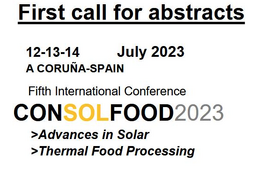 NEW: 

12-14 July 2023 (A Coruña, Spain): CONSOLFOOD2023 - Organizers have released a first call for abstracts to participate in the Fifth International Conference, taking place in Spain in 2023 as an in-person conference. The deadline for submission is 15 December 2022. More submittal information...
See also: Global Calendar of Events and past events in Eritrea
News
[
]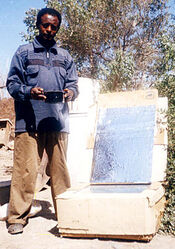 March 2007: Nahom Nigussie of Eritrea writes that he made a solar box cooker based on the instructions sent to him by Solar Cookers International. "I cooked rice, sauce and shiro (traditional pea sauce) within two hours, and one hour for tea. I expect it will cook better in shorter time during summer. … It is fascinating to look at the food cooked by sun. The fascination of making and using solar cookers also lies in its freely available source of energy — the sun."
March 2006: The Eritrea solar cooker project organized by the foundation Solar Cooking Netherlands (SCN) continues to spread solar cooking knowledge in the Anseba region. As of January 2006, women from eight villages in the region, who previously purchased CooKits, attend monthly classes to further their skills and work through any issues. SCEN hopes to extend these classes to 32 more villages in the region by the end of 2006. Local women are fabricating CooKits in the city of Keren. One hundred CooKits have been made, and more are in the works (pending re-supply of aluminum foil, which must be imported). According to SCEN representative Janine Pater, local fabrication is important: "This is a major step forward in accomplishing the objective that now, and in the future, everyone in Anseba will be in a position to buy and/or make a CooKit without restriction." Contact: Solar Cooking Eritrea Netherlands
November 2005: An Eritrea solar cooker project organized by the foundation Solar Cooking Eritrea Netherlands (SCEN) recently edged out 300 nominees to win an award for small-scale development projects. The award, presented by Dutch organizations the National Committee for International Cooperation and Sustainable Development (NCDO) and the Wild Geese Foundation, carries a monetary value of nearly $6,000. SCEN won based on project quality, thoroughness of the organization, efficient working methods, financial transparency, and the "for women, by women" aspect of the project. This year SCEN hopes to enable 4,500 families to solar cook with simple panel-type solar cookers based on Solar Cookers International's "CooKit." Thus far, 1,500 women have been trained, of which 700 have purchased CooKits for about $3.50 each. A new project coordinator, appointed by the National Union of Eritrean Women (NUEW), will organize future workshops and follow-up activities, and supervise a store where solar cookers are produced and sold. Project beneficiaries include low-income women in the Anseba region, and internally displaced persons in the Gash Barka zone. SCEN chairwoman Clara Thomas is currently organizing follow-up meetings with new solar cooks to collect feedback and discuss challenges and success. According to Ms. Thomas, evaluation and adaptation are essential. "In this way," she says, "a tradition of thousands of years of firewood cooking can be transformed to solar cooking with purely the sun as heat source." At least one woman in the Hagaz village seems already convinced. Of her experiences thus far, she says, "We prepare goat, rice, lentils and shiro in the CooKit and the taste is excellent!"
History
[
]
A.K. Lilu Alternative Energy Research
When this nation became an independent state following a long war with Ethiopia, an organization known as A.K. Lilu Alternative Energy Research was formed. The founders are inventors and manufacturers of solar cookers in that new nation. Little else is however known about their sales or programs.
Shell Oil dialog
Participants in the 2001 Shell Oil sponsored electronic dialogue on household energy and health were informed that the Department of Energy of Eritrea had however, engaged in a project promoting the use of fuel efficient stoves in that year. Studies had shown the inefficiencies of traditional bread baking methods and the loss of energy in charcoal making, as well. Therefore, what appears to have been a successful program to change long held habits had been instituted in a pilot area, then expanded to a larger number of villages, auguring well for promotion of additional renewable technologies.
Archived articles
Climate and culture
[
]
Solar Cookers International has rated Eritrea as the #23 country in the world in terms of solar cooking potential (See: The 25 countries with the most solar cooking potential). The estimated number of people in Eritrea with fuel scarcity but ample sun in 2020 is 1,900,000.
See also
[
]
Resources
[
]
Possible funders
[
]
Reports
[
]
Articles in the media
[
]
Audio and video
[
]
Contacts
[
]
The entities listed below are either based in Eritrea, or have established solar cooking projects there:
SCI Associates
[
]
NGOs
[
]
Manufacturers and vendors
[
]
Individuals
[
]
Government agencies
[
]
Educational institutions
[
]
See also
[
]
References
[
]