Last edited:
29 January 2016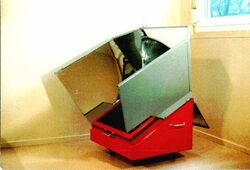 The EuroSolarBox (prototype FDM-46) is one of four type box developed by Andrew Kotowski and allows his wife Sophie to make of soups, cook meat, poultry, and fish, as well as bake bread and cakes. The EuroSolarBox is an environmentally friendly alternative. It may be used in camping, in a picnic or in the garden. This version is optimized for four of the European climatic conditions or for more generally comprise between 40 degrees latitude and 60 degrees.
See Andrew Kotowski.
Community content is available under
CC-BY-SA
unless otherwise noted.