Jurassic World: Dominion Dominates Fandom Wikis - The Loop
Play Sound
Last edited:
31 October 2017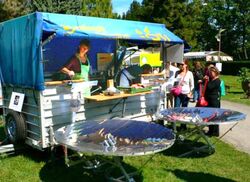 ExSol is a micro-company working in the field of solar energy. It offers the experience and the expertise of Michael Götz and it operates within a network of partners. ExSol works on contract base, from some hours to several months. ExSol is based in Switzerland, but the company works anywhere in the world (reasonable ratio time/distance). ExSol is part of the ULOG network.
ExSol offers:
Technical consulting (R&D, performance tests, choice of technology)
Technical and administrative consulting for development projects
Evaluation and assessment of projects
Organisation and consulting in promotion of solar energy in Europe
Organisation and consulting in education related to solar energy in Europe
Organisation of events and solar catering in Europe
Development of solar articles (Our specialities: lightweight & transportable / related to solar catering)
Writing of articles and books
Public talks, lectures and training courses (solar cooking, renewable energies; from 'all public' to 'university' level)
News
[
]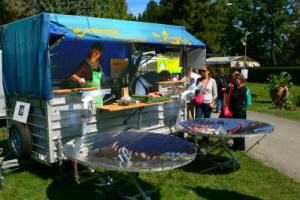 July 2009: Ulrich Oehler's pioneering work in the 1980s inspired a wave of Swiss solar cooking promoters. For many years, Oehler's house in Basel even served as the country's main solar cooker information center, maintained by the ULOG group. From 1997 to 2007, the Centre Neuchâtelois de Cuisine Solaire (CNCS) in the small town of Neuchâtel served as the country's information hub. Visitors could see a variety of solar cooker models or ask questions of the centre's leader, Michael Götz. In addition to this resource, ULOG group and GloboSol maintain a travelling solar crêperie in which they prepare solar pancakes for music festivals and ecology fairs throughout Switzerland. 2008 was a year of changes and new opportunities. The information center moved to a prominent location in the international city of Geneva. Götz is thrilled with the location. "Finally we have a room with a shop-window, only a few steps from Geneva's train station!" Alain Cassani, Annick Steiner, and Yves Ronchetti of the association SOLEMYO manage the shop and information center, conduct solar cooker construction trainings, and schedule solar crêperie events, while Götz, operating as ExSol, works on consulting, education, technical development, and other projects.
See also
[
]
Contact
[
]
ExSol / Michael Goetz
15, rue des Gares
CH-1201 Geneve
Switzerland
Email: exsol@cuisinesolaire.com
Web: http://www.cuisinesolaire.com/exsol (English version)