This article is about a group or individual that may no longer be active in solar cooking. It is retained here for archival purposes.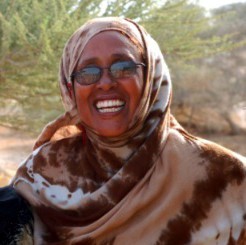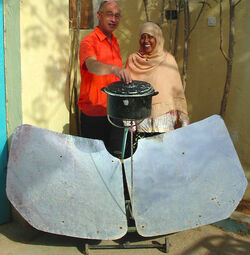 Fatima Jibrell is the co-founder of Sun Fire Cooking. She recently participated in two international events on behalf of Sun Fire Cooking. She received the 2008 National Geographic Society/Buffett Award for Leadership in African Conservation. She was honored for her "outstanding work and lifetime contributions that further the understanding and practice of conservation." Among Jibrell's many accomplishments are her efforts to reduce soil erosion through the promotion of rock dams, her activism towards reducing Somalia's illicit charcoal trade, and her leadership in the formation of a cross-clan, cross-regional resource management network in Somalia and Somaliland. Since co-founding Sun Fire Cooking in 2004, Jibrell has been instrumental in providing solar cookers and training to villagers in the Sanaag district of Somalia, including nearly 1,000 in the coastal village of Bender Bayla.
News and recent developments
September 2008: Fatima Jibrell, co-producer and writer of the film Charcoal Traffic, and co-founder of Sun Fire Cooking has been awarded the prestigious 2008 National Geographic Society/Buffett Award for Conservation in Africa, for her many years of struggle against the illicit charcoal trade which is destroying the fragile semi-arid Somali environment and the pastoral way of life.
November 2006: Fatima Jibrell of Sun Fire Cooking traveled to Capetown, South Africa in August where she presented a new video about Sun Fire Cooking's work to the United Nations Global Environmental Facility. Its work in Somalia was also featured on a BBC television program in October. Sun Fire Cooking hopes to make a longer video to help spread the word about the transformative power of solar cooking.
October 14-15, 2006: BBC television (go to www.bbcworld.com for screening in your time zone) Fatima appeared on BBC World Programme: World Debate on Desertification
August 28, 2006: Capetown South Africa, the United Nations Global Environment Facility where Fatima presented Sun Fire Cooking's four minute video on Bander Beyla, Somalia, the world's first solar cooking village.
See also
External links
Contact
Sun Fire Cooking
Fatima Jibrell
Horn Relief Building
Bosaso
Somalia
Tel: +252 5 824296 or +252 5 797844
Email: sunfirecooking@yahoo.com
Community content is available under
CC-BY-SA
unless otherwise noted.