Last edited:
23 October 2014
This article is about an entity that either no longer exists or that may no longer be active in solar cooking promotion. It is retained here for archival purposes.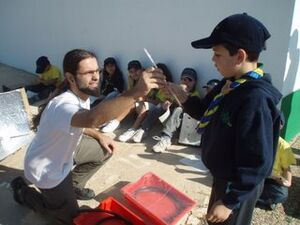 I've started exploring the solar cooking technology potencial as a tool in science education, mainly as an excelent way of showing how empirically gained knowledge could turn into bright technologies if we pay attention to them. That happened during the summer of 2005, as I had the opportunity of creating a summer solar cooker workshop series for 6 to 12 years old children, in Centro Ciência Viva de Tavira, where I've worked. Since then, I have done regular workshops for families, students, scouts, or just curious people.
In these workshops I try not to overload people with theory, but instead put them to work on creative models, starting from simple experiments that show the physical basis of solar cooking.
Last year, i've managed a cooperation project based on inter-scholar team and communication for the transfer of solar cooking technology. The project, called ImpulSolar, started with the cooperation between Portuguese students from Tavira and students from Porto Novo, Cape Verde. It was a sucess! But the project stoped due to lack of funding...
Presently I facilitate low cost renewable energy workshops with several target groups
Filipe Santos

Tel: 00351 965385445
Email: filipehccsantos@yahoo.com.br 
Community content is available under
CC-BY-SA
unless otherwise noted.