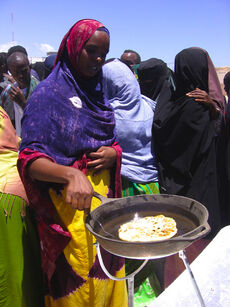 In our way of thinking, there are three important categories of solar cookers--panel cookers (such as the
SCI
CooKit
), box cookers and concentrating (often parabolic or paraboloid) cookers. Panel cookers are not good for the flat breads I know about. Most box cookers do not get hot enough, although they could be specially designed for the purpose.
Parabolic cookers
are the most likely candidates as well as cookers like the
Devos Solar Cooker
and the
Scheffler Community Kitchen
.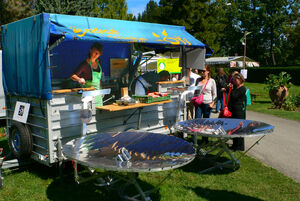 The most common type of parabolic solar cooker in the world is likely to be the "butterfly" type with two not-quite-parabolic reflectors. These are very common in China. For more information, see Yancheng Sangli Solar Energy.
The Ethiopians and Eritreans use a clay griddle for preparing their ingera. This type of griddle is not conductive enough to allow it to be heated hot enough and evenly enough by most solar cookers. We have received two reports of the use of cast iron griddles made in China. These worked much better than the ones made of clay. When ingera is cooked in the traditional way over a wood fire, the correct temperature of the griddle is 180°C.
See also
External Links