Last edited:
12 June 2020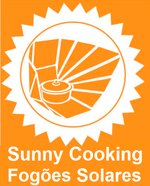 Fogão Solar, or "solar cooker" in Portuguese, was founded by Elmo Dutra, Eng, MSc, professor and researcher in solar energy since 2000, with particular interest in solar cooking. He works in Brazil with his students to create new projects, and also offers solar cookers from other manufacturers for sale through his website.
His Fogão Parabólico cooker is a 2011 addition, and is now offered for sale. It uses four recycled plastic panels, covered with Mylar film, for the reflector.

August 2019: Elmo Dutra represented solar cooking at the seminar on sustainable urban management in the legislative assembly in Porto Alegre, Brazil on August 8th.
April 2016: Elmo Dutra presented solar cookers at Ensus 2016 (Encontro de Sustentabilidade de Projetos) at the Federal University of Santa Catarina.
November 2011: Fogão Solar reports they have taught over 500 people to use solar cookers since they began teaching in 2007.
Elmo Dutra (Founder, Fogão Solar)
276/902 Padre Carmine Fasulo St
Caxias do Sul
95070-200
Brazil
Tel. (54) 9984 9277
Email: elmo@malbanet.com.br — vendas@fogaosolar.net

Web: http://www.fogaosolar.net (English version)
Facebook: @sunnycookingfogoessolares

Community content is available under
CC-BY-SA
unless otherwise noted.