Jurassic World: Dominion Dominates Fandom Wikis - The Loop
Play Sound
Last edited:
8 January 2019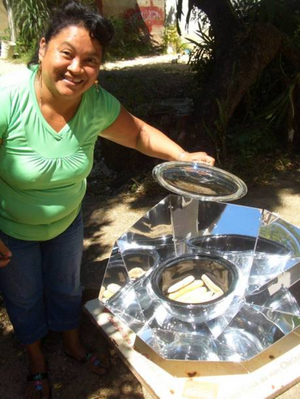 An alarming 60% of the 14 million people living in rural communities in Mexico live in extreme poverty where their economic situation is often linked to environmental degradation. Most of these families use firewood as their main source of energy which claims up to 20% of their income and causes the emission of up to 3.8 million tons of CO2 each year.
The Mexican Fund for the Conservation of Nature (FMCN) is a non-profit organization that finances and supports efforts for the conservation and sustainable use of Mexico's biodiversity. In 2003, SHE, Inc. and FMCN used seed funding from the World Bank's Development Marketplace to initiate a project addressing some of the economic, health and environmental problems associated with rural poverty through the introduction of an innovative solar oven called the "Olla Solar" or "HotPot."
The HotPot is comprised of a black enamel pot fitted inside a covered glass bowl with a collapsible panel reflector of cardboard or aluminum. This simple device can boil and pasteurize water and cook food using only passive solar thermal energy and producing zero emissions or pollution.
FMCN's project, Sustainable Rural Life, was developed as part of their Special Projects Program which poses the objective of promoting the sustainable use of natural resources by implementing EcoTechnologies (ET) that improve public health conditions and foster a stable family economy in rural Mexican communities while reducing greenhouse gas emissions and the loss of biodiversity. Sustainable Rural Life seeks to develop a replicable model for similar communities by dividing the project into phases that facilitate the introduction of EcoTechnologies.
Phase I: Sustainable Rural Kitchen. Provides participating families with an integrated ET cooking system consisting of a fuel-efficient stove, solar cooker, and microbiological water purifier.
Phase II: Sustainable Rural House. Provides a second package of ETs that promote efficient water usage and improve sanitation and health. The package includes a composting toilet, rainwater collection system, and domestic gray water treatment system.
Phase III: Sustainable Rural Community. Provides a customized package of ETs that are compatible with the productive activities of each specific rural community, such as: drip irrigation, soil restoration techniques and tools and alternative livestock management me
The Mexican Fund for the Conservation of Nature began with the Sustainable Rural Life initiative by addressing the rural kitchen and the imminent risk posed to rural families from breathing dangerous wood smoke and propane fumes. In Mexico, close to 28 million people and 90% of rural communities use firewood to cook daily; a practice which causes the annual loss of 20 million tons of tree mass. This initiative is geared specifically at women and the children that stand near them as they cook since it is estimated that the average woman in rural communities that cooks with firewood inhales 12 cigarettes-worth of smoke daily[.
Solar Cooking to Sustainable Rural Life proposal submitted to Development Marketplace II of The World Bank
News
[
]
February 2013: The durable HotPot solar panel cooker has worked well in Mexico - Sustainable Rural Life is the new face of the HotPot Initiative that was launched by the Mexican Fund for the Conservation of Nature in 2003. Delivering HotPot solar cookers and training communities how to use them has served as an effective introduction to clean cooking, and has provided an alternative to burning fuelwood in indigenous communities around the country. Approximately 20,000 HotPots have been distributed throughout sixteen states in Mexico. Last year, 464 were purchased by MFCN and delivered by local partners, and 445 fuel-efficient woodstoves of various types were also delivered between March and September. At SRL they believe that using the HotPot, together with fuel-efficient cookstoves, is the best option to improve cooking habits in Mexico. Read more at Sustainable Rural Life: Update 2012.
August 2012: FMCN involved in Proyecto Olla Solar that involved distribution of a modified CooKit called the Xuni. Read more...
September 2011: FMCN partnered with The Canadian Fund and U'yo'olche A.C.to expand the first phase of the Sustainable Rural Life project in 3 Mayan communities in the state of Quintana Roo and install HotPots for 100 families. As a result of HotPots and Clean-Cook Stoves and 5,000 individuals reduced emissions by 7,000 tons of CO² in this region[http://www.jornada.unam.mx/2011/09/22/sociedad/ (English version)].
Contact
[
]
Fondo Mexicano Para La Conservación de la Naturaleza
Damas 49
Mexico City
Mexico 03900
Email: liliana.urbina@fmcn.org, monica.alvarez@fmcn.org, cynthia.villamizar@fmcn.org
Web: http://www.fmcn.org (English version), http://www.ollasolar.com.mx (English version)