Last edited:
3 March 2020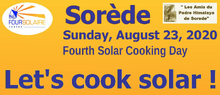 Sunday 23 August 2020 (Sorède): FOURSOLAIRE 2020 - "Let's Solar Cook" A gathering of amateurs, professionals, and the merely curious, will come together near the site of the Himalaya 1900 Solar Furnace in southern France to celebrate solar cooking. Share recipes and display your solar cookers. More information... - (English version)
Online Events
Edit
NEW: 

4-5 April 2020: Global Health & Innovation Conference - At this 17th annual conference, learn from more than 200 speakers who are committed to effective, responsible programs in health, development, entrepreneurship, and education. More information...
NEW: 

23-26 June 2020: ASES SOLAR 20/20 - In conjunction with the U.S. Department of Energy's Solar Decathlon, the American Solar Energy Society is sponsoring the global event, SOLAR 20/20. Hear the latest information on climate change, as well as learn about amazing technology and market advances by innovators and financiers. This will be a push by everyone across the political spectrum for more control of our energy choices to reduce associated costs.

NEW: 

SOLAR 20/20 will happen over the same dates, but as a virtual event. More information...
International conferences
Edit
NEW: 

29 June - 01 July 2020 (Frieburg, Germany): International Energy Workshop - More information...
See also: Global Calendar of Events and past events in France
November 2018: SCI opening new doors in France and Switzerland with WHO - Solar Cookers International Science Director and primary UN representative, Dr. Alan Bigelow, presented the current work SCI at Clean Tech Week in Annecy, France. Read more...
January 2017: The traveling solar restaurant: Professional chef, Pierre-André Aubert, presented his experiences testing a mobile solar restaurant at the 6th SCI World Conference 2017. He has also included the detailed development of the solar kitchen. Aubert is optimistic about the future of this concept based on the reaction he received from the patrons of the test restaurant. Read more about his project: Testing Phase of the First Solar Restaurant of France (Europe)
December 2015: Gilles Gallo, the founder and president of IDCOOK participated in the COP21 climate conference in Paris:
September 2014: Paris solar cooking demonstration - IDCOOK held a solar cooking demonstration on the rooftop of the BHV building in Paris, France.
February 2014: French solar cuisine done with style - Sun and Ice shares photos of one of their reflectors incorporated into a portable solar kitchen, created by one of their customers in France. The small, trailered construction is a rolling work of art. See more photos on the Facebook page.
Archived articles
Climate and culture
Edit
See also
Resources
Edit
Possible funders
Edit
Facebook groups
Edit
Discussion groups
Edit
Articles in the media
Edit
Audio and Video
Edit
Web pages
Edit
The entities listed below are either based in France, or have established solar cooking projects there:
SCI Associates
Edit
Manufacturers and vendors
Edit
Individuals
Edit
Government agencies
Edit
Educational institutions
Edit
References
Edit
Community content is available under
CC-BY-SA
unless otherwise noted.