Last edited:
20 October 2019
Events
International conferences
NEW: 

2-13 December, 2019 (Feria de Madrid in Madrid, Spain): COP25 - The United Nations Framework Convention on Climate Change (UNFCCC) is hosting the twenty-fifth session of the Conference of the Parties (COP25) has been scheduled to take place in Feria de Madrid in Madrid, Spain from 2-13 December, 2019. More information...

22-24 January 2020 (Faro, Portugal): CON

SOL

FOOD

2020

- To be held at the Institute of Engineering, Universidade do Algarve, Campus da Penha. The conference will focus on solar thermal food processing. The deadline for receipt of abstracts was 15 June 2019. More information... 
See also: Global Calendar of Events and past events in France
News
November 2018: SCI opening new doors in France and Switzerland with WHO - Solar Cookers International Science Director and primary UN representative, Dr. Alan Bigelow, presented the current work SCI at Clean Tech Week in Annecy, France. Read more...
January 2017: The traveling solar restaurant: Professional chef, Pierre-André Aubert, presented his experiences testing a mobile solar restaurant at the 6th SCI World Conference 2017. He has also included the detailed development of the solar kitchen. Aubert is optimistic about the future of this concept based on the reaction he received from the patrons of the test restaurant. Read more about his project: Testing Phase of the First Solar Restaurant of France (Europe)
December 2015: Gilles Gallo, the founder and president of IDCOOK participated in the COP21 climate conference in Paris:
September 2014: Paris solar cooking demonstration - IDCOOK held a solar cooking demonstration on the rooftop of the BHV building in Paris, France.
February 2014: French solar cuisine done with style - Sun and Ice shares photos of one of their reflectors incorporated into a portable solar kitchen, created by one of their customers in France. The small, trailered construction is a rolling work of art. See more photos on the Facebook page.
July 2009: French personality Jerome Bonaldi introduced several models of solar cookers to a national, prime time television audience during a technology segment on the France 2 network.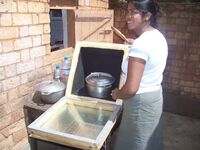 March 2008: French nongovernmental organization Synopsis is collaborating with the German Agency for Technical Cooperation (GTZ)-implemented Programme for Biomass Energy Conservation (ProBEC), based in Johannesburg, South Africa, to develop a meter that will be installed in solar cookers to track use in real time. Traditionally, solar cooker use and fuel savings have been determined through surveys, or by estimating the amount of fuel required to cook over a period of time versus the actual amount of fuel used. These approaches can take a lot of time and resources, and the results aren't always reliable or convincing to skeptics. Dr. Michael Grupp thinks there is a better way. He says his invention, the Synopsis Use Meter (SUM), will automatically determine the quantity of food being cooked, the cooking temperature, the cooking time, and the number of "meal portions" prepared in the cooker. When compared to baseline emissions, this data yields actual greenhouse gas reduction figures produced by the respective household, which could be sold through a voluntary carbon market to help offset the cost of the solar cooker.
July 2007: This past March in Paris, France, Regula Ochsner received the Yves Rocher Foundation's international "Women of the Earth" award for her work promoting solar cookers in Madagascar. The award honors women who lead actions benefiting nature and humanity. The award ceremony was attended by Madame Nelly Olin, French Minister for the Environment. In 2001 Ochsner founded the Association pour le Développement de l'Energie Solaire Suisse – Madagascar (ADES) to help combat rampant deforestation. Ochsner lived in Madagascar in the early 1970s and was shocked, when she visited in the late 1990s, at the amount of deforestation that had occurred in a period of just 25 years. (Madagascan families use about 100 kilograms of charcoal on a monthly basis, amounting to one-sixth of an average monthly salary.) Ochsner researched cooking alternatives that would reduce firewood and charcoal use, and discovered solar cookers. Madagascar, especially in the south of the country, has close to ideal conditions for the use of solar energy. Ochsner initiated production of solar box cookers by local carpenters in 2001, followed by distribution and sales. In 2003 ADES built a more permanent carpentry workshop in Tulear and another in Ejeda in 2006. ADES currently provides employment to 13 carpenters and trainers. The teaching of the population to use solar cookers is an important part of ADES' work. Regular demonstrations on how to use the solar cooker take place. The interest level of the population is very high. Over 1500 solar cookers have been sold thus far. A survey of the usage of the solar cookers conducted by two German students in 2004 showed that 75% of the solar cookers were used regularly. Ochsner plans to invest the prize money of 10000 euro in a further solar cooker pilot project in the south of Madagascar. Future plans include development of regional centers in Morondava and Fort Dauphin.
April 2007: "Bon Appétit Monsieur Soleil," a film about solar cooking in Burkina Faso, earned top honors and a 5000 euro prize at the International Ecological Film Festival in Bourges this past October. The film was directed by Boris Claret and produced by Association La Trame documentary film studio. The festival program described the film as follows: "At the edge of the Sahel, firewood is rare and expensive. To counter deforestation, a whole network of nongovernmental organizations, craftsmen welders, and women's associations have developed for 10 years an effective alternative: parabolic solar cookers." For more information visit La Trame's Web site: http://www.la-trame.org
History
Archived articles
Climate and culture
See also
Resources
Possible funders
Wikis
Blogs
Discussion groups
Articles in the media
Audio and Video
Web pages
Contacts
SCI Associates
NGOs
Manufacturers and vendors
Individuals
Government agencies
Educational institutions
See also
External links
References
Community content is available under
CC-BY-SA
unless otherwise noted.