Last edited:
8 November 2014
This article is about a group or individual that may no longer be active in solar cooking promotion. It is retained here for archival purposes.


Friends of Haiti Organization (FOHO) has been working in Haiti since 1965. As of January 2010, it had sent over 1,400 Global Sun Ovens and 12 Villager Sun Ovens to Haiti.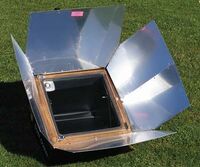 January, 2010: Sun Ovens International has been working in Haiti for the past 11 years. Hundreds of thousands of Haitians are homeless and camps will need to be opened to provide food and shelter for Haiti's Internally Displaced Persons (IDPs). Sun Ovens International is partnering with the Friends of Haiti Organization (FOHO) to send as many Global Sun Ovens as possible to Haiti. On January 28, 2010 FOHO in partnership with Feed My Starving Children will be sending a shipping container with 270,000 meals and Global Sun Ovens to Port au Prince, Haiti. There is room for additional Sun Ovens to be included with this shipment and additional shipments are being planned.
External links
Edit
Friends of Haiti Organization
PO Box 222
Holland, Ohio 43528
USA
Email: info@fmsc.org
Web: http://friendsofhaiti.org
Community content is available under
CC-BY-SA
unless otherwise noted.