Last edited:
28 January 2021
| | |
| --- | --- |
| | |
Events
[
]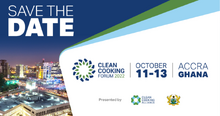 11-13 October 2022 (Accra): Clean Cooking Forum - Save the Date Join the Clean Cooking Alliance (CCA) and partners from around the world for the clean cooking sector's flagship event taking place in Accra, Ghana. Co-hosted by CCA and the Government of Ghana. More details and registration information to come.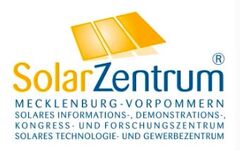 NEW: 

20-21 May 2022: Solar Zentrum 2022: Cooking and Drying with the Sun - Aquaponics - Coordinated from the Solar Zentrum in Wietow, Germany with assistance from Michael Bonke. The Zoom conference Program Schedule, with the first day in English, the second day in German. This is a free event. Zoom link information to come.
See also: Global Calendar of Events and past events in Ghana
News
[
]
December 2018: Catholic Church to use solar facilities - The Catholic Church is to introduce the use of solar in its facilities throughout the country. The move is to reduce carbon emission and ensure a cleaner environment. Cardinal Turkson was inaugurating a 30 megawatt off-grid pilot phase of the solar project for the Cape Coast Secretariat of the Catholic Archdiocese. He said the church was also exploring the use of a solar oven in the preservation of fish in Sekond-Takoradi, adding that if that project was successful, it would be extended to Cape Coast and other fishing communities. Read more...
February 2016: Partnership addresses many community needs - School children in many rural areas of Ghana find it very difficult to study after dark. As a result, their performance in school is adversely affected. To address this problem, the Community Directed Development Foundation(CDDF) has recently established a partnership with SunLife to promote solar cookers. The Solar Energy Project encourages women to use the savings they make from not buying fuelwood to acquire other green energy equipment such as solar lanterns. The partnership takes a holistic approach with the community based programs, by empowering students, women, and those with disabilities. Read more about the Solar Energy Project: SunLife Annual Report for 2015.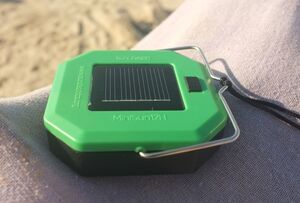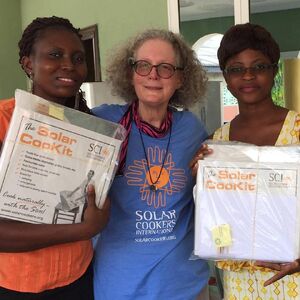 December 2015: On November 27th, Paula Ann Winchester, a longtime supporter of Solar Cookers International, traveled to Ghana with 10 CooKits to distribute in the Bremen Essiam village. She also brought several cook pots and cooker templates, to be able to make more solar cookers at the village. On December 1st, Paula held a workshop where she demonstrated the use of the CooKits and emphasized the importance of using black pots and cooking bags. Local TV and radio covered the event and reports quickly began to arrive from nearby towns, including Elmina, the capital of region where Bremen Essiam village is located, that a ""miracle that happened at the Davies Villa Resort" where the workshop had been held." Read more...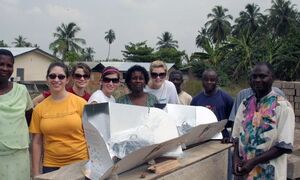 January 2014: Solar cooking works with solar lighting to help families save money - Stephen Pearson, founder of SUN-LIFE, has been helping residents of Ghana for many years save on cooking fuel expense by learning to use the CooKit solar cooker. His new goal is to help these families further reduce their kerosene usage by offering a low cost portable lamp to replace their fuel-burning lanterns. He reasons that if a family can save on cooking fuel using the CooKit, they will have enough money to buy the new lamp. This approach echoes the financial model of the Smoke-Free Village concept in India. Using both approaches, the families should be able to save $50-100 USD on kerosene expense annually. Money is saved, and indoor air pollution is reduced.
November 2010: Periclean Scholars 2010, a group of recent graduates from North Carolina's Elon University USA, maintains a development partnership with the rural village of Kpoeta in eastern Ghana. Group member Kristin Schulz writes that she became interested in solar cooking after conducting research for a class assignment. She believed that solar cookers would be quite useful to Ghanaians given that much of the country receives plenty of sunlight while struggling with deforestation and lack of firewood for cooking. Schulz pitched the idea to Dr. Brian Digre, an Elon professor and advisor for the institution's study abroad program in Ghana, as well as an honorary Ghanaian chief. In conjunction with a Ghanaian university, technical school professors, and village chiefs, the pair developed a plan to introduce panel-style solar cookers in a few rural Ghanaian villages during Elon's January 2010 study abroad course. Schulz led pre-trip solar cooker trainings for the Elon students who would ultimately implement the project. The students raised funds to buy sixteen kits from Solar Cookers International, each consisting of one cardboard solar CooKit, a black pot, a supply of clear, heat-resistant oven roasting bags to insulate the pot, a Water Pasteurization Indicator (WAPI), and instructional materials. After receiving training from the students, a handful of Ghanaian families received two kits each. Solar cooking was well received in the villages. "The response from the community members in Ghana was very positive," says Schulz. Digre believes the technology could be most useful in the dry, northern region of the country and in urban areas where access to firewood is most difficult. Schulz maintains communication with local leaders to monitor the usefulness of the solar cookers. If demand for the technology increases, she says that Elon's study abroad program will expand upon this initiative in coming years. One of the technical schools in Ghana is already considering local production of solar cookers, which would make the technology available to even more families.
August 2010: Eleven women from the West Africa Network for Peace Building and the Women in Peace Building Network are back in Liberia after completing a one month training workshop in Ghana. The women who were drawn from Margibi, Montserrado, Bong, Nimba and Lofa Counties were trained in kente weaving, basket weaving, making of solar stove, recycling and jewelry at the Kokrobitery Institute. Speaking Tuesday at WANEP/WIPNET Head Offices in Sinkor, The National Network Coordinator, Lindora Howard Diawara, praised the women for their determination to acquire some skills that will help themselves and their families and the country as a whole.
May 2010: The SUN-LIFE sponsored Oven Festival was recently held in the Dangme East area of Ghana (80 miles east of Accra). Quite well attended, there were about sixty ovens on display, all locally made using the CooKit design. The oven components were salvaged and recycled from local materials. Only the aluminum foil, at a cost of $2/oven, needed to be purchased. The event was held in collaboration with the Community Directed Development Foundation, started by Professor Bosompem. Guests included representatives from several government ministries. The festivities began with a procession of local "oven ladies" led by the local brass band. After introductions and speeches, there were competitions and prizes awarded for best oven, best recipes, best group, etc.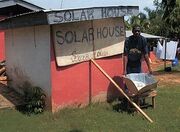 November 2009: It all started with a 20-minute cross-town taxi ride. Steven Watson, a resident of New York City, and Frank Otchere, a resident of New Jersey (USA) and Osiem, Ghana, met in early 2003 in Otchere's taxi. Watson, a cultural historian and psychologist, likes to learn from conversations with taxi drivers. He also, as it happens, has an interest in solar cooking. Otchere is the "Nkosuahene" of his village, the chief in charge of development. In just a few short years, Watson and Otchere have organized medicine contributions for Osiem, built the first public toilets, and established what Watson calls "the best library in the region." Now they are working to bring simple solar cooking technology and know-how to the community. After initial failed attempts at building a solar cooker, Otchere went to Washington D.C. to learn from Solar Household Energy. Louise Meyer and Darwin Curtis gave him some pointers, and Otchere was then able to successfully construct and use a solar CooKit in Ghana. He chose the CooKit because it could be made inexpensively from aluminum foil and recycled cardboard and required only a blackened cooking pot and a transparent plastic bag. Otchere repeatedly demonstrated the CooKit's performance by preparing and serving local foods — rice, plantains, yams, and palm nuts — to his neighbors each day for lunch. The two questions he received most were "Will I get sick if I eat this?" and "Is this magic?" Otchere responded "no" to the former, and told them that food cooks by the "magic of the sun." According to Watson, "the people in Osiem are convinced that solar cookers work; they have seen it and they have eaten the food from CooKit each. "Even though they understand that it will be economical and helpful over time," writes Watson, "it is still difficult for villagers to afford the CooKit." Otchere and Watson believe that solar cookers should not be given away free of charge. They are exploring solutions to this problem. One suggestion is to generate more local income by building CooKits in Osiem and offer them for sale, along with training, in larger towns and cities like Accra and Kofuridua. Another idea is to offer solar cookers in exchange for work done in the local community. Otchere has met with Dr. Mercy Bannerman, who has worked for several years to reduce guinea worm infections and other waterborne pathogens in Ghana through the use of solar water pasteurization (see the April 2005 Solar Cooker Review article "Solar cookers: a tool for guinea worm prevention"). Otchere and Bannerman agreed to cooperate in promotion of solar cooking in Ghana — Bannerman focused in the Upper East, Upper West and Northern regions; Otchere in the Eastern, Ashanti and Brong-Ahafo regions. Reported in the November 2009 Solar Cooker Review.
April 2007: Dozens of delegates from many parts of Togo and Ghana attended a conference last December in Lome themed "climate change: a socio-political challenge." The conference was organized by Jeunes Volontaires pour l'Environnement (JVE) and showcased solar cooking and solar water pasteurization. Demonstrations and construction workshops were available to conference attendees. Beneficiaries of a JVE solar project shared testimonials of how solar cooking has changed lives in the Vo region. Also attending the conference were Togo's Deputy Director of the Ministry of Environment, the Chief Cabinet to the Minister of Youth, and representatives of the media. Contact: Jeunes Volontaires pour l'Environnement
History
[
]
31st December Women's Movement
A number of Ghanaians have indicated interest in solar cooking, with requests for information from universities and non-governmental organizations. As far back as the early 1990s, a faculty member at the University of Kumasi, Department of Agricultural Engineering, Dr. A.K.Dzizi, was providing cooking demonstrations and instructions. A leading women's group, the 31st December Women's Movement, has taken a specific interest in the technology, as reported at the Varese conference. The movement was encouraging women to take up farming ventures, and in addition to add value to their products for the export market. Hence, both solar cooking and solar drying were considered as important possibilities. Much of Ghana's electricity generation is hydroelectric, and has proven to be problematic in times of drought. Wood and charcoal are in increasingly short supply, and gas is too expensive for most people. Hence solar cooking and drying would appear to be an important potential. In 1999, the group was actively seeking funding for this promotion. No further information is available.
Dr. Mercy Bannerman
In 2002, a Ghanaian effort was the highlight of the solar cooking year when a project headed by Dr. Mercy Bannerman was one of the top winners at the World Bank's Development Marketplace, an opportunity held annually to showcase exemplary activities in less developed nations. Dr. Bannerman, a medical doctor, won the award for her project entitled " Simple Solar for Health + Wealth". The program used the panel cooker, the CooKit, and a WAPI (water pasteurization indicator) to ward off the dangers of guinea worm, e-coli, and other waterborne hazards in drinking water. She had been initially taught about the use of the sun for these purposes at a Girl Guides program in Ireland, and later through Rotary connections, learned more about solar cooking and water pasteurization. The award, $100,000 was to be used for training of additional persons to spread the technology more widely in Ghana. The project has now moved beyond household use to the creation of small scale enterprises for making CooKits and selling them. Dr. Bannerman has also been awarded funds for similar purposes through Rotary International's programs. Her award was a milestone for solar cooking promoters everywhere, with its recognition of the potential of the technology as an important component in development.
Archived articles
Climate and culture
[
]
Northern part of the country: Dry, sunny, and sparsely populated. Southern part of the country: Rain, abundant firewood, and high population density. (Source: Juan Urrutia Sanz, 2010-Feb-25)
See also
[
]
Resources
[
]
Possible funders
[
]
Reports
[
]
Audio and video
[
]
Articles in the media
[
]
Web pages
[
]
Contacts
[
]
The entities listed below are either based in Ghana, or have established solar cooking projects there:
SCI Associates
[
]
NGOs
[
]
Manufacturers and vendors
[
]
Individuals
[
]
Government agencies
[
]
Educational institutions
[
]
See also
[
]
References
[
]