This article is about a group or individual that may no longer be active in solar cooking promotion. It is retained here for archival purposes.


Last edited:
15 October 2015
My husband and I (Paulie Heath) want to do our part to help feed hungry children. We have been invited to travel to the Tanzanian bush - launching a new solar cooking project. Our goal is to distribute solar cookers to families in remote Tanzanian villages. By giving them the tools and training, they will learn to use solar cookers, enabling them to better feed their families. One of my roles will be providing inspirational music to draw groups of people together. After singing and sharing with them, in their native language we will then teach them how to use the solar cookers. Three solar cookers (only $20 ea.) can feed a family in Tanzania. Will you partner with us? No gift is too great or small to help meet the need.
Our goals in traveling with the established missionaries, to Tanzania to introduce solar cooking include:
Encouraging families to make this very serious step of changing their habits and to use solar for cooking most of their food, therefore enormously helping their financial situation and of course, to be more "green," which would be a huge step in preserving their environment.
Providing a means for women to earn a little money by teaching solar cooking
Providing a means for local carpenters to increase their income by making the cookers to sell in villages at very low prices.
Will you sacrifice something today, to help the people of Tanzania, whom you may never meet, but have a need?
Please consider buying a solar cooker or two, for a needy family. The cookers cost $20.00 each. Thanks for doing what you can to help us on this journey.
News and recent developments
Edit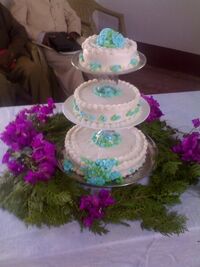 August 2009: My husband and I traveled to Tanzania, East Africa in August, 2009 to help start a solar cooking project in small remote villages in the north central region. We gave cooking demonstrations in the mornings, using nationals who have learned how to use the cookers. Then we visited with the local villagers for a few hours, singing, sharing with them, and having them sing & dance for us. After the rice, greens, and corn bread were cooked, we would let the villagers taste the food. They were quite amazed. Our goal is not to make them dependent on us, but to become self-sufficient. We want to help them help themselves. We also told them how to boil water in the solar cookers, which would provide clean water for drinking, where they have none. Charcoal is expensive for the people. The government of Tanzania does not pay for children's education. Many families have to choose to eat, rather than pay for their children's education. We want to help them learn how to use the solar cookers, so they can save money they would spend on charcoal, and possibly use it for their children's education or other needs they have. We hope to return in 2010 to continue teaching solar cooking.
External links
Edit
Paulie Heath
5 Sylvan Way
Chelsea, Maine 04330
USA
Tel(+1) 207-619-3685
Email: paulie@paulieheath.com
Web: http://www.paulieheath.com
Community content is available under
CC-BY-SA
unless otherwise noted.