This article is about an entity that either no longer exists or that may no longer be active in solar cooking promotion. It is retained here for archival purposes.


Last edited:
31 October 2017
Global Roots is a 501c3 non-profit organization registered in the State of Washington, USA. Our goal is to support local humanitarians in their efforts to change the lives of children around the world. We abide to the "100% volunteerism" motto in which no wages or salaries are given to the members or volunteers. We strive to commit 90% of all donations to projects and less than 10% on administration.
Global Roots was founded by Rick Montgomery from Portland, Oregon in 1997. His inspiration came during his travel in India in 1993. While backpacking in Madras, Rick held a starving baby in his hands. In subsequent years, as he traveled the world as an expedition leader and travel writer, he continued to be haunted by the image of that starving Indian baby. Rick finally gave up a "normal life" and devoted himself to grassroots activism. His passion soon became the protection and nurturing of children in areas of famine and social unrest.
[This text was borrowed from http://www.globalroots.org.]
Recently Global Roots has been putting effort into introducing solar cooking into Kenya, Afghanistan and Cambodia.
August 2010: A year in review included a number of solar cooking and water purification activities within Kenya, done in conjunction with Solar Cookers International. Training occurred in five communities with 85 individuals. See more details..
July 2010: In collaboration with Solar Cookers International in Nairobi, they are coordinating a volunteer effort that will be deploying solar cookers in Kenya in July 2010.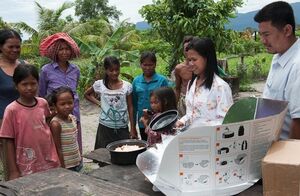 May 2010: A pilot project has begun in Tamoung Pha-em, Cambodia to introduce CooKit solar cookers to the local community. Similar to many other regions, residents have relied on wood for cooking. The area once surrounded by jungle, has mostly been turned into palm oil fields, leaving scarce wood for cooking. Families have started to rely on kerosene, or walk long distances to get wood. The project is sponsored by Global Roots, a Washington state non-profit. Patrick Firouzian recently traveled to Tamoung Pha-em with the first cooker to demonstrate it's potential. Dany Pan, a village school teacher, will use the cooker regularly and experiment to adapt local food recipes.
February 2010: During his February mission in Afghanistan, Rick met Felicia "Cia" French, a Colonel in the medical corps, who has desperately been seeking for a NGO to help her launch a plan to protect Afghan children from an explosive domestic threat: Kerosine ovens. Global Roots recognizes the need to address the critical problems of child safety and resource conservation and is preparing missions to promote solar cooking. Felicia herself has already done an amazing job, as documented in this SCI report (Solar Cookers International, with whom we are working in Africa).
Audio and video
Edit
External links
Edit
Global Roots
7512 44th Avenue SW
Seattle, Washington 98136
Tel. + 1 (503) 866-9525
Email: info@globalroots.org
Web: http://www.globalroots.org/
Twitter: @globalroots
Community content is available under
CC-BY-SA
unless otherwise noted.