Last edited:
14 December 2017
The article below is about a solar cooking promoter who is now deceased. This information is maintained here as a tribute to the important work done by Gnibouwa Diassana.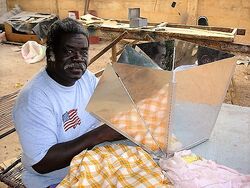 Gnibouwa Diassana of Bla won a "2006 Ashden Award for Sustainable Energy" worth 2,500 pounds sterling. The funds will enabled his project Sun for All to increase production of cookers and to reach out to more women's groups and other community organizations. Diassana built a variety of solar cookers, plus a solar food dryer and solar water heater. Most of the solar cookers he built are of the box type with three reflectors, based on a design by the Swiss organization ULOG. He found homes for most of the cookers with organizations of artisans, nonprofits, women's groups and individual families. He reported that the cookers had been adapted for Mali and can be constructed with locally available materials and tools, even in remote areas. Mr. Diassana also worked for World Vision Mali.
November 14, 2017: Claude Bonello of France reports: I am very sad to inform you that Gnibouwa Diassana of Mali passed away due to medical complications on November 14, 2017 at the age of 63. As you know, Gnibouwa was a solar cooking promoter in Mali and a regular contributor of your organisation since more than 10 years. Also painter, musician, gardener, Gnibouwa was very active in his Christian community and the head of a wide family with his wife, 5 children, 5 grandchildren, 5 adoptive children and 3 adoptive grandchildren. As early as the 1990's, he requested information from several sources including Solar Cookers International and Roger Bernard and designed his own solar box cooker with an inclined window and a very convenient rear door. He also worked on other solar applications like panel and parabolic solar cookers, solar water heaters, solar food dryers and the photo-voltaic facilities of his house in the remote village of Diaramana and then in Bla (http://claude.bonello.free.fr/diassana.htm, http://claude.bonello.free.fr/travaux.htm) He started a long collaboration with the university of Turin (Italy) in 2001, participating to a book "Les fours solaires". In 2006, he won an "Ashden Award for Sustainable Energy". This 2,500 pounds sterling price enabled him to carry out his project "Sun for All," which he regularly posted the activities on the Solar Cooking Wiki. He retired from his job for World Vision Mali NGO in 2012 and since then devoted himself to develop solar cooking in Mali in collaboration with surrounding countries. So he recently traveled in Niger at Makalondi in November 2015 to meet students of Master RUSSADE project (always with university of Turin) and in Senegal at Thies in May 2017 to lead a CooKit training at ITES (Evangelical Theological Institute of Senegal).
May 2017: Training in solar cooking - Mr. Diassana was in Senegal at ITES, the Evangelical Theological Institute of Senegal, involved in training on the CooKit solar cooker including how to make them with local cardboard and how to use them. Fifteen students and 5 institute staffers participated. "We cooked chicken, fish, eggs, rice, and cake," Mr. Diassana reports, "Solar cooking has been new and amazing for them." ITES is located in Thies, the second largest city in Senegal after Dakar, its capitol.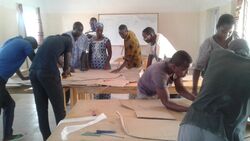 See Sun for All.
Community content is available under
CC-BY-SA
unless otherwise noted.