m

m

 

Line 3:
Line 3:
 

[[File:GoSol_Solar_Concentrator.png|thumb|400px|The [[GoSol Solar Concentrator]]]]

 

[[File:GoSol_Solar_Concentrator.png|thumb|400px|The [[GoSol Solar Concentrator]]]]

 

[[File:GoSol_Solar_Concentrator_features_llist,_8-6-15.png|right|400px]]

 

[[File:GoSol_Solar_Concentrator_features_llist,_8-6-15.png|right|400px]]

−

The [[GoSol Solar Concentrator]] is a [[:Category:Solar array cooker designs|solar array cooker design]] designed by [[GoSol.org]]. According to the designers, The lightweight commercial class solar concentrator design is to be built locally to lower cost and increase autonomy. They list the adjoining features of its construction.

+

The [[GoSol Solar Concentrator]] is a [[:Category:Solar array cooker designs|solar array cooker design]] designed by [[GoSol.org]]. According to the designers, lightweight commercial class solar concentrator design is to be built locally to lower cost and increase autonomy. They list the adjoining features of its construction.

 
 
 

==External links==

 

==External links==
---
Latest revision as of 19:17, 6 August 2015
Last edited:
6 August 2015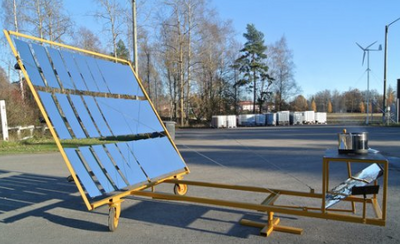 The GoSol Solar Concentrator is a solar array cooker design designed by GoSol.org. According to the designers, the lightweight commercial class solar concentrator design is to be built locally to lower cost and increase autonomy. They list the adjoining features of its construction.
See GoSol.org.
Community content is available under
CC-BY-SA
unless otherwise noted.