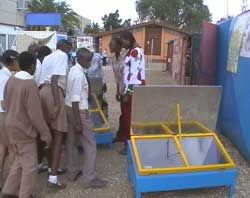 The Goat Size Solar Stove is a double glazed solar cooker large enough to cook a whole goat. It has the capacity to hold 3 x 5 liter pans or 6 loaves of pan bread. The cooker can reach 170º C when empty.
Wood, glass, aluminium sheets, cotton, reflective paper, and heat resistant solar paint.
Dimensions: 105 x 60 x 55 (cm)
See ULOG.
Community content is available under
CC-BY-SA
unless otherwise noted.