Last edited:
5 August 2019
International conferencesEdit

22-24 January 2020 (Faro, Portugal): CON

SOL

FOOD

2020

- To be held at the Institute of Engineering, Universidade do Algarve, Campus da Penha. The conference will focus on solar thermal food processing. The deadline for receipt of abstracts was 15 June 2019. More information... 
See also: Global Calendar of Events and past events in Greece
August 2016: A group has formed in Athens to address and improve the lives of refugees living in the local area. They call themselves the Project Daedalus - Local Technical Group. They wish to help the transplanted refugees by teaching them new skills to be able to help themselves. They have begun to explore solar cooking as part of this approach and have assembled a simple solar panel cooker, demonstrated in the video below. Their website is at: https://daedalus.libtech.website/ltg-athens/
July, 2014: Aftarkeia Network takes part in the SCI's Convention in Sacramento, CA USA.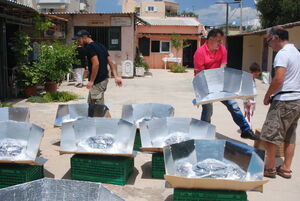 May 2014: Christiana Vlachaki of Aftarkeia Network reports that the group has been promoting solar cooking for one year, and have taught over 500 people to solar cook, and have distributed 100 solar cookers. Others in the group include: Theodore Paraskevas, Giannis Falelakis, Eleni Bourolia, Dimitra Simou, and Thanasis Giaouroudis.
Solar Systems of Athens
Greece, one of the European countries that have a climate favorable far solar cooking, was home to at least one manufacturer producing solar cookers of high quality. Solar Systems of Athens manufactured devices made of stainless steel, others of aluminum and plastic.
Archived articles
Climate and culture
Edit
See also
Resources
Edit
Possible funders
Edit
Articles in the media
Edit
Audio and video
Edit
The entities listed below are either based in Greece, or have established solar cooking projects there:
SCI Associates
Edit
Manufacturers and vendors
Edit
Individuals
Edit
Government agencies
Edit
Educational institutions
Edit
References
Edit
Community content is available under
CC-BY-SA
unless otherwise noted.