Last edited:
16 February 2020

1-4 September 2020 (Athens): EuroSun2020 - The 13th Conference on Solar Energy for Buildings and Industry will offer a platform to discuss the latest developments with leading solar energy experts, policy makers, and industry representatives. The program will include keynote speakers in plenary sessions, specialists meetings in breakout sessions, and poster exhibitions. More information...
International conferences
Edit
NEW: 

15-19 June 2020 (Manila): Asia Clean Energy Forum - The Asia Clean Energy Forum (ACEF) is one of the leading clean energy events held each June in Asia. ACEF connects diverse stakeholders from across Asia and the globe, facilitates knowledge sharing, and highlights ADB's groundbreaking work to scale up clean energy investment in the region. Some of the topics to be covered: Global energy challenges and impact of Covid -19, scaling energy tech, and the transition to clean energy. More information...
Online Events
Edit
NEW: 

30 May 2020 (15h00min (New Delhi) (9:30 GMT): 4th Webinar CONSOLFOOD, Spreading the solar cooking "virus" - CONSOLFOOD organizers, Celestino Ruivo and Ajay Chandak will host a webinar featuring Hemant Deshpande, a lecturer in Mechanical Engineering at Government Polytechnic in Miraj, India, and an advocate for sustainability awareness. Registration to attend this webinar is free. If you would like to attend, please register by the 28th May, 2020 at the latest, by sending an email to solarmanofindia@gmail.com (Ajay Chandak ) mentioning your name, country, email, and phone contact. Registered participants will receive a Zoom link via email to access the video-conference platform.
NEW: 

23-26 June 2020: ASES SOLAR 20/20 - In conjunction with the U.S. Department of Energy's Solar Decathlon, the American Solar Energy Society is sponsoring the global event, SOLAR 20/20. Hear the latest information on climate change, as well as learn about amazing technology and market advances by innovators and financiers. This will be a push by everyone across the political spectrum for more control of our energy choices to reduce associated costs.

NEW: 

SOLAR 20/20 will happen over the same dates, but as a virtual event. More information...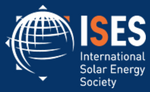 NEW: 

December 2020: SWC50 – The Century of Solar - In 1970 solar research pioneers met at the first International Solar Energy Society (ISES) Conference in Melbourne Australia. ISES is commemorating this Conference with a special 50th Anniversary Conference and Display, called the Solar World Congress at 50 (SWC50). The face-to-face conference, originally scheduled for 2-4 December 2020, will be replaced by a series of eight virtual conferences over the course of the month in December 2020. It will include the same panel sessions that were planned for the in-person planned event. More information...
See also: Global Calendar of Events and past events in Greece
August 2016: A group has formed in Athens to address and improve the lives of refugees living in the local area. They call themselves the Project Daedalus - Local Technical Group. They wish to help the transplanted refugees by teaching them new skills to be able to help themselves. They have begun to explore solar cooking as part of this approach and have assembled a simple solar panel cooker, demonstrated in the video below. Their website is at: https://daedalus.libtech.website/ltg-athens/
July, 2014: Aftarkeia Network takes part in the SCI's Convention in Sacramento, CA USA.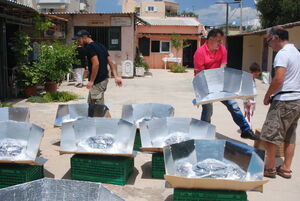 May 2014: Christiana Vlachaki of Aftarkeia Network reports that the group has been promoting solar cooking for one year, and have taught over 500 people to solar cook, and have distributed 100 solar cookers. Others in the group include: Theodore Paraskevas, Giannis Falelakis, Eleni Bourolia, Dimitra Simou, and Thanasis Giaouroudis.
Solar Systems of Athens
Greece, one of the European countries that have a climate favorable far solar cooking, was home to at least one manufacturer producing solar cookers of high quality. Solar Systems of Athens manufactured devices made of stainless steel, others of aluminum and plastic.
Archived articles
Climate and culture
Edit
See also
Resources
Edit
Possible funders
Edit
Articles in the media
Edit
Audio and video
Edit
The entities listed below are either based in Greece, or have established solar cooking projects there:
SCI Associates
Edit
Manufacturers and vendors
Edit
Individuals
Edit
Government agencies
Edit
Educational institutions
Edit
References
Edit
Community content is available under
CC-BY-SA
unless otherwise noted.