Jurassic World: Dominion Dominates Fandom Wikis - The Loop
Play Sound
Last edited:
1 September 2017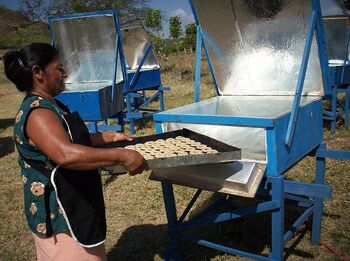 The mission of Grupo Fenix is to contribute to the well-being of rural communities, creating an awareness of sustainable lifestyles through technical and cultural exchange, promotion, and research in the field of renewable energy.
Grupo Fenix works with the Solar Women of Totogalpa who build solar cookers and dryers and offer courses in construction. Also have internship program and work in conjunction with universities for research on solar energy applications.
News
February 2013: Cornell University students working as the Solar Cooking Team, visited the Solar Women of Totogalpa and Grupo Fenix in March 2012. The project for this year was to design and build versions of cookers intended for easy prefabrication and shipment. The standard cooker design is 30 inches square (exterior), 12 inches high and weighs roughly 60 pounds. It is an effective cooker, but is not easy to ship, especially with its heavy and brittle double glazed top.The team brought two new designs. A main design parameter of the cookers was to be able to use materials readily available in Nicaragua and with methods already understood. The first cooker used wooden framing, fiberglass insulation and sheet metal typical of the cookers produced at the Centro Solar. This cooker weighed about 50 pounds (25kg) and used Reynolds cooking bags stretched on thin metal frames instead of glass for the top glazing. Both metal cases were hinged to allow easy folding. The cooker was partially disassembled and packed in a cardboard box which was checked onto the airplane for the trip, to prove its transportability. It was reassembled after arrival in Sabana Grande. The second cooker used interior and exterior sheet metal boxes framed with light aluminum angle stock. The boxes were separated by a layer of fiberglass board insulation. The tops of the two metal cases are secured by screws to a rectangular wooden frame, which supported the door/top. The door/top also used cooking bags stretched on thin metal frames as glazing. This cooker weighed approximately 30 pounds and was brought inside a suitcase. Read more at Cornell University Solar Cooker Team visits Nicaragua Spring 2012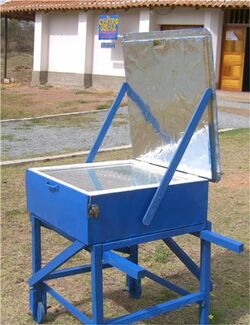 January 4-14, 2010: Solar Culture Course hosted by Grupo Fenix - Come to Nicaragua and engage your head, heart, and hands in the real work of developing countries. The hands-on courses allow you to be immersed in the daily life of rural Nicaraguans by living with host families and working alongside local community members to create their vision of a model community through renewable energy and sustainable practices.
Audio and video
See also
External links
Contact
Susan Kinne
Grupo Fenix
Apartado Postal #LM139
Managua, Nicaragua
Tel.: +505 2278-3133
Mobile: +505 8624-9350
Email: susankinnefenix@gmail.com
Web: http://www.grupofenix.org
Twitter: @TheGrupoFenix
Facebook: https://www.facebook.com/GrupoFenixNicaragua