Last edited:
18 February 2016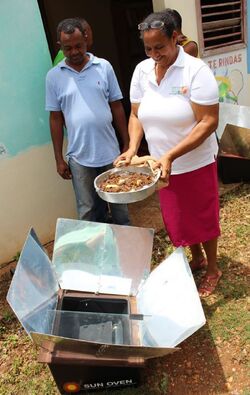 Grupo Jaragua runs a research group called Grupo de Energías Renovables Aplicadas (GERA), or Applied Renewable Energy Group, which focuses on the distribution and use of solar cookers in the Cuba and a scientific society which educates elementary school students on solar cooking by organizing annual activities to promote solar cooking and offer opportunities for the students to discuss what they learn. The activities include students building their own solar cookers using materials provided to them and presenting the results as well as education on renewable energy and how to reduce carbon footprints.
External links
Edit
Email: gjaragua@codetel.net.do
Web: http://www.grupojaragua.org.do
Community content is available under
CC-BY-SA
unless otherwise noted.