Obi-Wan Finale - The Loop
Play Sound
Last edited:
31 January 2018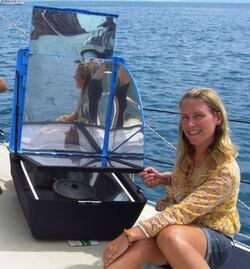 Heather Stevens is the director of Sun Cooking Australia (no longer active).
News
[
]
November 2012: - Heather Stevens of Sun Cooking Australia writes that it's a great time for Australian companies to invest in solar cooking. The Australian Government has three significant grants available for companies looking to develop or promote environmentally friendly products or services. The Clean Technology innovation program uses Australian Carbon Trading funds, which allow the federal Government to offer matching funding for the development of new environmentally friend products. Stevens said that, "the high upfront costs of commercialization can put off inventors but with these grants the burden is shared by the government". Steven's SunRocket portable solar kettle, a grant applicant, uses a Vycor vacuum tube boosted by highly reflective panels to heat water and cook food. It holds 500ml (17oz) and weighs 1kg (2.2lbs) when empty. Another funding opportunity for Australian solar cookers is the Export Market Developing Grant (EMDG), which provides matching funding for any export related costs, including inviting potential clients to Australia to showcase a company's products.
November 2012: "Anywhere under the Sun" is a recently released solar cooking eBook featuring recipes from around the world. Heather Stevens, Australian solar enthusiast and editor of the book invited solar chefs from around the world to submit their favorite recipe, photos and comments on solar cooking. The book is a visually stunning and comphrehensive, with recipes from around the world.
Articles in the media
[
]
External links
[
]
Contact
[
]
Facebook: https://www.facebook.com/TheSunsKitchen
YouTube: https://www.youtube.com/watch?v=0ueUXAzPltE