This article is about an entity that either no longer exists or that may no longer be active in solar cooking promotion. It is retained here for archival purposes.


Last edited:
8 November 2014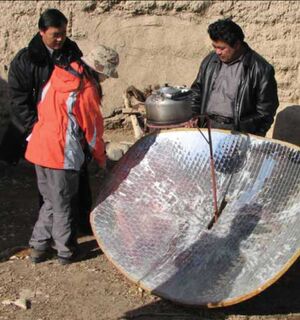 The ancient art of Asian cooking is getting a new twist at many Heifer project sites with the introduction of solar cook stoves in China. Geared toward reducing reliance on firewood and preserving the pristine headwaters of many of Asia's largest rivers, solar stoves offer a clean alternative to fi e pits and traditional stoves.
Heifer China is promoting the solar stoves mainly in the sunny and mountainous northwestern part of the country in Qinghai Province, an ecologically delicate region where many of the continent's largest rivers originate.
"There it is very dry with plenty of sunshine," said Fan Bo, communication and networking officer for Heifer China. With so much sunshine, solar stoves can boil a kettle of water in about 20 to 30 minutes.
It's lucky the weather in Qinghai Province works so well for solar cook stoves because the environment in this high region on the Tibetan Plateau can hardly withstand more pollution caused by smoke and the production of electricity, Fan Bo said.
"The environment is very fragile, it's very weak," he said. "Once it's damaged it is not easy to recover." Solar stoves are lightweight and easy to transport, which make them ideal for Heifer project partners with nomadic lifestyles.
Solar cook stoves are growing in popularity, but there are drawbacks. Cooking can be done only during daylight, and buying a solar stove can be a major expense for families with limited means. Also, because the technology is so different from traditional cooking methods, it takes some getting used to.
Still, the Heifer China staff thinks solar stoves are a solution worth pursuing. "It saves energy, and it saves trees," Fan Bo said.
[Text borrowed from http://www.heifer.org/atf/cf/%7BE384D2DB-8638-47F3-A6DB-68BE45A16EDC%7D/'07Jul.AugWA.pdf on July 14, 2007.]
Contact
[
]
Heifer International
1 World Ave.
Little Rock, AR 72202 USA
Email: info@hpichina.org
Web: http://en.heiferchina.org