This article is about an entity that either no longer exists or that may no longer be active in solar cooking promotion. It is retained here for archival purposes.


Last edited:
18 February 2016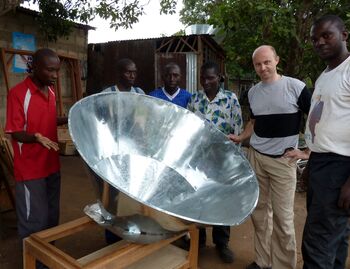 The Voukana Solar Cooker is based on the patented Kolamba Solar Cooker
Heliso AS was established in December 2011 with the idea to develop and distribute solar cookers. In 2009, the Kolamba Solar Cooker was designed by Magnar Totland and Inventas in Kristiansand and with support of http://www.innovasjonnorge.no (English version). It is a conical cooker with a single cone that can bring up to 4 liters of water to a boil within a few hours. In 2010, it was issued a patent for its design. More information on the Kolamba Solar Cooker can be found on the networking webpage. Its big brother, the Voukana Solar Cooker, has two cones which triple the total effect on the cooking pot. The Voukana Solar Cooker is an inclined double funnel community solar cooker (currently only a prototype) and was produced in the Republic of Congo by the same team that made the Deep Double Funnel Cooker in 2009.
Heliso AS is registered in Brønnøysundregisteret and in the European Business Register.
Org no: 996145514
See Magnar Totland.
Community content is available under
CC-BY-SA
unless otherwise noted.