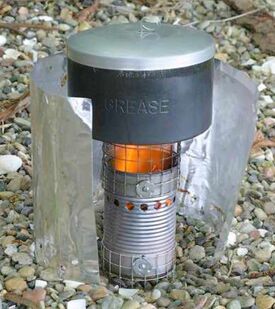 This very simple gasifier made from a tin can and some chicken wire was designed by Dave Sailer. It works with one charge of fuel at a time to produce a hot, smokeless fire. Weighing only 3.8 ounces (108 g), it is, according to Dave, "hotter than a flamethrower, quieter than a Whisperlite (what isn't?), almost as light as a Trangia, this stove burns anything solid you can stuff into it and has no moving parts."
The principles
Edit
Burning wood produces smoke.
It is not the wood that burns but the smoke.
The trick is to generate lots of smoke and then burn it before it gets away.
You do this by burning the fuel from the top down.
The fuel supply (dry wood) is infinite. No need to carry it.
The stove is dead simple. Once you get it built, that's it — nothing to adjust or maintain.
Construction plans
Edit
Community content is available under
CC-BY-SA
unless otherwise noted.