Last edited:
30 November 2019
| | |
| --- | --- |
| | |
Events
[
]
NEW: 

15-17 September 2021: Climate Chance Summit Africa 2021 - Registration is open to attend the virtual 3rd edition of the Climate Chance Africa Summit. Three days of sessions on key themes and sectors of climate action hosted by non-state actors engaged in climate change in Africa. There is no charge for attendance, but registration is required
NEW: 

Friday, 17 September 2021 (10:30am CDT, 15:30 GMT): Homeschool program on solar cooking - The Syracuse-Turkey Creek Township Public Library, in Syracuse, Indiana, USA, offers online programs for homeschool students on Fridays at 10:30am. This program is described as learning to build and use a solar cooker. Read more...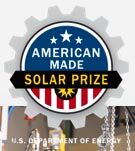 NEW: 

5 October 2021: American made solar competition - The U.S. Dept. of Energy is sponsoring a a multi-part competition to spur solar manufacturing, develop innovative solar solutions and products, and create domestic jobs and opportunities through public-private partnerships. The contest is open to U.S. residents, and the final phase is still open for submittals until 5 October 2021. Much of the attention has been with photovoltaic solutions, and this last phase is structured with two tracks that focus separately on hardware and software components. Solar cooking equipment should qualify as hardware solutions. Read more about the competition...
NEW: 

22-26 November 2021: 2nd National Congress for Solar Drying and Cooking Food - An affiliated group of universities in Mexico will host an online conference relating to solar food drying and cooking, as well as, food safety and energy savings realized with minimal environmental impact. Participants can register to view the presentations, or apply for presentation consideration. The conference will be in Spanish. Registration information... - (English version)
17-23 December 2021: Solar Cooking Awareness Week (Southern Hemisphere) - A loosely organized bid to acknowledge the fun and benefits of solar cooking. Show someone how to solar cook and share a meal.
24-26 January 2022: Fourth International Conference: Advances in Solar Thermal Food Processing - CONSOLFOOD Chairman, Celestino Ruivo, has announced an extended call for abstracts for the upcoming conference in January 2022, which is now planned to be an online event. Advances in solar cooking as well as solar food processing will be considered for inclusion. The event schedule and submission requirements are in CONSOLFOOD 2022 conference information.
See also: Global Calendar of Events and past events in Honduras
News
[
]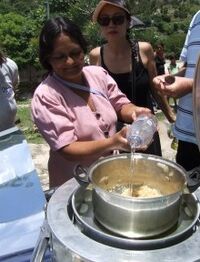 August 2010: Developing World Solar has partnered with The Public Health Brigade to donate a solar stove to a school in Los Pajarillos, Honduras. The stove will be used to serve food to the school children. Community leader Rigoberto says he will be holding a workshop soon to train the mothers of the children how to cook on the new solar technology.
History
[
]
Centro de Hornos Solares
One of the PROCESO organizations has been located in Honduras. The organization called Centro de Hornos Solares, was started by a woman named Martha Corina Carranza, who has been the main contact for the group. The group has operated in a similar manner to Guatemala and the other Central American nations.
The group was an independent organization, with loose links to Central American Solar Energy Project and its founder, Bill Lankford.
Solar Cookers International
In 1993, a regional conference on solar cooking was held in San Pedra Sula in June, bringing together many of the promoters from the region. Solar Cookers International (SCI) was instrumental in this event, providing some small start-up money for the conference, and playing a role in the meetings themselves. The basic idea was the encouragement of networking among the solar promoters of the region, an objective that clearly was achieved. M.A. Flores and R. Calderon, two faculty members from the Universidad Nacional Autonoma, Department of Physics, Energy Section, have long been active promoters and were instrumental in organizing a major Latin American Solar Conference in 2001.
Archived articles
Climate and culture
[
]
See also
Resources
[
]
Possible funders
[
]
Facebook groups
[
]
Articles in the media
[
]
Audio and video
[
]
External links
[
]
Contacts
[
]
The entities listed below are either based in Honduras, or have established solar cooking projects there:
SCI Associates
[
]
NGOs
[
]
Manufacturers and vendors
[
]
Individuals
[
]
Government agencies
[
]
Educational institutions
[
]
See also
[
]
References
[
]