Last edited:
30 November 2019
Events
International conferences
NEW: 

2-13 December, 2019 (Madrid, Spain): COP25 - The United Nations Framework Convention on Climate Change (UNFCCC) is hosting the twenty-fifth session of the Conference of the Parties (COP25) has been scheduled to take place in Feria de Madrid in Madrid, Spain from 2-13 December, 2019. More information...

22-24 January 2020 (Faro, Portugal): CON

SOL

FOOD

2020

- To be held at the Institute of Engineering, Universidade do Algarve, Campus da Penha. The conference will focus on solar thermal food processing. The deadline for receipt of abstracts was 15 June 2019. More information... 
See also: Global Calendar of Events and past events in Honduras
News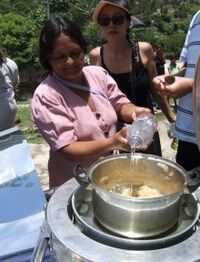 August 2010: Developing World Solar has partnered with The Public Health Brigade to donate a solar stove to a school in Los Pajarillos, Honduras. The stove will be used to serve food to the school children. Community leader Rigoberto says he will be holding a workshop soon to train the mothers of the children how to cook on the new solar technology.
History
Centro de Hornos Solares
One of the PROCESO organizations has been located in Honduras. The organization called Centro de Hornos Solares, was started by a woman named Martha Corina Carranza, who has been the main contact for the group. The group has operated in a similar manner to Guatemala and the other Central American nations.
The group was an independent organization, with loose links to Central American Solar Energy Project and its founder, Bill Lankford.
Solar Cookers International
In 1993, a regional conference on solar cooking was held in San Pedra Sula in June, bringing together many of the promoters from the region. Solar Cookers International (SCI) was instrumental in this event, providing some small start-up money for the conference, and playing a role in the meetings themselves. The basic idea was the encouragement of networking among the solar promoters of the region, an objective that clearly was achieved. M.A. Flores and R. Calderon, two faculty members from the Universidad Nacional Autonoma, Department of Physics, Energy Section, have long been active promoters and were instrumental in organizing a major Latin American Solar Conference in 2001.
Archived articles
Climate and culture
See also
Resources
Possible funders
Discussion groups
Articles in the media
Audio and video
External links
Grupos de discusión Facebook
Contacts
SCI Associates
NGOs
Manufacturers and vendors
Individuals
Government agencies
Educational institutions
See also
Community content is available under
CC-BY-SA
unless otherwise noted.