Jurassic World: Dominion Dominates Fandom Wikis - The Loop
Play Sound
Last edited:
19 June 2021
After years of research, the HotPot design was completed in 2004. It evolved from the CooKit solar cooker and was refined through the efforts of Solar Household Energy. The science and engineering were accomplished by the Florida Solar Energy Center. The reflector was designed by Glen Newman of Energy Laboratories, Inc. of Jacksonville, Florida. In 2006 tests to re-evaluate the capacity of the HotPot to effectively heat water and food were performed in Burkina Faso, The Gambia and Senegal and confirm again that the HotPot is an effective and efficient solar cooker.
The HotPot has been manufactured in Mexico by a private business, in cooperation with the Fondo Mexicano Para La Conservación de la Naturaleza, a non-profit. The manufacturer has sold the "fully loaded" HotPot package for standard commercial distribution in the U.S. and Mexico, and on a more economical basis for bulk developing world sales, via Solar Household Energy, Inc.

News
[
]
March 2015: Tips and Tricks for HotPot winter use - Nathan Parry from Solar Cooker at Cantina West, produced this short video a couple years ago showing how the HotPot can be adapted for low sun conditions.
July 2013: Cooking with the HotPot system in temperate locations - Most are familiar with this fine quality cooker. It does an excellent job of representing a solar cooker as a desirable appliance. However, the original design was created for use in tropical or semi-tropical areas bounded by the Tropic of Cancer and the Tropic of Capricorn (23.5°). The reflectors have been oriented for a more overhead sun position, which limit the cooking time in temperate locations to a 2 - 4 hour window. Here is an article that talks more about this issue. The author has been working on a tilting base mechanism to allow the reflectors to pick up early and late day sun. HotPot is a great solar cooker, but was designed for the Tropics However, it may be a better idea to supplement the HotPot reflectors with a windshield shade tipped forward and wrapped behind the cooker to catch the early and late day sun, as the pot and glass enclosure are really not suited for non-level conditions.
February 2013: Sustainable Rural Life is the new face of the HotPot initiative that was launched by the Mexican Fund for the Conservation of Nature in 2003. Delivering HotPots and training communities how to use them served as an effective introduction to clean cooking and provided an alternative to burning firewood in indigenous communities around the country. Approximately 20,000 Hot Pots have been distributed in 16 states of Mexico. Another 464 were purchased by MFCN and delivered by local partners, and 445 fuel-efficient woodstoves of various types were delivered between March and September 2012. At SRL they believe that using the Hot Pot, together with fuel-efficient cookstoves, is the best option to improve cooking habits in Mexico. Read more at Sustainable Rural Life: Update 2012
March 2011: Solar Household Energy (SHE) was commissioned to test acceptance of the HotPot solar oven in the Gaga Refugee Camp in eastern Chad. It shelters 20,000 people from Darfur in Western Sudan. Patrick Fourrier, a French solar cooking expert affiliated with Bolivia Inti Sud Soleil, completed the first phase of the project last month. He will also ensure that local support systems set in place to encourage continued use of the solar ovens are working effectively. Meanwhile, SHE has begun a cooperative relationship with Grupo Jaragua, a highly respected non-governmental organization in the Dominican Republic, to support a solar cooking initiative. Grupo is aided by a Dominican eco-tourism and solar cooking advocate El Fuego del Sol, which conducts the local assembly and subsidized sale of Sun Oven box cookers in rural communities near the Haitian border. They are also supporting The Nature Conservancy's office in the Dominican Republic to add the integrated cooking method as a component of their reforestation project in Haiti, and working to expand the solar cooking promotion efforts it undertook in Mexico with the Mexican Fund for the Conservation of Nature (FMCN) begun in 2004. SHE has also been active in the areas of solar cooking advocacy, research and technology development. On the public education front, SHE founding director Dar Curtis is participating as a contributing member of the Technology and Fuels Working Group of the Global Alliance for Clean Cookstoves. This alliance of governments, corporations and non-profits is promoting cleaner cooking solutions than the open cooking fires and inefficient cookstoves used by three billion people around the world. Solar provides the very cleanest cooking of all cookstoves. Read more in the SHE spring update 2011.
August 2009: The HotPot is one of the cookers featured in a brief news segment on KREM-TV, a CBS affiliate, as part of their Project Green series.
July 2009: Solar Household Energy, Inc.'s Richard Stolz reports that 400 HotPot solar cookers were provided to victims of the floods that ravaged the southern state of Tabasco in late 2007. "In addition to the devastation caused to homes, the floods knocked out Tabasco's electricity and gas distribution plant. As a result, even after flood waters had receded, many residents had no means of cooking food, particularly when firewood was unavailable." The HotPots were made available by two of Solar Household Energy, Inc.'s partner organizations, the Mexican Fund for the Conservation of Nature, and International Logistics Solutions, which manufactures HotPots in Mexico.
July 2007: In Senegal and Burkina Faso, people are finding many ways that the HotPot can improve their daily lives. Currently 220 men and women in Senegal and Burkina Faso are cooking with the HotPot; they are excited about the variety of meals they've cooked and the fuel they've saved doing so. Read more about Solar Household Energy's West Africa programs at http://www.she-inc.org/projects-3.php.
January 2007: The International Relations Center, a nonprofit organization whose mission is to provide information and analysis that increase social and economic justice throughout the world, recently cited the HotPot as an example of an effective solar cooker that is both produced and sold in Mexican communities. Mexico is currently working to structure a national training program to help individuals understand the utility of solar and wind power in cost effectiveness for health and the environment. Read more here.
January 2007: The HotPot was featured on the Earth Focus TV program in late January. This program highlights the October 2006 Green Festival in Washington, D.C. that promotes a sustainable economy, ecological balance, and social justice. Over 300 exhibitors attended the festival and Solar Household Energy was one of a few organizations highlighted in this program. Please here to see local program times and channels for Earth Focus: Green Festival.
Fall 2006: Currently, arrangements for shipment of HotPots to Guatemala are in the final stages. In early 2007, SHE's formal training and follow-up programs will begin in four communities throughout rural areas in Guatemala. After the initial trainings, the in-country NGOs will continue training sessions and begin HotPot solar oven use monitoring. The initial pilot phase will last one year and will include 300 women.
Summer 2006: Solar Household Energy's first bulk delivery of HotPots arrived this summer in Mali, West Africa. The container of 1,000 cookers was purchased by a Malian energy services company which has promoted solar cooking in Mali for a number of years and will be a regional distributor of HotPots. To learn more about our West Africa programs, go here.
Using a HotPot
[
]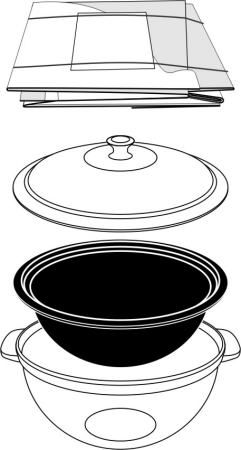 Cooks who love their slow cookers will love the HotPot. Slow cooker recipes for capacities up to three quarts can move right into the HotPot when the sun is shining, and the results will be even more flavorful and tender in the HotPot, without costing a cent for power or fuel. On a good day, foods can simmer gently for hours in the HotPot, with outstanding results, and the HotPot can also bake some kinds of simple breads and cakes. Its beauty, gentle efficiency, and convenience make it an excellent choice for anyone wishing to purchase a durable solar cooker. An inexpensive plant caddy with locking wheels can make it easier to turn the HotPot to keep ahead of the sun.
General Tips and tricks for solar cooking and solar panel cookers apply, especially getting food out early. To keep the Morning Glory reflector as shiny as possible, follow the directions for care that come with the cooker. The Morning Glory will also work with other dark pots in oven bags (or in the case of smaller pots, inside the glass enclosure that is part of the HotPot system), especially if you elevate them on a rack to let light get underneath. Since the reflector folds compactly and is light in weight, it travels well and can go along with a lighter-weight pot and oven bag if you are ever flying somewhere and would like to solar cook when you get there. To make a loaf-shaped loaf of bread in the HotPot, use matched dark bread pans that will fit in the
glass enclosure (loaf pans up to about 5"x9" should work) with one used upside down for a lid and secured with binder clips. Makes a lovely loaf, conveniently shaped for sandwiches. Matching brownie or cake pans can be used oven-bagged on a rack, to make traditionally shaped cakes or other treats. You can bake excellent brownies this way if you don't over-bake them. Check after no more than one hour, possibly less further south than 37-47N.
In full capacity, the HotPot is not a winter cooker for the north, but it did cook smaller amounts of simple-to-cook foods such as custard or vegetables in the dead of winter at 47 degrees north latitude, using a smaller dark, lidded pot inside the glass HotPot enclosure. It also helped to clip on a lightweight car windshield cover in a way that extended the height a few inches at the back. During the good part of the year, it works very well that far north and can handle full capacity loads as long as you get them out early.
Sling for the HotPot
[
]
Solar Household Energy's HotPot is an excellent greenhouse pot for solar panel cooking. The sling shown here makes it possible to carry a HotPot with one hand when it's both full and hot
Here's the sling on an upside down greenhouse: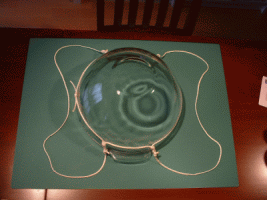 External Links
Recipes
[
]
Audio and video
[
]
External links
[
]
Contact
[
]