Last edited:
28 September 2021
| | |
| --- | --- |
| | SuryaKumbh festival again sets record - Vivek Kabra reports: "On 11 Feb, 2017, approximately 7,500 school children created history by participating in the World's Largest Solar Cooking Festival. Trained by 400 trainers and guided by 150 supervisors, each one of them made their own solar cooker and cooked noodles in it. Having experienced the power of the sun first hand, each child took the SuryaKumbh solar cooker back home to share the magic of cooking without fuel." The event this year was organized by the Mira Bhayander Municipal Corporation and held in the Bhayandar - Thane area. More information... |
Events
[
]
NEW: 

18-22 October 2021: Week of Clean Cooking - The Clean Cooking Alliance announces this first ever event, leading up to the UN Climate Summit (COP26) in early November. It will feature a wide range of virtual engagements, events, announcements, content releases, and networking opportunities with CCA and partners from across the clean cooking ecosystem. There is no charge to participate in this event, but registration is required for individual program items. More information...
NEW: 

Webinar:

Thursday, 11 November 2021, 1:00pm UTC: - Solar Cookers International will present a webinar showing how solar cooking helps to improve public health, and the health of the environment around the globe. As part of this year's COP26 in Glasgow, Scotland, it will take place as a side event at the World Health Organization pavilion. There is limited space available for those interested in participating in this free event. Register early.
22-26 November 2021: 2nd National Congress for Solar Drying and Cooking Food - An affiliated group of universities in Mexico will host an online conference relating to solar food drying and cooking, as well as, food safety and energy savings realized with minimal environmental impact. Participants can register to view the presentations, or apply for presentation consideration. The conference will be in Spanish. Registration information... - (English version)
17-23 December 2021: Solar Cooking Awareness Week (Southern Hemisphere) - A loosely organized bid to acknowledge the fun and benefits of solar cooking. Show someone how to solar cook and share a meal.
24-26 January 2022: Fourth International Conference: Advances in Solar Thermal Food Processing - CONSOLFOOD Chairman, Celestino Ruivo, has announced an extended call for abstracts for the upcoming conference in January 2022, which is now planned to be an online event. Advances in solar cooking as well as solar food processing will be considered for inclusion. The event schedule and submission requirements are in CONSOLFOOD 2022 conference information.
See also: Global Calendar of Events and past events in India
Most significant projects
[
]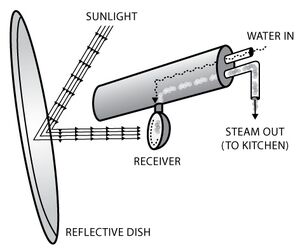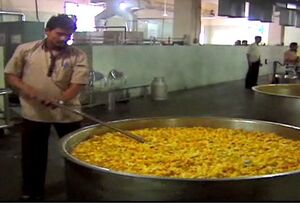 Rooftop solar installation feeds 50,000 people per day: Gadhia Solar Energy Systems Pvt. Ltd. completed installation of a solar steam cooking system, capable of cooking 40,000-50,000 meals per day. It is located at Shirdi Saibaba temple in Shirdi, Maharashtra, India. With nearly 30,000 visitors each day, the temple's dining halls are some of the largest in India. The solar steam cooking system is comprised of seventy-three rooftop-mounted Scheffler reflectors of sixteen square meters each. The dishes concentrate sunlight on receivers that contain water, generating steam that is piped down to the kitchen for cooking purposes. To maintain constant focus with the sun, the dishes automatically rotate throughout the day after being manually aligned once each morning. The solar steam cooking system is retrofitted to existing liquid petroleum gas-powered steam boilers that are still used in the evening and during prolonged periods of inclement weather. Though the solar steam cooking system cost nearly $300,000, government subsidies reduced the temple's portion to about $170,000. Liquid petroleum gas use has been cut by roughly 100,000 kilograms each year, for an annual savings of approximately $45,000. The temple should recoup its investment in three to four years. According to company founder Deepak Gadhia, the solar steam cooking technology was originally developed in Germany. However, the equipment does not contain imported components, and is manufactured with local machinery and labor, creating much-needed jobs. Gadhia has adapted the system for use in India, and has installed 50 such systems of varying sizes over the past two decades. The March edition of CNN's Eco Solutions program highlights the Shirdi Saibaba temple solar steam cooking system.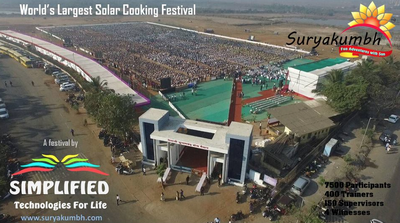 SuryaKumbh festival again sets record for largest solar cooking workshop - Vivek Kabra reports: "On 11 Feb, 2017, 7,500 school children created history by participating in the World's Largest Solar Cooking Festival. Trained by 400 trainers and guided by 150 supervisors, each one of them made their own solar cooker and cooked noodles in it. Having experienced the power of the sun first hand, each child took the SuryaKumbh solar cooker back home to share the magic of cooking without fuel." The event this year was organized by the Mira Bhayander Municipal Corporation and held in the Bhayandar - Thane area. More information...
News
[
]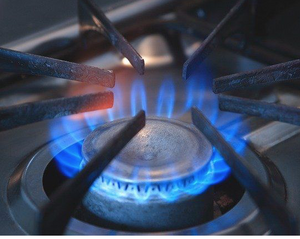 NEW: 

September 2021: Cooking gas getting costlier every fortnight, worth the damage? The CSR Journal explores the situation occurring in India, where the cost of LPG gas is rising quickly. They consider the alternatives, and give credit to Bancha in Betul district, as the first village in India to have zero wooden stoves and almost no use for LPG cylinders, as the entire village has converted to using solar cooking appliances. Read more...

February 2021: New reflectors at Vankuva School - Deepak Gadhia reports that the large Scheffler reflectors on-site are in the process of being replaced at the Green Campus at Vankuva School] in Gujarat, India. The original reflectors each measured 10m2, and the new ones measure 16m2. The new reflectors will be first used to test existing thermic fluid, and then converted and tested with the pressurized hot water system solar thermal system.
September 2020: Prime Minister Modi calls for low-cost indoor solar cooking solutions - "In line with Prime Minister Narendra Modi's call to action for developing low-cost indoor solar cooking solutions, IOCL has tied up with Sun Bucket System, a US-based start-up working in the niche area of solar energy-based products. We are encouraging Indian oil and gas companies to develop such innovative and scalable tie-ups in solar sector, which have the potential to make nationwide impact." More information...
September 2020: Meet These 'Solar Mamas' of Rajasthan - The community-based Barefoot College, located in Tilonia, encourages a hands-on-training process of gaining practical knowledge. Since 2004, Barefoot college has been teaching solar engineering skills to illiterate older women from rural communities. Women are indeed agents of change, which is why they are being trained to use solar cookers, desalination plants, and water heaters. They then return to their villages to establish projects and train others. Read more...
November 2019: The PRINCE-40 wins award - The PRINCE-40 parabolic solar cooker, designed to serve a community, has won a National Grand Challenge for designing a robust, efficient, and compact community solar cooker. The challenge was from Department of Science and Technology, Government of India. The award focussed on community solar cooker designs.
November 2019: Electric cooking starts to simmer in rural India  - Following the success of the Saubhagya initiative and its announcement of 100 per cent rural household electrification, efficiency gains and cost reductions in solar panels and batteries are opening up a new market that has the potential to avoid using any solid or fossil fuel, with solar-powered electric cooking or e-cooking using pressure and rice cookers and induction stoves gaining traction. The winner of the 2017 challenge, IIT Bombay, has since conducted a project to convert the entire village of Bancha in Madhya Pradesh to solar panels and induction cookstoves instead of wood-burning or LPG stoves. With Rs 8.5 million provided by ONGC, all the 75 houses in Bancha now rely on solar-powered electric stoves to meet their cooking needs. Besides reducing air pollution, villagers no longer have to collect firewood from nearby forests, saving time and effort. More information...
October 2019: Modi govt to offer Ayushman, Ujjwala benefits for PMAY users in three month trial program - The government will not just cover these beneficiaries under schemes like Ujjawala and Ayushman Bharat, but will also offer them solar energy run devices like solar cookers, etc as part of its efforts to develop a holistic self-sufficient and sustainable urban cluster. Under PMAY (Urban), the ministry of housing and urban affairs (MoHUA) has sanctioned around 90 lakh houses so far, of which 53.40 lakh have been grounded (work started) and more than 27.17 lakh have been completed with an investment of around Rs 5.54 lakh crore. Around 24.75 lakh houses have been occupied. It was officially rolled out in all cities under PMAY (Urban) on October 2 and will conclude on December 10. The campaign is to commemorate the 150th birth anniversary of Mahatma Gandhi. More information...
September 2019: Oil company supports indoor solar cooking: - IndianOil has formed a partnership with the start-up company, Sun Buckets, to sponsor a test pilot program of their indoor solar cooking system in Leh, Ladakh. The Sun Bucket can be 'charged' using parabolic solar concentrators kept outdoors. Once charged, the system is capable of storing and discharging the thermal energy on demand for indoor cooking — for boiling, steaming, frying and to make roti. It has enough heat storage capacity to cater to cooking demands during the day as well as at night. More information...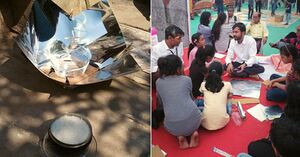 September 2019: Gujarat Man Teaches Tribal Women to Make Solar Cookers That Cost Just Rs 100! - The Better India ("We have organised the Solar Cooker Workshop in more than 100 villages till date. In the last two years, our initiative has reached many parts of Maharashtra and Karnataka as well. While on the one hand, many rural families have already begun using solar cookers successfully, on the other, we are working on setting up a solar cooker laboratory in the tribal village of Casa located in Palghar district of Maharashtra," said Alzubair Saiyed.)
July 2019: In the second week of July, Dr. Ajay Chandak will lead an environmental expedition to Ladakh to demonstrate the ability of solar thermal parabolic cookers to cook food and boil tea with the power of the sun even when snow is on the ground and temperatures are below freezing. Ladakh, a high-altitude desert with more than 325 clear sunny days and no locally available cooking fuel is an ideal region for cooking with solar thermal devices. Using solar cookers whenever the sun is shining can significantly reduce the amount of subsidized LPG fuel that residents of this region must currently purchase and import every year. Ajay and his team will demonstrate low cost, easy to use PRINCE solar cookers at schools and rural child care centers (Aanganwadis). They will carry out a solar cooking expedition to Khardungla Pass, at an elevation of 5360 mt (17585.2 ft) on the 10th of July. Ajay also plans to donate a PRINCE-40 solar community cooker to Indian Army personnel for pilot testing so that it can be used in remote outposts in this region where all cooking fuel must be imported at tremendous expense. Ajay has been instrumental in training and mentoring entrepreneurs from Ladakh since 2010. These entrepreneurs have manufactured and installed almost 1000 domestic solar cookers in the region.
March 2019: Smart Solar Cooking Solutions Design National Challenge 2019 - The Department of Science and Technology, Government of India is providing young Indian innovators with a chance to submit their designs of efficient and user-friendly solar cooking solutions and win financial grants. Indian citizens affiliated to any academic institution, R&D organization and/or an Indian company/Industry recognized under the Company's Act/DSIR may apply for this scholarship with their design ideas. The last date to apply for the challenge was 31 March 2019. More information...
July 2018: With the objective of creating a sense of responsibility among students towards the current energy crisis, Sri Srikanteswara ITI College, Mysuru, instituted an energy awareness program. Over 150 students attended, and received training with solar water heaters, LED lamp technology, and solar cookers. More information...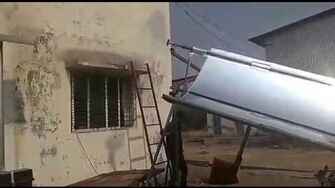 May 2018: Dr. Ajay Chandak, Solar Cookers International Global Advisor, seeks a US partner for project development of inclined trough solar concentrator for a grant from the United States-India Science and Technology Endowment fund (IUSSTF): "Commercializing Technologies for Societal Impact." The pilot project can be seen in this video: Link to Pilot Project. Dr. Chandak is confident the cost of this concentrator will be at least 40% less than the corresponding cost of concentrators in the market. The fund aims to select and financially support promising joint US-India entrepreneurial initiatives. Grant size: up to INR 2.50 Crores (approx. $400,000 USD). To participate, contact Dr. Chandak well before the 15 June 2018 deadline: renewable.consultant@gmail.com
April 2018: Solar Food Fest - Attendees gathered to celebrate Sustainable Development week at the Jimmy McGilligan Centre for Sustainable Development with a potluck food fest. Twenty-two solar cookers were used to prepare 30 delicacies. The Centre has organized the sustainable development week with the aim to encourage larger numbers of people to adapt a sustainable lifestyle. Read more...
March 2018: Solar cooking advocate wishes to empower more men - Dr. Janak McGilligan, used International Women's Day to conduct a training workshop on solar cooking for men at the Jimmy McGilligan Centre for Sustainable Development. She said her Baha'i faith believed in the equality of men and women. "I am no feminist in the classical sense and we don't believe in the gender divide. I want to help those men who did not know cooking but want to help their wives in the kitchen." More information...
January 2018: Agri-engineers at the Punjab Agricultural University are addressing concerns over the expense for families wishing to afford their own substantial solar cooker. They are testing a community cooker at their facility on campus available to locals who may desire to use it. It has two chambers for foods cooking at different rates. Read more...
History
[
]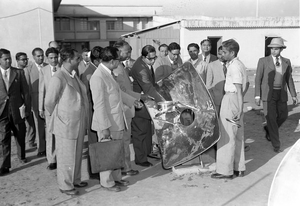 Ministry of Non-Conventional Energy Sources
India, Asia's second largest country next to China, is second to China in the number of solar cookers in use. The situation in India has been more complex than that of China., and more is known about Indian programs. The Third World Conference on Solar Cooking was held in India, which permitted the history and progress of solar technology's uses to be better known around the world.
The Ministry of Non-Conventional Energy Sources (MNES), Government of India, was established in 1982, first as a Department and later as a Ministry. The Ministry's mandate extended well beyond solar cooking, including fuel efficient wood and charcoal stoves, power from other renewable sources, energy from industrial wastes, and research and development in a number of related fields (photovoltaics, biogas, and pollution prevention, for example). MNES began seriously to promote solar cooking in the early 80s, with an initial focus almost entirely on the solar box cooker.
The population of India is roughly 70% rural. MNES states, "cooking accounts for a major share of the total energy consumption in rural homes (Singhal, correspondence, 2003, p. 1). Sources of that energy use have been largely fuelwood, animal dung, or crop residues. All emit smoke, pollute the atmosphere, and are deterimental to health and safety of family members, particularly women. Fuelwood has become more scarce each coming year. FAO data show that 21.6% of the Indian land mass is forested, and conservation efforts have been in place to reverse previous loss. The effort has been affected by the large and dense population, and a slowing but still substantial birth rate (continuing to increase at 1.7% per annum, or 17% in a decade). Solar cooking has been viewed as one way to alleviate a number of India's problems and as such supported by government efforts.
Institutional solar cooking
The Press Bureau of the Government of India reported in 2007 that there were 525,000 solar cookers installed in India. The Press Bureau also reported in 2003 that, "The solar cooker programme has been expanded by introducing new designs for community use. Three solar steam cooking systems based on automatic tracking concentrating collective technology for cooking food for 600-3,000 people per day, and one system based on 'Solar Bowl' technology, have been installed. World's largest solar steam cooking system has been installed at Tirumala Tirupati. The system is designed to cook two meals for 15,000 persons in one day. Another system for 2,000 people was erected at Brahmakumaris Ashram in Gurgaon in July, 2002. Three community cookers for indoor cooking have been installed at a training hostel and an NGO's establishment in Leh. In all, six such systems have been installed under the MNES demonstration scheme. A total of 500 dish solar cookers and 60 community solar cookers have been installed so far."
Archived articles
Climate and culture
[
]
Solar Cookers International has rated India as the #1 country worldwide for solar cooking potential. In the year 2020, the estimated number of people in India who will suffer from fuel scarcity is 157,400,000, but these people will continue to have ample access to the sun. In December 2007, the Indian Government instituted a program of rebates on various renewable energy devices including solar cookers. Solar cooking has even been recommended in the Rig Veda, a sacred Hindu text, stating: "All edibles ripened or cooked in the sun's rays change into super medicine, the amrita."
Fuels used for cooking
[
]
URBAN SECTOR
LPG (47.96%)
Firewood (22.74%)
Kerosene (19.16%) and
Other fuels (10.14)
RURAL SECTOR
Firewood (64.10%)
Other sources of biomass – crop residue (13.10%)
Cow‐dung (12.80%)
LPG (5.67%) is now increasing in importance. [1]
In a February 7th, 2015 article, The Economist reported that there are roughly 1 million deaths in India each year due to cooking fires[2].
Fuel subsidies
[
]
The Economic Times of India reports:
While 300 million people live below poverty line, making do with energy inefficient dung cakes, twigs and branches, and occasional bits of coal, the urban middle class and the rural rich are splurging on cheap petrol and diesel and even cheaper kerosene and liquified petroleum gas.
The subsidy is massive - hidden by a disingenuous device called oil bonds. Here are some rock solid facts. IOC, HPCL and BPCL are currently losing $137 million a day (i.e., Rs 582 crore per day at Rs 42.50 = $1). They lose Rs 16.34 for each litre of petrol, and Rs 23.49 for each litre of diesel sold in Delhi.
The subsidy on kerosene at Rs 28.72 per litre is over three times the current retail price; and the subsidy on a cylinder of cooking gas at Rs 306 per cylinder exceeds the retail price. The total under-recovery for the oil marketing companies for 2006-07 was over $19 billion. With oil prices touching $135, under-recoveries can be $50 billion this year, unless retail prices are substantially increased.[3]
The Telegraph (UK) reported in September 2013 that, "Food and fuel subsidies are gobbling up much of the budget, while investment atrophies."[4]
Solar cooking already has a significant presence in India, especially with large-scale projects, but the potential largely remains untapped for its use to significantly replace the use of conventional fuels. 
Cultural acceptance
[
]
In a report presented during the Asian Clean Energy Forum in June 2008, Soma Dutta, Asia Regional Network Coordinator for the Amsterdam-based ENERGIA International Network on Gender and Sustainable Energy, states that only 45% of India's 70% rural population have access to electricity, and over 80 percent still rely on firewood as their primary cooking fuel, the gathering of which is a responsibility that almost always falls to the women and girls in a society. The long hours and significant effort spent simply gathering firewood leaves them little time for education or employment. [5]
Introductions of new technologies fail in villages for many reasons, but most commonly due to a lack of knowledge and understanding of local cultural customs. Solar cooking has often suffered this fate despite the purported cost savings because it is not introduced in a way that suited the lifestyles of the individuals using it.
A solar stove is most powerful at the times of the strongest sunlight, which is mid-day and early afternoon. As in many agricultural populations, village farmers in India consume their biggest meals by early to mid-morning and then again late at night, after the sun has set. In addition, certain solar stoves are not conducive to Indian-style cooking which is done mostly with oil (with the exception of rice) and requires frequent temperature manipulation as well as stirring and flipping which was is difficult with many solar cookers.[6]
While technical constraints limit the types of solar cookers likely to be widely adopted in India, there is historic precedent for solar cooking in Indian culture. A passage in ancient Vedic texts state, " Sun cooked food improves cellular health and longevity of life. It strengthens health and mind removes three major physical disorders to do with digestion, blood and respiratory system, balances inner body temperatures, life, glows aura and keeps various obstacles away. Sun cooked food has great medicinal value. It enhances intellect, genius." ' Rig Veda'. - Reference from the princeindia.org website. See: PRINCE
See also
[
]
Resources
[
]
Possible funders
[
]
Facebook groups
[
]
[

]
Project evaluations
[
]
Photographs
[
]
Documents
[
]
Articles in the media
[
]
Audio and video
[
]
September 2020: - OrjaBox presents: Fuels used in Indian kitchens
Contacts
[
]
The entities listed below are either based in India, or have established solar cooking projects there:
SCI Associates
[
]
NGOs
[
]
Manufacturers and vendors
[
]
Individuals
[
]
Government agencies
[
]
Educational institutions
[
]
See also
[
]
References
[
]