Last edited:

6 February 2018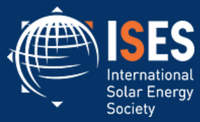 The International Solar Energy Society (ISES) is a global organisation for promoting the development and utilization of renewable energy. ISES was formed in 1954 as a world-wide non-profit organisation dedicated to the advancement of the utilization of solar energy. ISES is now active in over 105 countries world-wide. Its members include scientists and researchers, plus many others from industry and other private and public organisations.
Aims
ISES aims to bring recent developments in solar energy, both in research and applications, to the attention of decision makers and the general public, in order to increase the understanding and use of this non-polluting resource in everyday life.
ISES promotes research, development and the use of technologies which are directly or indirectly fueled by the sun and which minimize the consequences of energy use. These technologies can provide sustainable solutions for the supply of energy in both industrialized and developing countries.
Publications
Audio and video
See also
Other national sections are found here
External Links
Contact
The International Solar Energy Society (ISES)
Email: hq@ises.org
Web: http://www.ises.org
Twitter: @Ises_Solar