Last edited:
14 June 2020
| | |
| --- | --- |
| | Cucinare con il Sole is a volunteer organization founded in 2006 by Ottorino Saccon, a teacher and craftsman, and is based in Santa Lucia di Piave TV, Italy. They produce parabolic solar cookers at their facility, and have been introducing solar cooking to villages throughout central Africa, making 3 - 4 trips each year. They have worked with over thirty groups in workshops, typically with 10 - 20 participants attending. |
Events
[
]
NEW: 

Webinar:

Monday, 27 September 2021, 3:00pm - 4:00pm EDT, 19:00 - 20:00 GMT, Building a Solar Oven: A Real-World, Interdisciplinary Project for K-12 Students - Presented by Jennifer Gasser, Business Development Consultant, Solar Education Project; and Mary Buchenic, Education Director, Solar Education Project. Through innovative, hands-on lessons, Solar Education Project (SEP) helps students develop skills in STEM and other disciplines as well. Global acceptance of solar cooking begins at home. A recording of the webinar will be available after this free event. Registration information...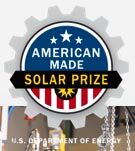 NEW: 

5 October 2021: American made solar competition - The U.S. Dept. of Energy is sponsoring a a multi-part competition to spur solar manufacturing, develop innovative solar solutions and products, and create domestic jobs and opportunities through public-private partnerships. The contest is open to U.S. residents, and the final phase is still open for submittals until 5 October 2021. Much of the attention has been with photovoltaic solutions, and this last phase is structured with two tracks that focus separately on hardware and software components. Solar cooking equipment should qualify as hardware solutions. Read more about the competition...
NEW: 

22-26 November 2021: 2nd National Congress for Solar Drying and Cooking Food - An affiliated group of universities in Mexico will host an online conference relating to solar food drying and cooking, as well as, food safety and energy savings realized with minimal environmental impact. Participants can register to view the presentations, or apply for presentation consideration. The conference will be in Spanish. Registration information... - (English version)
17-23 December 2021: Solar Cooking Awareness Week (Southern Hemisphere) - A loosely organized bid to acknowledge the fun and benefits of solar cooking. Show someone how to solar cook and share a meal.
24-26 January 2022: Fourth International Conference: Advances in Solar Thermal Food Processing - CONSOLFOOD Chairman, Celestino Ruivo, has announced an extended call for abstracts for the upcoming conference in January 2022, which is now planned to be an online event. Advances in solar cooking as well as solar food processing will be considered for inclusion. The event schedule and submission requirements are in CONSOLFOOD 2022 conference information.
See also: Global Calendar of Events and past events in Italy
News
[
]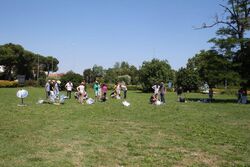 Patate Arrosto Forno a Scatola e Panoramica Forni Solari
Novembre 2013: Cucinare con il Sole è organizzata da volontariato fondata nel 2006 da Ottorino Saccon , insegnante e artigiano, con sede a Santa Lucia di Piave TV, in Italia . Producono cucine solari paraboliche nella loro struttura in Italia e hanno inserito la cottura solare nei paesi dell'Africa centrale, effettuando 3-4 viaggi all'anno. Hanno lavorato con oltre 30 gruppi in officina, in genere con 10-20 partecipanti. A Sessene, a 15 chilometri dalla città di Thies, in Senegal , gli abitanti del villaggio assemblano il loro primo fornello solare. Poco dopo, all'ombra di una madre di baobab, condividono un pasto a base di riso cotto e verdure.
History
[
]
Archived articles
Climate and culture
[
]
See also
Resources
[
]
Possible funders
[
]
Facebook groups
[
]
Discussion groups
[
]
Reports
[
]
Construction plans
[
]
Articles in the media
[
]
Audio and video
[
]
External links
[
]
Contacts
[
]
The entities listed below are either based in Italy, or have established solar cooking projects there:
SCI Associates
[
]
NGOs
[
]
Manufacturers and vendors
[
]
Individuals
[
]
Government agencies
[
]
Educational institutions
[
]
See also
[
]
References
[
]