Last edited:
14 June 2020
| | |
| --- | --- |
| | Cucinare con il Sole is a volunteer organization founded in 2006 by Ottorino Saccon, a teacher and craftsman, and is based in Santa Lucia di Piave TV, Italy. They produce parabolic solar cookers at their facility, and have been introducing solar cooking to villages throughout central Africa, making 3 - 4 trips each year. They have worked with over thirty groups in workshops, typically with 10 - 20 participants attending. |
NEW: 

23 -27 November 2020: 1er. Congreso Nacional de Secado Solar y Cocción Solar de Alimentos - Online presentation from the UNAM Universidad Nacional Autónoma de México, in Spanish. Contacto: ensycsa@ier.unam.mx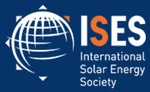 December 2020: SWC50 – The Century of Solar - In 1970 solar research pioneers met at the first International Solar Energy Society (ISES) Conference in Melbourne Australia. ISES is commemorating this Conference with a special 50th Anniversary Conference and Display, called the Solar World Congress at 50 (SWC50). The face-to-face conference, originally scheduled for 2-4 December 2020, will be replaced by a series of eight virtual conferences over the course of the month in December 2020. It will include the same panel sessions that were planned for the in-person planned event. More information...
See also: Global Calendar of Events and past events in Italy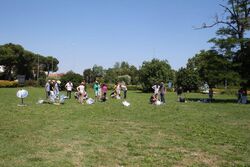 Patate Arrosto Forno a Scatola e Panoramica Forni Solari
Novembre 2013: Cucinare con il Sole è organizzata da volontariato fondata nel 2006 da Ottorino Saccon , insegnante e artigiano, con sede a Santa Lucia di Piave TV, in Italia . Producono cucine solari paraboliche nella loro struttura in Italia e hanno inserito la cottura solare nei paesi dell'Africa centrale, effettuando 3-4 viaggi all'anno. Hanno lavorato con oltre 30 gruppi in officina, in genere con 10-20 partecipanti. A Sessene, a 15 chilometri dalla città di Thies, in Senegal , gli abitanti del villaggio assemblano il loro primo fornello solare. Poco dopo, all'ombra di una madre di baobab, condividono un pasto a base di riso cotto e verdure.
Archived articles
See also
The entities listed below are either based in Italy, or have established solar cooking projects there:
Extension:DynamicPageList (DPL), version 3.3.3: Warning: No results.
Manufacturers and vendors
[
edit source
]
Extension:DynamicPageList (DPL), version 3.3.3: Warning: No results.
Educational institutions
[
edit source
]
Extension:DynamicPageList (DPL), version 3.3.3: Warning: No results.
Community content is available under
CC-BY-SA
unless otherwise noted.