Last edited:
31 March 2018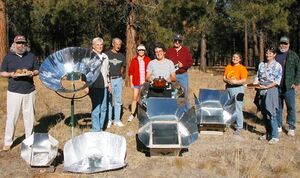 Jennifer Barker was the (now retired) Executive Director of the Eastern Oregon Renewable Energies Association nonprofit, and the organizer of SolWest Fair in John Day, Oregon. She is the author of The Morning Hill Solar Cookery Book, Morning Hill Cookbook, and Solar Poetry from SolWest Fair. She has been cooking with the sun since 1992.
Fall 2015: SolWest Fair is now being hosted by Oregon Rural Action. It is held each June in La Grande, Oregon, and includes a solar cookery class and demonstration. SolWest is a three-day, annual education-oriented regional event. Business vendors will reach an educated crowd interested in renewable energy and sustainable lifestyles. Homeowners will take the message home and apply it in their lives. For more details, check out their website at http://www.solwest.org.
Jennifer Barker
EORenew/SolWest Fair
PO Box 485
Canyon City OR 97820
USA
Tel.: +1 541-575-3633
Email: eorenew.solwest@gmail.com
Community content is available under
CC-BY-SA
unless otherwise noted.