This article is about an entity that either no longer exists or that may no longer be active in solar cooking promotion. It is retained here for archival purposes.


Last edited:
2 August 2013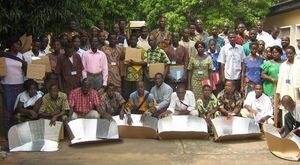 Jeunes Volontaires pour l'Environnement – Young Volunteers for the Environment – (JVE) began as a small group of youth who were touched by the degradation of their land and the impoverishment of their people. They gathered weekly in the rural village of Tsiko (a mountainous area of Togo) to discuss issues of environment and development. Their concern for the environment and frustration with the lack of information on environmental issues available to them, prompted them to organize and begin working to provide a better future for the youth of Togo. Consequently, JVE was founded in 2001 in accordance with Agenda 21 and the principle that "education is important to change the attitudes of the people and to ensure that populations have the necessary tools to assess and tackle the problems of sustainable development". Today, JVE is an international environmental advocacy NGO operating in 13 countries throughout Africa and the Americas. Its international scope has already been recognised by several local and international partners, including the Global Young Greens and the Global Youth Action Network.
It is managed by a five member Board of Directors, elected for two years, and an Executive Staff currently employing six permanent members and eight interns, mostly from Europe. With a membership outnumbering the 1000, JVE meets annually for activity reports and to review its program.
The mission of JVE is "to involve youth (and marginalised groups) in the sustainable development process and promote social justice for all." In order to achieve that goal, JVE has set up four extensive programs that include:
Environmental education
Social justice and economic, social and cultural rights
Youth empowerment and volunteering
Access to natural resources and biodiversity conservation
Sustainable development (renewable energy, recycling, participation)
JVE is strictly not for profit, non-political and not affiliated to any religion. Its core values include sustainability, justice, transparency, gender equity, intra-intergenerational equity human rights, youth participation and ecological integrity.
News and Recent Developments
[
edit
|
edit source
]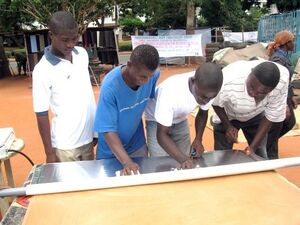 March 2009: Jeunes Volontaires pour l'Environnement (JVE) taught over 150 people how to build and use solar cookers over the past year and a half. During a general assembly meeting in late 2007, about 100 participants from several cities in Togo, Cote d'Ivoire and Benin gathered for a workshop in Notse. Over the course of three days, participants learned basic solar cooking concepts and skills, participated in the construction of their own solar CooKits, gained valuable management skills, and heard testimony from JVE project participants about the many benefits solar cookers have brought to their lives. One such testimony came from a women involved with a JVE solar water pasteurization project in the Vo prefecture. She discussed how solar cooker use has reduced the number of pulmonary illnesses in the community, and how pasteurization skills have similarly lessened the incidence of waterborne disease. She also spoke vividly about how her status in the community had changed because of her involvement with the project, so much so that the chief now refers all issues of natural resources management to her — an example, she says, of how the role of women in the community is elevated with empowering projects like these. In August, 2008, JVE organized Operation Amis du Soleil, a five-day gathering in the Casablanca quarter of Lome that brought together dozens of people, mostly youth, to learn about solar cooker use and to build solar cookers for JVE's solar water pasteurization project in Vo prefecture. (Eleven women's groups in Vo produce solar cookers, but they are not always able to keep up with demand).
February 6-15, 2009: The NGO Jeunes Volontaires pour l'Environnement, ENDA Tiers Monde, and the Togo Ministry of Mining, Energy and Water in partnership with Friends of the Earth-Norway (NNV) are happy to announce and invite you to the forthcoming CLIMATE AND RENEWABLE ENERGY WEEK, scheduled to take place in Lome and Sotouboua, Togo (West Africa), from 6-15 February 2009. This event is aimed at popularizing the use of the diversity of renewable energy products now available. One main part of this event, for which we particularly call for your participation is the FEEL 2009, the Green Energy Exhibition Fair, which will last 11-15 February, in the premises of the Exhibition Center of the Lome Big Market, that is indeed in the heart of the city. This event will draw about 50 differents exhibition groups and attract more than 5000 visitors. More information...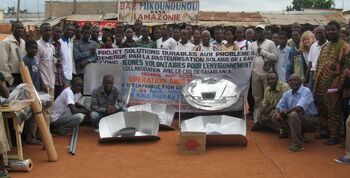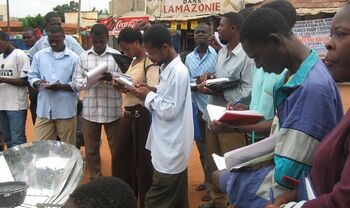 August 2008: Sena Alouka of Jeunes Volontaires pour l'Environnement writes: "I am very happy to inform you that this morning we have started a mass production week, a special operation in Lomé, in response to a special interest expressed by the quarter where our office is based, Casablanca. Actually, the people of Casablanca kept blaming us for bringing the benefits of the solar cooking and water pasteurisation only to the Vo region women, whereas, they who are close to our office, do not even understand how it all work. So we decided, in cooperation with the Casablanca Development Committee to organise a weeklong training for all interested volunteers, youth especially, to train them about the cookits production. Iam thrilled with joy to inform you that, all the men and women of the place gathered this morning to attend the opening ceremony. Several old men and women were inthe attendance. At the time, Iam writting this mail about 55 young people are either preparing, the glue, some applying the foil while others are cutting the cookers. We have deliberately decided to organise it at the public place of Casablanca, next to the main road, thus bringing lot of attention and interest. The name OPERATION AMIS DU SOLEIL (Operation Friends of the Sun) is aimed at creating awareness around solar applications and harness the volunteer spirit of young people in the area where JVE is heardquatered for the benefit of the planet. A new club (CLUB DES AMIS DU SOLEIL) will be created at the end of this week (see program) and will help spread the solar good news to other areas of the city. On friday, a football match, the distribution of certificates to participants and other events will closed the week, with a serious media coverage. I am sending some pictures, which are just 3 hours old, in which you can see this morning's introduction to our project, demonstration, testing the heat, youth participants taking note of the lessons, preparing the glue, applying the foil and Q&A session. It is a nice idea for which Iam very proud about. It will be wonderful, if we can organise a second session of this in another Quarter, as many other quarters of Lomé are asking us to extend the initiative to their area as well. I am convinced that cardboard are a wonderful tool to address some of the energy problems we face today. The amazement i saw in the face of people, even well educated people who stopped by to see what was going on, is an eloquent testimony of the benefits of the solar cookers."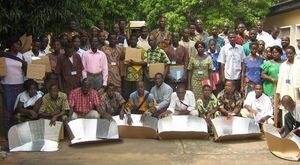 December 2007: The General Assembly of Jeunes Volontaires pour l'Environnement was organised, 21-23 December 2007 in Notse, 150 km N of Lome. It was a skillshare on sun cooking designed for youth delegates, JVE-trained women sun cooks, partners from Togo, but also from Côte d'Ivoire and Benin. About a 100 participants attended with good gender representation. The message from the conference: World Populations, please GO SOLAR! Photos from the event are here. You can also read a report from the event.
April 2007: Dozens of delegates from many parts of Togo and Ghana attended a conference last December in Lome themed "climate change: a socio-political challenge." The conference was organized by Jeunes Volontaires pour l'Environnement (JVE) and showcased solar cooking and solar water pasteurization. Demonstrations and construction workshops were available to conference attendees. Beneficiaries of a JVE solar project shared testimonials of how solar cooking has changed lives in the Vo region. Also attending the conference were Togo's Deputy Director of the Ministry of Environment, the Chief Cabinet to the Minister of Youth, and representatives of the media.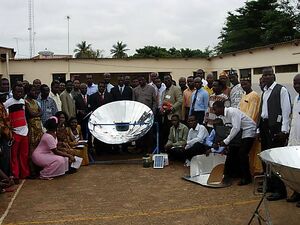 August 2006: Jeunes Volontaires pour l'Environnement organized a regional solar cooking conference in Vogan. Over 60 people from Benin, Burkina Faso, Côte d'Ivoire, Ghana, Mali, Nigeria, and Togo attended, including Mr. Joseph Odey, a leading solar cooking promoter in Nigeria and Vincent Nnanna, who has been teaching solar cooking in Benin for years. Youth groups and women's groups from Togo sent representatives as well. Also attending were Togo's Deputy Minister of Energy and Water, the Attache to the Minister of Environment, and the Prefect of the Vo District. Many people learned to make and use solar cookers and were shown how to use the cookers to pasteurize drinking water. Some of the attendees from outside Togo were happy to take their newly constructed solar cookers back to their home countries. A parabolic-type solar cooker was assembled and presented to the District Hospital of Vogan. In addition, participants from several countries agreed to form the Network of Solar Actors of West Africa to promote further discussion and to foster the spread of solar technologies in the region. The Togolese Ministries of Energy and Environment sponsored the conference. Additional support was received from Norges Naturvernforbund, a Norwegian nongovernmental organization.
Sena Alouka
Jeunes Volontaires pour l'Environnement
131, Rue Ofé, Tokoin Casablanca
Box 8823
Lome
Togo
Tel: +228-2200112
Mobile: +228-90216740
Email: yvetogo@hotmail.com
Web: http://www.jve-international.org
Community content is available under
CC-BY-SA
unless otherwise noted.