Last edited:
5 February 2018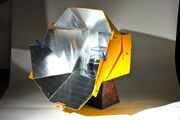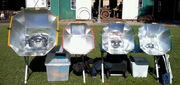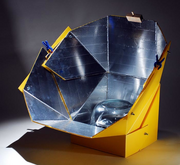 Since 2008 inventor
Jim La Joie
has built and shipped the
All Season Solar Cooker
to interested solar cooking agencies. Cookers have been sent to
The Democratic Republic of Congo
,
Sudan
,
Japan
,
Niger
,
Mexico
,
Haiti
, Micronesia,
Madagascar
and most recently, to the Indian alternative energy agency
PRINCE
. In several of these locations they will be used as a means to create jobs and provide a source for cooking and safe water.
Through his All Season Cooker website, and now with his company, SolarCooker.biz, Jim has reached out to 133 countries around the world. Visitors may view instructional videos, free plans and instructions for both the All Season Solar Cooker and the new All Season Solar Cooker 2017.
Jim La Joie participates in the San Diego Solar Cooking Club meetup group which offers demonstrations and instructional workshops several times a year.
Although the web has been an oustanding outreach tool, it remains Jim La Joie's sincere hope that nonprofit organizations will use this invention to provide safe water, clean cooking, and economic opportunity to those in need.
News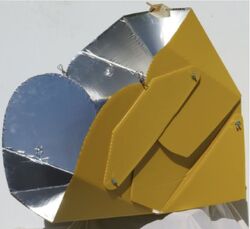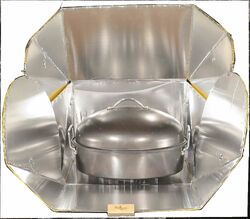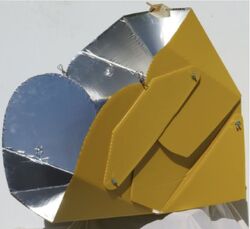 December 2015: Great news: After nearly 10 years of trying to get an international aid agency interested in the ASSC design, we have finally been approached and have sent samples to Nairobi, Kenya. Our web site continues to be popular with readers from over 140 countries visiting each month. This past year we have discovered a number of unsolicited video reviews for both the manufactured and home-built versions of the ASSC. We could not be happier that users have honored the design with their video testimonials.
January 2013: Jim La Joie has provided an update for 2012. The San Diego Solar Cooking Club|San Diego Solar Cooking Meetup groupconducted six construction workshops and four solar cooking demonstrations during 2012. We have 303 members registered at our website http://www.meetup.com/cooking-532/. Solar cooking demonstrations are offered at community green events (SanTree fest in Santee, Sustain LaMesa, San Diego Earth Day, and local schools. The building workshops involve from 10 to 20 students each building an All Season Solar Cooker for their personal use. During 2012 other like-minded groups became interested in the All Season Solar Cooker and have established links to the website and have begun conducting workshops of their own, using plans and information from the website. Group member Jim La Joie continues his outreach efforts via website http://www.allseasonsolarcooker.com, contacting users in over 140 different countries this past year. Most recently he donated cookers to a sustainability project in the dry forests of northern Peru.
External links
www.allseasonsolarcooker.com
See also
All Season Solar Cooker - All Season Solar Cookers are being sent to solar cooking agencies for the purpose of evaluation and possible adoption. Solar cooking agencies that are interested in receiving an All Season Solar Cooker, at no cost, should contact Jim La Joie via email.
Contact
Email: jimjola@gmail.com
Web: http://www.allseasonsolarcooker.com
Community content is available under
CC-BY-SA
unless otherwise noted.